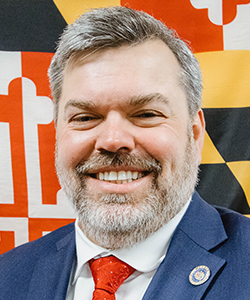 District

35B

County

Cecil and Harford

Committee Assignment(s)

Judiciary Committee


Annapolis Info

319 House Office Building
6 Bladen St
Annapolis, MD 21401
Phone 410-841-3444 | 301-858-3444
Toll-free in MD 1-800-492-7122 ext. 3444

Interim Info

319 House Office Building
6 Bladen St
Annapolis, MD 21401
Phone 410-841-3444 | 301-858-3444

Contact

Party

Republican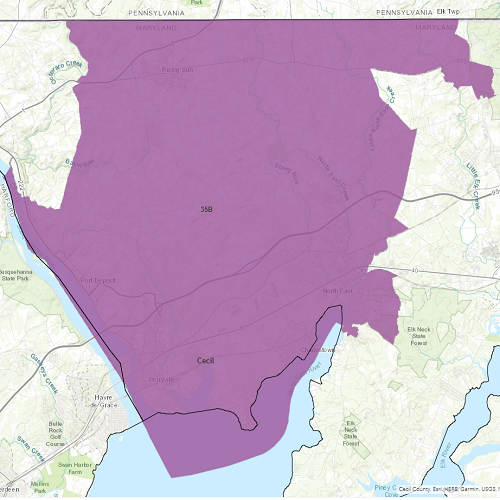 Legislation
Sponsorship Type Sort
Chamber Sort
1
2
2
2
2
2

Bill/Chapter (Cross/Chapter)

Title

Election Law - Qualification of Voters - Proof of Identity

Sponsorship Type

Co-Sponsor

2
2
2
2
2
2
2
2
2
2

Bill/Chapter (Cross/Chapter)

Title

General Assembly - Term Limits

Sponsorship Type

Co-Sponsor

2
2
2
2

Bill/Chapter (Cross/Chapter)

Title

Department of Human Services - Child Abuse Prevention - Online Course

Sponsorship Type

Co-Sponsor

2
2
2
2
2
2

Bill/Chapter (Cross/Chapter)

Title

Maryland Boat Act - Abandoned and Sunken Vessels

Sponsorship Type

Co-Sponsor

2
2
2
2

Bill/Chapter (Cross/Chapter)

Title

Transportation - Toll Discount Plans - Francis Scott Key Bridge

Sponsorship Type

Co-Sponsor

2
2
2
2
2
2
2
2

Bill/Chapter (Cross/Chapter)

Title

Sales and Use Tax - Exemption - Firearm Safety Devices

Sponsorship Type

Co-Sponsor

2
2
2
2
2
2
2
2
2
2
2
2

Bill/Chapter (Cross/Chapter)

Title

Business Regulation - Home Improvement Contracts - Deposits

Sponsorship Type

Co-Sponsor

2
2
2
2

Bill/Chapter (Cross/Chapter)

Title

Home Builders and Home Improvement Contractors - Contract Requirements - Consumer Protection Information

Sponsorship Type

Co-Sponsor

2
2
2
2

Bill/Chapter (Cross/Chapter)

Title

Consumer Protection - Right to Repair Farm Equipment

Sponsorship Type

Co-Sponsor

2
2
2
2
2
2

Bill/Chapter (Cross/Chapter)

Title

Criminal Law - Attempt to Commit Second-Degree Murder - Penalty (Justice Reinvestment Act - Modification)

Sponsorship Type

Co-Sponsor

2
2
2
2

Bill/Chapter (Cross/Chapter)

Title

Public Utilities - Underground Facilities - Time-Sensitive Ticket

Sponsorship Type

Co-Sponsor

2
2

Bill/Chapter (Cross/Chapter)

Title

Corporate Income Tax - Rate Reduction

Sponsorship Type

Co-Sponsor

2
2
2
2

Bill/Chapter (Cross/Chapter)

Title

Protective Body Armor Fund - Expansion - First Responders

Sponsorship Type

Co-Sponsor

2
2

Bill/Chapter (Cross/Chapter)

Title

University System of Maryland - Admissions - Notification of Potential Income

Sponsorship Type

Co-Sponsor

2
2
2
2
2
2
2
2

Bill/Chapter (Cross/Chapter)

Title

Personal Property Tax - Exemption for Business Personal Property

Sponsorship Type

Co-Sponsor

2
2

Bill/Chapter (Cross/Chapter)

Title

Snare Traps – Prohibition Against Sale or Possession – Alterations

Sponsorship Type

Co-Sponsor

2
2

Bill/Chapter (Cross/Chapter)

Title

Legislative Districts - Single-Member Delegate Districts (One Person One Vote Act)

Sponsorship Type

Co-Sponsor

2
2
2
2

Bill/Chapter (Cross/Chapter)

Title

Regulated Firearms - Straw Purchase - Penalties

Sponsorship Type

Co-Sponsor

2
2
2
2
2
2

Bill/Chapter (Cross/Chapter)

Title

Law Enforcement Officers' Pension System - Military Service Credit

Sponsorship Type

Co-Sponsor

2
2
2
2
2
2
2
2

Bill/Chapter (Cross/Chapter)

Title

Criminal Procedure - Pretrial Release - Assault on a Law Enforcement Officer (Police Protection Act)

Sponsorship Type

Co-Sponsor

2
2

Bill/Chapter (Cross/Chapter)

Title

Education – Length of the School Year – Declared State of Emergency (Kathryn Marie Carmello's Law)

Sponsorship Type

Co-Sponsor

2
2

Bill/Chapter (Cross/Chapter)

Title

Voice Over Internet Protocol - Robocalls - Customer Information

Sponsorship Type

Co-Sponsor

2
2

Bill/Chapter (Cross/Chapter)

Title

Criminal Procedure - Victims and Victims' Representatives - Plea Agreements (The Victim Empowerment in Plea Deals Act of 2020)

Sponsorship Type

Co-Sponsor

2
2

Bill/Chapter (Cross/Chapter)

Title

Criminal Law - Death Penalty - Mass Murder (Capital Gazette Shooting Memorial Act)

Sponsorship Type

Co-Sponsor

2
2

Bill/Chapter (Cross/Chapter)

Title

Crimes of Violence - Parole (Stopping Dangerous and Violent Criminals Act of 2020)

Sponsorship Type

Co-Sponsor

2
2
2
2

Bill/Chapter (Cross/Chapter)

Title

Family Law – Removal of Child From Home – Meetings

Sponsorship Type

Co-Sponsor

2
2

Bill/Chapter (Cross/Chapter)

Title

Criminal Procedure - Sex Offender Registration - Indecent Exposure by Inmate

Sponsorship Type

Co-Sponsor

2
2

Bill/Chapter (Cross/Chapter)

Title

Criminal Procedure - Cameras in the Courtroom - Criminal Sentencing Hearings (Cameras in the Courtroom Act of 2020)

Sponsorship Type

Co-Sponsor

2
2

Bill/Chapter (Cross/Chapter)

Title

Criminal Law - Opioids - Distribution Causing Death of Minor

Sponsorship Type

Co-Sponsor

2
2

Bill/Chapter (Cross/Chapter)

Title

Primary and Secondary Education – Student Discipline (Right to Teach Act of 2020)

Sponsorship Type

Co-Sponsor

2
2

Bill/Chapter (Cross/Chapter)

Title

Correctional Services – Transfers to Federal Authorities – Undocumented Immigrants (Protecting Marylanders from Violent Crime Act of 2020)

Sponsorship Type

Co-Sponsor

2
2

Bill/Chapter (Cross/Chapter)

Title

Home Builder Registration and Home Improvement Licenses - Professional Education Requirements

Sponsorship Type

Co-Sponsor

2
2

Bill/Chapter (Cross/Chapter)

Title

Maryland State Commission for Criminal Sentencing Policy – Sentencing Guidelines – Plea Agreements (Truth in Plea Deals Act of 2020)

Sponsorship Type

Co-Sponsor

2
2

Bill/Chapter (Cross/Chapter)

Title

Congressional Districts - Standards (Anti-Gerrymandering of Maryland's Congressional Districts)

Sponsorship Type

Co-Sponsor

2
2
2
2

Bill/Chapter (Cross/Chapter)

Title

Congressional Districts - Standards (Anti-Gerrymandering of Maryland's Congressional Districts)

Sponsorship Type

Co-Sponsor

2
2

Bill/Chapter (Cross/Chapter)

Title

Legislative Districts - Standards

Sponsorship Type

Co-Sponsor

2
2

Bill/Chapter (Cross/Chapter)

Title

Education - Public High Schools - Financial Literacy Curriculum

Sponsorship Type

Co-Sponsor

2
2
2
2
2
2

Bill/Chapter (Cross/Chapter)

Title

Health Practitioners - Minor Patients - Child Abuse Reporting

Sponsorship Type

Co-Sponsor

2
2
2
2

Bill/Chapter (Cross/Chapter)

Title

Primary and Secondary Schools - Alternative School Options (Right to Learn Act)

Sponsorship Type

Co-Sponsor

2
2

Bill/Chapter (Cross/Chapter)

Title

Inspector General for Education - Powers and Duties - Alterations (Accountability in Education Act of 2020)

Sponsorship Type

Co-Sponsor

2
2

Bill/Chapter (Cross/Chapter)

Title

Exposure to Pornography - Public Health Crisis

Sponsorship Type

Co-Sponsor

2
2
3
2
3
2
3
2
3
2
3
2
3
2
3
2
3
2
3
2
3
2
3
2
3
2
3
2
3
2
3
2
3
2
3
2
3
2
Bill/Chapter
(Cross/Chapter)
Title
Sponsorship Type
Sponsorship Type Sort
Chamber Sort
Current Status
Org Committees & Hearings
Opp Committees & Hearings
HB0545 /CH0243 (SB0189/CH0244)
State Board of Veterinary Medical Examiners – Cease and Desist Orders and Civil Penalties
Primary
1
2
Enacted under Article II, Section 17(c) of the Maryland Constitution - Chapter 243

HB0005 /CH0021 (SB0161/CH0022)
Crimes - Hate Crimes - Use of an Item or a Symbol to Threaten or Intimidate
Co-Sponsor
2
2
Enacted under Article II, Section 17(c) of the Maryland Constitution - Chapter 21

HB0033 /CH0034 (SB0153)
Criminal Law - Abuse or Neglect of a Vulnerable Adult - Causing Severe Emotional Distress
Co-Sponsor
2
2
Enacted under Article II, Section 17(c) of the Maryland Constitution - Chapter 34

HB0197
Election Law - Qualification of Voters - Proof of Identity
Co-Sponsor
2
2
In the House - Unfavorable Report by Ways and Means

HB0233 /CH0119 (SB0212/CH0120)
Criminal Law – Assault in the First Degree – Strangulation
Co-Sponsor
2
2
Enacted under Article II, Section 17(c) of the Maryland Constitution - Chapter 119

HB0246 /CH0128 (SB0231/CH0129)
Sexual Solicitation of a Minor – Solicitation Through Parent, Guardian, or Custodian – Prohibition and Penalties
Co-Sponsor
2
2
Enacted under Article II, Section 17(c) of the Maryland Constitution - Chapter 128

HB0265 (SB0156)
Handgun Qualification License - Training Requirement - Exemption
Co-Sponsor
2
2
In the House - Unfavorable Report by Judiciary

HB0352 (SB0029)
Criminal Law - Life-Threatening Injury Involving a Motor Vehicle or Vessel - Criminal Negligence (Wade's Law)
Co-Sponsor
2
2
In the House - Hearing 2/12 at 1:00 p.m.

HB0366
General Assembly - Term Limits
Co-Sponsor
2
2
In the House - Hearing 2/24 at 2:00 p.m.

HB0379 (SB1042)
Courts - Civil Actions - Strategic Lawsuits Against Public Participation
Co-Sponsor
2
2
In the Senate - First Reading Judicial Proceedings

HB0460
Department of Human Services - Child Abuse Prevention - Online Course
Co-Sponsor
2
2
In the Senate - Hearing canceled

HB0474 (SB0393)
Court of Appeals and Court of Special Appeals - Renaming
Co-Sponsor
2
2
In the House - Hearing 2/12 at 1:00 p.m.

HB0503 /CH0224 (SB0391/CH0225)
Primary and Secondary Schools - Dependent Children of Service Members - Enrollment and Documentation Requirements
Co-Sponsor
2
2
Enacted under Article II, Section 17(c) of the Maryland Constitution - Chapter 224

HB0504
Maryland Boat Act - Abandoned and Sunken Vessels
Co-Sponsor
2
2
In the House - Withdrawn by Sponsor

HB0506 /CH0228 (SB0458/CH0227)
Higher Education - Nonresident Tuition Exemption for Military Personnel, Spouses, and Dependents - Alterations
Co-Sponsor
2
2
Enacted under Article II, Section 17(c) of the Maryland Constitution - Chapter 228

HB0513
Transportation - Toll Discount Plans - Francis Scott Key Bridge
Co-Sponsor
2
2
In the House - Unfavorable Report by Environment and Transportation

HB0590 (SB0230)
Criminal Law – Sexual Crimes – Repeal of Spousal Defense (Love Is No Defense to Sexual Crimes)
Co-Sponsor
2
2
In the Senate - First Reading Judicial Proceedings

HB0594 (SB0448)
Sales and Use Tax - Vendor Collection Credit - Job Training
Co-Sponsor
2
2
In the House - Hearing 2/12 at 1:00 p.m.

HB0596 /CH0267
Edward T. and Mary A. Conroy Memorial, Jean B. Cryor Memorial, and Veterans of the Afghanistan and Iraq Conflicts Scholarships – Alterations
Co-Sponsor
2
2
Enacted under Article II, Section 17(c) of the Maryland Constitution - Chapter 267

HB0618
Sales and Use Tax - Exemption - Firearm Safety Devices
Co-Sponsor
2
2
In the House - Hearing 2/20 at 1:00 p.m.

HB0671 /CH0616 (SB0507/CH0617)
Health Savings Accounts – Establishment and Application of Trust Law
Co-Sponsor
2
2
Enacted under Article II, Section 17(c) of the Maryland Constitution - Chapter 616

HB0705 (SB0218)
Crimes Involving Controlled Dangerous Substances - Penalties - Methamphetamine
Co-Sponsor
2
2
In the House - Hearing 2/18 at 1:00 p.m.

HB0736 (SB0565)
Police Officers - Mental Health - Employee Assistance Programs
Co-Sponsor
2
2
In the Senate - First Reading Judicial Proceedings

HB0754 (SB0564/CH0565)
Education - High School Graduation Requirements - Students in Foster Care or Homeless Youth
Co-Sponsor
2
2
In the Senate - First Reading Education, Health, and Environmental Affairs

HB0769 (SB0133)
Education - High School Students - Graduation and Attendance Credit for Vocational Training
Co-Sponsor
2
2
In the House - Withdrawn by Sponsor

HB0770
Business Regulation - Home Improvement Contracts - Deposits
Co-Sponsor
2
2
In the House - Hearing 2/11 at 1:00 p.m.

HB0771 /CH0319 (SB0158)
Lodging Establishments - Accessible Rooms for Individuals With Disabilities - Bed Height
Co-Sponsor
2
2
Enacted under Article II, Section 17(c) of the Maryland Constitution - Chapter 319

HB0776
Home Builders and Home Improvement Contractors - Contract Requirements - Consumer Protection Information
Co-Sponsor
2
2
In the House - Withdrawn by Sponsor

HB0780 (SB0481)
Criminal Law - Crime of Violence - Vulnerable Adult
Co-Sponsor
2
2
In the House - Hearing 2/25 at 1:00 p.m.

HB0799
Consumer Protection - Right to Repair Farm Equipment
Co-Sponsor
2
2
In the House - Unfavorable Report by Economic Matters

HB0804 (SB0369)
Workgroup to Study Maryland's Emerging Digital Economy
Co-Sponsor
2
2
In the House - Unfavorable Report by Economic Matters

HB0806 (SB0657)
Income Tax - Personal Exemption - Disabled Individuals
Co-Sponsor
2
2
In the House - Hearing 2/21 at 1:00 p.m.

HB0831
Criminal Law - Attempt to Commit Second-Degree Murder - Penalty (Justice Reinvestment Act - Modification)
Co-Sponsor
2
2
In the House - Hearing 2/25 at 1:00 p.m.

HB0847 /CH0341
State Coordinator for Autism Strategy and Advisory Stakeholder Group on Autism-Related Needs
Co-Sponsor
2
2
Enacted under Article II, Section 17(c) of the Maryland Constitution - Chapter 341

HB0861
Public Utilities - Underground Facilities - Time-Sensitive Ticket
Co-Sponsor
2
2
In the House - Withdrawn by Sponsor

HB0869
Corporate Income Tax - Rate Reduction
Co-Sponsor
2
2
In the House - Unfavorable Report by Ways and Means

HB0872 /CH0353 (SB0467/CH0354)
State Advisory Board for Juvenile Services - Membership
Co-Sponsor
2
2
Enacted under Article II, Section 17(c) of the Maryland Constitution - Chapter 353

HB0898
Protective Body Armor Fund - Expansion - First Responders
Co-Sponsor
2
2
In the House - Hearing 2/25 at 1:00 p.m.

HB0907
University System of Maryland - Admissions - Notification of Potential Income
Co-Sponsor
2
2
In the House - Hearing 3/10 at 1:00 p.m.

HB0913 (SB0631)
Income Tax Standard Deduction – Alteration and Cost of Living
Co-Sponsor
2
2
In the House - Hearing 2/25 at 1:00 p.m.

HB0914 (SB0674)
Gun Theft Felony Act of 2020
Co-Sponsor
2
2
In the House - Hearing 3/04 at 1:00 p.m.

HB0917 /CH0367 (SB0606/CH0368)
Criminal Law - Hate Crimes - Basis (2nd Lieutenant Richard Collins, III's Law)
Co-Sponsor
2
2
Enacted under Article II, Section 17(c) of the Maryland Constitution - Chapter 367

HB0940
Personal Property Tax - Exemption for Business Personal Property
Co-Sponsor
2
2
In the House - Hearing 2/18 at 1:00 p.m.

HB0955
Snare Traps – Prohibition Against Sale or Possession – Alterations
Co-Sponsor
2
2
In the Senate - First Reading Education, Health, and Environmental Affairs

HB0958
Legislative Districts - Single-Member Delegate Districts (One Person One Vote Act)
Co-Sponsor
2
2
In the House - Hearing 3/02 at 2:00 p.m.

HB0960 (SB0635)
Criminal Law - False Statements - Emergency or Commission of Crime
Co-Sponsor
2
2
In the House - Hearing 2/25 at 1:00 p.m.

HB0968
Regulated Firearms - Straw Purchase - Penalties
Co-Sponsor
2
2
In the House - Hearing 3/04 at 1:00 p.m.

HB0999 /CH0606 (SB0540)
Member-Regulated Cooperatives - Establishment (Rural Broadband for the Eastern Shore Act of 2020)
Co-Sponsor
2
2
Enacted under Article II, Section 17(c) of the Maryland Constitution - Chapter 606

HB1014 (SB0578)
Electricity – Considerations for Certificate of Public Convenience and Necessity and Overhead Transmission Lines
Co-Sponsor
2
2
In the House - Unfavorable Report by Economic Matters

HB1073
Law Enforcement Officers' Pension System - Military Service Credit
Co-Sponsor
2
2
In the House - Withdrawn by Sponsor

HB1085 (SB0468)
Criminal Procedure - Appeals - Unlawful Possession of a Firearm
Co-Sponsor
2
2
In the House - Hearing 3/04 at 1:00 p.m.

HB1153 (SB0892)
Public Schools – Mathematics Credit – College Preparatory Computer Science or Computer Programming Course
Co-Sponsor
2
2
In the Senate - First Reading Education, Health, and Environmental Affairs

HB1195 (SB0894)
County Boards of Education - Computer Science Courses
Co-Sponsor
2
2
In the House - Hearing 3/06 at 1:00 p.m.

HB1197
Criminal Procedure - Pretrial Release - Assault on a Law Enforcement Officer (Police Protection Act)
Co-Sponsor
2
2
In the House - Hearing 2/21 at 1:00 p.m.

HB1250
Education – Length of the School Year – Declared State of Emergency (Kathryn Marie Carmello's Law)
Co-Sponsor
2
2
In the House - Hearing 2/28 at 1:00 p.m.

HB1278
Voice Over Internet Protocol - Robocalls - Customer Information
Co-Sponsor
2
2
In the House - Hearing 3/11 at 1:00 p.m.

HB1289
Criminal Procedure - Victims and Victims' Representatives - Plea Agreements (The Victim Empowerment in Plea Deals Act of 2020)
Co-Sponsor
2
2
In the House - Withdrawn by Sponsor

HB1322
Criminal Law - Death Penalty - Mass Murder (Capital Gazette Shooting Memorial Act)
Co-Sponsor
2
2
In the House - Hearing canceled

HB1325
Crimes of Violence - Parole (Stopping Dangerous and Violent Criminals Act of 2020)
Co-Sponsor
2
2
In the House - Hearing 3/10 at 1:00 p.m.

HB1334 (SB0497)
Drugged Driving - Controlled Dangerous Substance Testing - Authorized Police Officers
Co-Sponsor
2
2
In the House - Hearing 3/04 at 1:00 p.m.

HB1342
Family Law – Removal of Child From Home – Meetings
Co-Sponsor
2
2
In the House - Hearing 2/27 at 1:00 p.m.

HB1348
Criminal Procedure - Sex Offender Registration - Indecent Exposure by Inmate
Co-Sponsor
2
2
In the House - Hearing 2/21 at 1:00 p.m.

HB1376
Criminal Procedure - Cameras in the Courtroom - Criminal Sentencing Hearings (Cameras in the Courtroom Act of 2020)
Co-Sponsor
2
2
In the House - Hearing 2/26 at 1:00 p.m.

HB1378
Criminal Law - Opioids - Distribution Causing Death of Minor
Co-Sponsor
2
2
In the House - Hearing 3/06 at 1:00 p.m.

HB1407
Primary and Secondary Education – Student Discipline (Right to Teach Act of 2020)
Co-Sponsor
2
2
In the House - Hearing 3/04 at 1:00 p.m.

HB1411
Correctional Services – Transfers to Federal Authorities – Undocumented Immigrants (Protecting Marylanders from Violent Crime Act of 2020)
Co-Sponsor
2
2
In the House - Hearing 3/10 at 1:00 p.m.

HB1453
Home Builder Registration and Home Improvement Licenses - Professional Education Requirements
Co-Sponsor
2
2
In the House - Unfavorable Report by Economic Matters

HB1458
Maryland State Commission for Criminal Sentencing Policy – Sentencing Guidelines – Plea Agreements (Truth in Plea Deals Act of 2020)
Co-Sponsor
2
2
In the House - Hearing 3/10 at 1:00 p.m.

HB1460
Congressional Districts - Standards (Anti-Gerrymandering of Maryland's Congressional Districts)
Co-Sponsor
2
2
In the House - Hearing 3/02 at 2:00 p.m.

HB1487 (SB0986)
Public Schools - Agricultural Education and Grant Programs
Co-Sponsor
2
2
In the House - Hearing 3/04 at 1:00 p.m. (Ways and Means)

HB1491
Congressional Districts - Standards (Anti-Gerrymandering of Maryland's Congressional Districts)
Co-Sponsor
2
2
In the House - Hearing 3/02 at 2:00 p.m.

HB1495
Legislative Districts - Standards
Co-Sponsor
2
2
In the House - Hearing 3/02 at 2:00 p.m.

HB1499
Education - Public High Schools - Financial Literacy Curriculum
Co-Sponsor
2
2
In the House - Hearing 3/04 at 1:00 p.m.

HB1524 (SB0858)
Procurement and Correctional Facilities - Employment Opportunities for Formerly Incarcerated Individuals
Co-Sponsor
2
2
In the House - Hearing 3/10 at 1:00 p.m.

HB1529 (SB0498)
Drunk and Drugged Driving - Testing - Warrants
Co-Sponsor
2
2
In the House - Hearing 3/04 at 1:00 p.m.

HB1551
Health Practitioners - Minor Patients - Child Abuse Reporting
Co-Sponsor
2
2
In the House - Hearing 2/27 at 1:00 p.m.

HB1582 (SB0179)
Firearms - Right to Purchase, Possess, and Carry - Use of Medical Cannabis
Co-Sponsor
2
2
In the House - First Reading House Rules and Executive Nominations

HB1624
Primary and Secondary Schools - Alternative School Options (Right to Learn Act)
Co-Sponsor
2
2
In the House - First Reading House Rules and Executive Nominations

HB1644
Inspector General for Education - Powers and Duties - Alterations (Accountability in Education Act of 2020)
Co-Sponsor
2
2
In the House - Withdrawn by Sponsor

HJ0002
Exposure to Pornography - Public Health Crisis
Co-Sponsor
2
2
In the House - Hearing 2/24 at 2:00 p.m.

HB0336 (SB0281/CH0544)
Renewable Energy Development and Siting (REDS) – Evaluations and Tax and Fee Exemptions
By Request - Administration
3
2
In the House - Hearing 2/28 at 1:00 p.m.

HB0338 (SB0276)
Building Opportunity Act of 2020
By Request - Administration
3
2
In the House - Hearing canceled

HB0340 (SB0274)
State Government - Protection of Information - Revisions (Maryland Data Privacy Act)
By Request - Administration
3
2
In the Senate - First Reading Education, Health, and Environmental Affairs

HB0341 (SB0266)
Redistricting Reform Act of 2020 – Constitutional Amendment
By Request - Administration
3
2
In the House - Hearing 3/02 at 2:00 p.m.

HB0342 (SB0278)
Retirement Tax Reduction Act of 2020
By Request - Administration
3
2
In the House - Hearing 2/14 at 1:00 p.m.

HB0343 (SB0270)
Economic Development - Maryland Technology Infrastructure Program
By Request - Administration
3
2
In the House - Hearing 2/28 at 1:00 p.m.

HB0346 (SB0284)
Redistricting Reform Act of 2020
By Request - Administration
3
2
In the House - Hearing 3/02 at 2:00 p.m.

HB0347 (SB0275)
Education - Community and Local Accountability for Struggling Schools (CLASS) Act of 2020 - Innovation Schools
By Request - Administration
3
2
In the House - Hearing 2/19 at 1:00 p.m.

HB0348 (SB0267)
AP Opportunities Act of 2020
By Request - Administration
3
2
In the House - Hearing 2/05 at 2:00 p.m.

HB0349 /CH0176 (SB0280/CH0177)
Occupational and Professional Licensing - Service Members, Veterans, and Military Spouses - Revisions to Reciprocity Requirements
By Request - Administration
3
2
Enacted under Article II, Section 17(c) of the Maryland Constitution - Chapter 176

HB0350 (SB0269)
Income Tax Subtraction Modification - Correctional Officers, Law Enforcement Officers, and Fire, Rescue, and Emergency Services Personnel (Hometown Heroes Act)
By Request - Administration
3
2
In the House - Hearing 2/14 at 1:00 p.m.

HB0355 (SB0272)
State Commission on Criminal Sentencing Policy - Annual Report - Crimes of Violence (The Judicial Transparency Act of 2020)
By Request - Administration
3
2
In the House - Hearing 2/04 at 1:00 p.m.

HB0356 (SB0273)
Crimes - Firearms - Penalties and Procedures (Violent Firearms Offender Act of 2020)
By Request - Administration
3
2
In the House - Hearing 2/04 at 1:00 p.m.

HB0357 (SB0271)
Crimes - Victim and Witness Intimidation - Penalties and Procedures
By Request - Administration
3
2
In the House - Hearing 2/04 at 1:00 p.m.

HB0358 (SB0268)
Victim's Rights - Restitution
By Request - Administration
3
2
In the House - Hearing 2/04 at 1:00 p.m.

HB0360 (SB0283)
Ethics and Accountability in Government Act
By Request - Administration
3
2
In the House - Hearing 3/03 at 1:00 p.m. (Environment and Transportation)

HB0361 (SB0279)
Income Tax - Subtraction Modification - Military Retirement Income
By Request - Administration
3
2
In the House - Hearing 2/14 at 1:00 p.m.

HB0362 /CH0180 (SB0282/CH0181)
Maryland National Guard - Tuition Assistance Program - Modifications
By Request - Administration
3
2
Enacted under Article II, Section 17(c) of the Maryland Constitution - Chapter 180
Denotes enacted legislation
Legislative Bond Initiatives
Project Name

ACCESS Training Institute

Status

Withdrawn

House Sponsors

Senate Sponsors

County

Harford

Amount Requested

$200,000

Senate Initiative

House Initiative

Other Funding

Total Funding

$0
Project Name

Status

Introduced

House Sponsors

Senate Sponsors

County

Harford

Amount Requested

$500,000

Senate Initiative

House Initiative

Other Funding

Total Funding

$0
Project Name

Status

Introduced

House Sponsors

Senate Sponsors

County

Harford

Amount Requested

$50,000

Senate Initiative

$50,000

House Initiative

Other Funding

Total Funding

$50,000
Project Name

Status

Introduced

House Sponsors

Senate Sponsors

County

Harford

Amount Requested

$125,000

Senate Initiative

$25,000

House Initiative

Other Funding

Total Funding

$25,000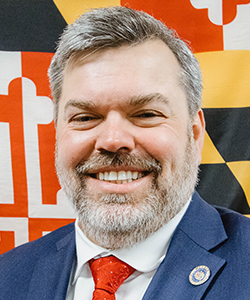 Tenure

Member of the Maryland House of Delegates since January 7, 2020l
Current Assignments

2020 Judiciary Committee

2020 Juvenile Law Subcommittee of the Judiciary Committee

2020 Civil Law and Procedure Subcommittee of the Judiciary Committee
Memberships

Maryland Building Industry Association; Harford County Republican Central Comittee.
Awards

President's Award, Maryland Building Industry Association, 2018.
Biographical Information

Born in Baltimore, Maryland; Joppatowne High School, Joppa, Maryland; United States Marine Corps, Military Police Officer, Supervisor, and Liaison, 1995-2002; Account Representative, Capital Advertising, 2002-2004; Entertainment Consultant, Kramer Entertainment, Inc., 2004-2006; Director of Recruitment, ITT Technical Institute, 2006-2011; Advertising Account Representative, The Baltimore Sun, 2011-2014; Director of New Business Development, Ripken Baseball, 2014-2016; Advertising Manager, Baltimore Business Journal, 2016-2017; Vice President and Chief Marketing Officer, HPS Management 2017-Present.
Last Updated: 7/9/2020 1:20 PM