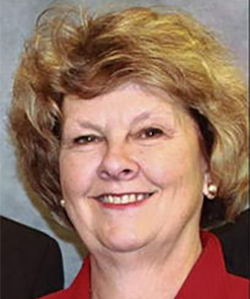 District

3A

County

Frederick

Committee Assignment(s)

Annapolis Info

422 House Office Building
6 Bladen Street
Annapolis, MD 21401
Phone 410-841-3472 | 301-858-3472
Toll-free in MD 1-800-492-7122 ext. 3472
Fax 410-841-3412 | 301-858-3412

Interim Info

422 House Office Building
6 Bladen Street
Annapolis, MD 21401
Phone 410-841-3472 | 301-858-3472
Fax 410-841-3412 | 301-858-3412

Contact

Party

Democrat
Legislation
Sponsorship Type Sort
Chamber Sort
1
2

Bill/Chapter (Cross/Chapter)

Title

Joint Use of Utility and Telecommunications Infrastructure

Sponsorship Type

Primary

1
2
1
2
1
2

Bill/Chapter (Cross/Chapter)

Title

Insurance - Pharmacy Benefits Managers - Records and Notice Concerning Medications Dispensed to Insureds

Sponsorship Type

Primary

1
2
1
2
2
2
2
2
2
2
2
2
2
2
2
2
2
2
2
2
2
2
2
2
2
2
2
2
2
2
2
2
2
2
2
2

Bill/Chapter (Cross/Chapter)

Title

Public School Construction - Maximum Gross Area Allowance for English Learner Students

Sponsorship Type

Co-Sponsor

2
2
2
2
2
2
2
2

Bill/Chapter (Cross/Chapter)

Title

Local Pension Systems - Special Disability Retirement Allowance

Sponsorship Type

Co-Sponsor

2
2
2
2
2
2
2
2
2
2
2
2

Bill/Chapter (Cross/Chapter)

Title

Education - Community Colleges - Collective Bargaining

Sponsorship Type

Co-Sponsor

2
2
2
2
2
2

Bill/Chapter (Cross/Chapter)

Title

Vehicle Registration – Special Plates for Veterans – Fees

Sponsorship Type

Co-Sponsor

2
2
2
2
2
2
2
2
2
2
2
2
2
2
2
2

Bill/Chapter (Cross/Chapter)

Title

Maryland National Guard - Tuition Assistance Program - Modifications

Sponsorship Type

Co-Sponsor

2
2
2
2
2
2
2
2

Bill/Chapter (Cross/Chapter)

Title

Agriculture - Cost-Sharing Program - Sale of Harvested Cover Crops

Sponsorship Type

Co-Sponsor

2
2

Bill/Chapter (Cross/Chapter)

Title

Maryland Transit Administration - Extension of MARC Service - Plans and Report

Sponsorship Type

Co-Sponsor

2
2

Bill/Chapter (Cross/Chapter)

Title

Use of Public Funds - Playground and Athletic Field Surfaces - Authorizations, Preferences, and Prohibitions

Sponsorship Type

Co-Sponsor

2
2
2
2
2
2
2
2
2
2
2
2
2
2
2
2
2
2
4
2
Bill/Chapter
(Cross/Chapter)
Title
Sponsorship Type
Sponsorship Type Sort
Chamber Sort
Current Status
Org Committees & Hearings
Opp Committees & Hearings
HB0366 (SB0982)
Commission to Study Non-Emergency Medical Transportation Funding
Primary
1
2
In the House - Withdrawn by Sponsor

HB0474
Joint Use of Utility and Telecommunications Infrastructure
Primary
1
2
In the House - Referred to interim study by Economic Matters

HB0911 /CH0553 (SB0930)
Workgroup to Study Shelter and Supportive Services for Unaccompanied Homeless Minors
Primary
1
2
Approved by the Governor - Chapter 553

HB1080 /CH0379 (SB0704)
Alcoholic Beverages - Beer Franchise Agreements - Notice of Nonrenewal or Termination
Primary
1
2
Approved by the Governor - Chapter 379

HB1148
Insurance - Pharmacy Benefits Managers - Records and Notice Concerning Medications Dispensed to Insureds
Primary
1
2
In the House - Withdrawn by Sponsor

HB1293 (SB0727/CH0219)
Health - Professional and Volunteer Firefighter Innovative Cancer Screening Technologies Program
Primary
1
2
In the Senate - First Reading Senate Rules

HB0098 (SB0193)
State Employee and Retiree Health and Welfare Benefits Program - Retiree Participation in the State Prescription Drug Benefit Plan
Co-Sponsor
2
2
In the House - Hearing canceled

HB0124 /CH0440 (SB0299/CH0441)
Tanning Devices - Use by Minors
Co-Sponsor
2
2
Approved by the Governor - Chapter 440

HB0137 /CH0538 (SB0035)
State Personnel - Professional Service - Maryland School for the Deaf - Teachers
Co-Sponsor
2
2
Approved by the Governor - Chapter 538

HB0139 (SB0135)
Public Health – Overdose and Infectious Disease Prevention Site Program
Co-Sponsor
2
2
In the House - Withdrawn by Sponsor

HB0245 /CH0398
Education - Student Data Privacy Council
Co-Sponsor
2
2
Approved by the Governor - Chapter 398

HB0248 /CH0595 (SB0181/CH0596)
Education - Child Care Subsidies - Mandatory Funding Level
Co-Sponsor
2
2
Enacted under Article II, Section 17(c) of the Maryland Constitution - Chapter 595

HB0251 /CH0308 (SB0279/CH0309)
Department of Aging - Grants for Aging-in-Place Programs (Nonprofits for our Aging Neighbors Act - "NANA")
Co-Sponsor
2
2
Approved by the Governor - Chapter 308

HB0262 (SB0537)
Higher Education - Tuition Rates - Exemptions
Co-Sponsor
2
2
Vetoed by the Governor (Policy)

HB0299 (SB0082)
Public Health - Sale and Distribution of Products Containing NMP and DCM - Prohibition
Co-Sponsor
2
2
In the House - Withdrawn by Sponsor

HB0300 (SB0083)
Public Health - Sale or Distribution of Trichloroethylene - Prohibition
Co-Sponsor
2
2
In the House - Withdrawn by Sponsor

HB0320 (SB0455)
2020 Census Complete Count Commission
Co-Sponsor
2
2
In the House - Withdrawn by Sponsor

HB0336 /CH0001 (SB0391/CH0002)
Civilian Federal Employees – Unemployment Insurance Benefits and Federal Government Shutdown Employee Assistance Loan Fund (Federal Shutdown Paycheck Protection Act)
Co-Sponsor
2
2
Approved by the Governor - Chapter 1

HB0383 (SB0187)
Maryland Department of Health - Biosafety Level 3 Laboratories
Co-Sponsor
2
2
In the House - Hearing 2/13 at 1:00 p.m.

HB0428 /CH0651 (SB0269/CH0652)
Comprehensive Flood Management Grant Program – Awards for Flood Damage and Mandatory Funding
Co-Sponsor
2
2
Enacted under Article II, Section 17(c) of the Maryland Constitution - Chapter 651

HB0466 /CH0364 (SB0342)
Prescription Drug Monitoring Program - Program Evaluation
Co-Sponsor
2
2
Approved by the Governor - Chapter 364

HB0481 /CH0365
Criminal Law - Sale of a Minor - Felony
Co-Sponsor
2
2
Approved by the Governor - Chapter 365

HB0512
Public School Construction - Maximum Gross Area Allowance for English Learner Students
Co-Sponsor
2
2
In the House - Withdrawn by Sponsor

HB0517 (SB0460/CH0519)
Crosswalks – Violation of Pedestrian Right–of–Way – Penalty
Co-Sponsor
2
2
In the Senate - Hearing 3/28 at 12:00 p.m.

HB0520 /CH0661 (SB0406/CH0662)
Prenatal and Infant Care Coordination - Grant Funding and Task Force
Co-Sponsor
2
2
Enacted under Article II, Section 17(c) of the Maryland Constitution - Chapter 661

HB0534 (SB0519)
Public Schools - State Aid for School Construction - Eligible Costs
Co-Sponsor
2
2
In the House - Withdrawn by Sponsor

HB0645
Local Pension Systems - Special Disability Retirement Allowance
Co-Sponsor
2
2
In the Senate - Hearing 3/28 at 8:30 a.m.

HB0672 /CH0248 (SB0810/CH0249)
Housing – Local Housing Grant Program for Homeless Veterans and Survivors of Domestic Violence
Co-Sponsor
2
2
Approved by the Governor - Chapter 248

HB0673 /CH0375 (SB0921)
Frederick County - Ethics and Campaign Activity - County Board and Commission Members and Board of License Commissioners
Co-Sponsor
2
2
Approved by the Governor - Chapter 375

HB0697 /CH0418 (SB0868/CH0417)
Health Insurance – Consumer Protections and Maryland Health Insurance Coverage Protection Commission
Co-Sponsor
2
2
Approved by the Governor - Chapter 418

HB0727 (SB0731)
Build to Learn Act of 2019
Co-Sponsor
2
2
In the Senate - Hearing 3/27 at 1:00 p.m.

HB0740 (SB0882)
Criminal Law – Firearms – Computer–Aided Fabrication and Serial Number (3–D Printed Firearms )
Co-Sponsor
2
2
In the Senate - First Reading Judicial Proceedings

HB0766
Education - Community Colleges - Collective Bargaining
Co-Sponsor
2
2
In the House - Withdrawn by Sponsor

HB0767 (SB0696)
Collective Bargaining - Chancellor of the University System of Maryland - Negotiations
Co-Sponsor
2
2
In the House - Withdrawn by Sponsor

HB0768 /CH0692 (SB0759)
Health - Prescription Drug Affordability Board
Co-Sponsor
2
2
Enacted under Article II, Section 17(c) of the Maryland Constitution - Chapter 692

HB0773
Vehicle Registration – Special Plates for Veterans – Fees
Co-Sponsor
2
2
In the Senate - Hearing 3/28 at 12:00 p.m.

HB0786 (SB0737)
Public Safety – Rifles and Shotguns – Secondary Transactions
Co-Sponsor
2
2
In the House - Conference Committee Appointed

HB0790 /CH0694
Equal Pay for Equal Work - Enforcement - Civil Penalties (Equal Pay Remedies and Enforcement Act)
Co-Sponsor
2
2
Enacted under Article II, Section 17(c) of the Maryland Constitution - Chapter 694

HB0810 (SB0870/CH0432)
Income Tax - Child and Dependent Care Tax Credit - Alterations
Co-Sponsor
2
2
Vetoed by the Governor (Duplicative)

HB0814 /CH0423 (SB0802/CH0424)
Maryland Easy Enrollment Health Insurance Program
Co-Sponsor
2
2
Approved by the Governor - Chapter 423

HB0838 /CH0475 (SB0752)
Food Supplement Program - Restaurant Meals Program
Co-Sponsor
2
2
Approved by the Governor - Chapter 475

HB0876 /CH0506 (SB0798/CH0507)
Higher Education - Policy on Student Concerns About Athletic Programs and Activities
Co-Sponsor
2
2
Approved by the Governor - Chapter 506

HB0891 (SB0289)
State Personnel - Grievance Procedures
Co-Sponsor
2
2
Vetoed by the Governor (Policy)

HB0916
Maryland National Guard - Tuition Assistance Program - Modifications
Co-Sponsor
2
2
In the House - Withdrawn by Sponsor

HB0923 /CH0705 (SB0642)
Task Force to Study Transportation Access
Co-Sponsor
2
2
Enacted under Article II, Section 17(c) of the Maryland Constitution - Chapter 705

HB1010 /CH0317 (SB0801/CH0318)
Brewery Modernization Act of 2019
Co-Sponsor
2
2
Approved by the Governor - Chapter 317

HB1020 (SB0713)
Wireless Facilities - Permitting and Siting
Co-Sponsor
2
2
In the House - Referred to interim study by Economic Matters

HB1050
Agriculture - Cost-Sharing Program - Sale of Harvested Cover Crops
Co-Sponsor
2
2
In the House - Withdrawn by Sponsor

HB1117
Maryland Transit Administration - Extension of MARC Service - Plans and Report
Co-Sponsor
2
2
In the House - Withdrawn by Sponsor

HB1118
Use of Public Funds - Playground and Athletic Field Surfaces - Authorizations, Preferences, and Prohibitions
Co-Sponsor
2
2
In the House - Hearing 3/12 at 1:00 p.m.

HB1133 (SB0503)
Military Service Credit - Eligibility
Co-Sponsor
2
2
In the House - Hearing 2/28 at 1:00 p.m.

HB1158 (SB0516/CH0757)
Clean Energy Jobs
Co-Sponsor
2
2
In the House - Hearing 3/08 at 1:00 p.m.

HB1162 (SB0656)
Heritage Structure Rehabilitation Tax Credit - Alterations - Opportunity Zones, Targeted Projects, and Transferability
Co-Sponsor
2
2
In the House - Hearing 3/08 at 1:00 p.m.

HB1192 /CH0336 (SB1014/CH0337)
Assembly Areas - State-Funded Construction or Renovation - Assisted Listening System Requirement
Co-Sponsor
2
2
Approved by the Governor - Chapter 336

HB1310 (SB0720)
Real Property – Fiber Deployment – Broadband Services
Co-Sponsor
2
2
In the House - First Reading House Rules and Executive Nominations

HB1392 (SB0820)
Public Health - Co-Prescribing, Prescribing and Dispensing Opioid Overdose Reversal Drugs
Co-Sponsor
2
2
In the House - First Reading House Rules and Executive Nominations

HB1396 (SB0357)
Property Tax Exemption - Disabled Veterans
Co-Sponsor
2
2
In the House - First Reading House Rules and Executive Nominations

HJ0002 (SJ0001)
United States Constitution - Amendments Convention - Democracy Amendment
Co-Sponsor
2
2
In the House - Withdrawn by Sponsor

HB0397 /CH0301 (SB0339/CH0302)
Public Safety - 9-1-1 Emergency Telephone System (Carl Henn's Law)
By Request - Committee
4
2
Approved by the Governor - Chapter 301
Denotes enacted legislation
Legislative Bond Initiatives
Project Name

Status

Introduced

House Sponsors

Senate Sponsors

County

Frederick

Amount Requested

$200,000

House Initiative

$200,000

Senate Initiative

Other Funding

Total Funding

$200,000
| Project Name | Status | House Sponsors | Senate Sponsors | County | Amount Requested | House Initiative | Senate Initiative | Other Funding | Total Funding |
| --- | --- | --- | --- | --- | --- | --- | --- | --- | --- |
| YMCA of Frederick County | Introduced | | | Frederick | $200,000 | $200,000 | | | $200,000 |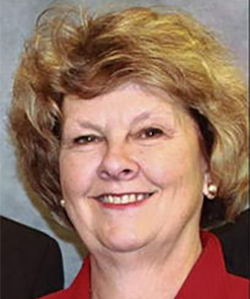 Tenure

First elected to the Maryland House of Delegates in 2014. Member since 2015.
Current Assignments

2015 Appropriations Committee

2015 Transportation and the Environment Subcommittee of the Appropriations Committee

2015 Oversight Committee on Pensions of the Appropriations Commitee

2015 Joint Committee on Pensions

2015 Joint Committee on Ending Homelessness

2019 Workgroup to Study Shelter and Supportive Services for Unaccompanied Homeless Minors

2015 Women Legislators of Maryland (1st Vice-President, 2018-2019, Vice President, 2019-2020)

2015 Maryland Legislative Latino Caucus, Associate Member

2018 Chair, Frederick County House Delegation (Member-2015)
Public Service

Frederick County Veterans Advisory Council, 2018-; Task Force on Rural Internet, Broadband, Wireless, and Cellular Service, 2017-2019; Alderman, City of Frederick, 2009-2013; Democratic State Central Committee, 2007-2010; Transportation Planning Board of the Metropolitan Washington Council of Governments, 2009-2013; Transportation Planning Board Bus on Shoulders Task Force, Co-Chair, 2012-2013; Legislative Committee of the Maryland Municipal League, Vice Chair (2012-2013), 2009-2013; Frederick Arts Council; Golden Mile Alliance; Airport Commission; Tax Setoff Committee; Taxicab Commission.
Memberships

Maryland Military Installation Caucus, 2017-; Women Legislators of Maryland (2nd Vice-President, 2017-2018), 2015-.
Biographical Information

Born, Cumberland, Maryland, January 5, 1951; Bishop Walsh High School, 1968; University of Maryland, Certificate, Paralegal; Frostburg University, B.A. Political Science; Frostburg University, MBA, Business Administration; Construction Project Manager; Legislative Staff, Delegate Galen Clagett; Legislative Staff, Delegate Sue Hecht; Married; two children.
Last Updated: 10/25/2019 10:30 AM