Delegate Angela C. Gibson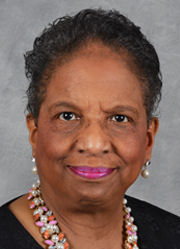 District

41

County

Baltimore City

Committee Assignment(s)

Annapolis Info

224 House Office Building
6 Bladen Street
Annapolis, MD 21401
Phone 410-841-3283 | 301-858-3283
Toll-free in MD
Fax 410-841-3267 | 301-858-3267

Interim Info

224 House Office Building
6 Bladen Street
Annapolis, MD 21401
Phone 410-841-3283 | 301-858-3283
Fax 410-841-3267 | 301-858-3267

Contact

Party

Democrat
Legislation
Sponsorship Type Sort
Chamber Sort
1
2

Bill/Chapter (Cross/Chapter)

Title

Institutions of Higher Education - Hazing - Required Reporting and Education

Sponsorship Type

Primary

1
2
1
2
2
2

Bill/Chapter (Cross/Chapter)

Title

Family Law – Domestic Violence – Definition of Abuse

Sponsorship Type

Co-Sponsor

2
2
2
2
2
2
2
2
2
2
2
2
2
2
2
2
2
2
2
2
2
2
2
2
2
2
2
2
2
2
2
2
2
2
2
2
2
2
2
2
2
2
2
2

Bill/Chapter (Cross/Chapter)

Title

Baltimore City Charter Amendment - Public Nuisances - Notice

Sponsorship Type

Co-Sponsor

2
2

Bill/Chapter (Cross/Chapter)

Title

Baltimore City - Red Light and Speed Camera Fines - Grants to Schools (Baltimore City Technology and Resource Act of 2018)

Sponsorship Type

Co-Sponsor

2
2

Bill/Chapter (Cross/Chapter)

Title

Baltimore City - Police Districts - Redistricting

Sponsorship Type

Co-Sponsor

2
2
2
2

Bill/Chapter (Cross/Chapter)

Title

Victims and Witnesses - U Nonimmigrant Status - Certification of Victim Helpfulness

Sponsorship Type

Co-Sponsor

2
2

Bill/Chapter (Cross/Chapter)

Title

Baltimore City Board of School Commissioners - Public School System - Reports

Sponsorship Type

Co-Sponsor

2
2
2
2

Bill/Chapter (Cross/Chapter)

Title

Baltimore City - Ammunition Sales - Record Keeping

Sponsorship Type

Co-Sponsor

2
2
2
2

Bill/Chapter (Cross/Chapter)

Title

Baltimore City - Private Passenger Motor Vehicle Liability Insurance - Notice and Use of Consumer Report

Sponsorship Type

Co-Sponsor

2
2

Bill/Chapter (Cross/Chapter)

Title

Income Tax Credit - Employment of Diversion Program Participants (Second Chance Act)

Sponsorship Type

Co-Sponsor

2
2
2
2
2
2

Bill/Chapter (Cross/Chapter)

Title

Law Enforcement Misconduct - Erroneous Conviction Compensation and Expungement

Sponsorship Type

Co-Sponsor

2
2

Bill/Chapter (Cross/Chapter)

Title

Law Enforcement Officers - Body-Worn Cameras - Offense

Sponsorship Type

Co-Sponsor

2
2
2
2
2
2
2
2
2
2
2
2
2
2

Bill/Chapter (Cross/Chapter)

Title

Labor and Employment - Pre-Tax Transportation Fringe Benefit - Requirement (Maryland Pre-Tax Commuter Benefit Act)

Sponsorship Type

Co-Sponsor

2
2

Bill/Chapter (Cross/Chapter)

Title

Election Law - Eligible Detainees - Information on Voting Rights

Sponsorship Type

Co-Sponsor

2
2

Bill/Chapter (Cross/Chapter)

Title

Law Enforcement - First Responders Killed or Disabled in the Line of Duty Fund

Sponsorship Type

Co-Sponsor

2
2

Bill/Chapter (Cross/Chapter)

Title

Landlord-Tenant Action - Body Attachment - Prohibition (Jared Kushner Act)

Sponsorship Type

Co-Sponsor

2
2
2
2
2
2
2
2
2
2

Bill/Chapter (Cross/Chapter)

Title

Vehicle Laws - Plug-In Electric Drive Vehicles - Reserved Parking Spaces

Sponsorship Type

Co-Sponsor

2
2

Bill/Chapter (Cross/Chapter)

Title

Baltimore City Lead Remediation and Recovery Act

Sponsorship Type

Co-Sponsor

2
2
2
2
2
2
2
2

Bill/Chapter (Cross/Chapter)

Title

Correctional Services - Inmates - Labor

Sponsorship Type

Co-Sponsor

2
2
2
2

Bill/Chapter (Cross/Chapter)

Title

Education - Dual Language Immersion Program - Authorization

Sponsorship Type

Co-Sponsor

2
2

Bill/Chapter (Cross/Chapter)

Title

State Department of Education - Employment Categories and Practices

Sponsorship Type

Co-Sponsor

2
2
2
2
2
2
2
2

Bill/Chapter (Cross/Chapter)

Title

Pediatric Stroke - Awareness, Training, and Resource Materials

Sponsorship Type

Co-Sponsor

2
2
2
2

Bill/Chapter (Cross/Chapter)

Title

Senior Apartment Housing Facilities - Baltimore City - Security Guard Services

Sponsorship Type

Co-Sponsor

2
2

Bill/Chapter (Cross/Chapter)

Title

Criminal Procedure - Right of Appeal - Unlawful Possession of Firearm

Sponsorship Type

Co-Sponsor

2
2
2
2
2
2
2
2
2
2

Bill/Chapter (Cross/Chapter)

Title

Child Support Administration - Suspension of Driver's License or Privilege to Drive for Arrears - Exemption

Sponsorship Type

Co-Sponsor

2
2

Bill/Chapter (Cross/Chapter)

Title

Education - Summer Meals Expansion Grant Pilot Program

Sponsorship Type

Co-Sponsor

2
2
2
2
2
2
2
2
2
2
2
2
2
2
2
2

Bill/Chapter (Cross/Chapter)

Title

State Highway Administration Neighbor Notification Act

Sponsorship Type

Co-Sponsor

2
2
2
2

Bill/Chapter (Cross/Chapter)

Title

Baltimore City – Vehicle Height Monitoring Systems – Enforcement

Sponsorship Type

Co-Sponsor

2
2
2
2
2
2
2
2
2
2
2
2
2
2

Bill/Chapter (Cross/Chapter)

Title

Tuition Stabilization Act of 2018

Sponsorship Type

Co-Sponsor

2
2
2
2
2
2

Bill/Chapter (Cross/Chapter)

Title

Baltimore City - Police Department - Reports on Funds

Sponsorship Type

Co-Sponsor

2
2

Bill/Chapter (Cross/Chapter)

Title

Foreclosed Property Registry - Duty to Inspect and Maintain Properties in Baltimore City

Sponsorship Type

Co-Sponsor

2
2
2
2
2
2

Bill/Chapter (Cross/Chapter)

Title

Income Tax Credit – Payment of Tuition at a Community College

Sponsorship Type

Co-Sponsor

2
2
2
2

Bill/Chapter (Cross/Chapter)

Title

Local Correctional Facilities - Prerelease and Work Release Programs - Assessment of Fees

Sponsorship Type

Co-Sponsor

2
2
2
2
2
2
2
2

Bill/Chapter (Cross/Chapter)

Title

Baltimore City – Tax Sales of Real Property – Water Liens (Water Taxpayer Protection Act)

Sponsorship Type

Co-Sponsor

2
2
2
2
2
2
2
2
2
2
2
2
2
2
2
2

Bill/Chapter (Cross/Chapter)

Title

Baltimore City Department of Public Works - Water and Sewer Bill Dispute Process, Billing Program Review, and Report

Sponsorship Type

Co-Sponsor

2
2

Bill/Chapter (Cross/Chapter)

Title

Peace Orders and Protective Orders – Surrender of Firearms

Sponsorship Type

Co-Sponsor

2
2
2
2
2
2

Bill/Chapter (Cross/Chapter)

Title

State–Occupied Buildings – Child Care Centers – Requirements and Renovations

Sponsorship Type

Co-Sponsor

2
2

Bill/Chapter (Cross/Chapter)

Title

Real Property - Wrongful Detainer - Emergency Hearing on Lease Agreement

Sponsorship Type

Co-Sponsor

2
2
2
2

Bill/Chapter (Cross/Chapter)

Title

Education - Public School Construction - Contingency Fund

Sponsorship Type

Co-Sponsor

2
2
2
2
2
2
2
2
2
2
2
2

Bill/Chapter (Cross/Chapter)

Title

Presidential Authority Over the Use of Nuclear Weapons

Sponsorship Type

Co-Sponsor

2
2
Bill/Chapter
(Cross/Chapter)
Title
Sponsorship Type
Sponsorship Type Sort
Chamber Sort
Current Status
Org Committees & Hearings
Opp Committees & Hearings
HB0022 /CH0754 (SB0809/CH0755)
Baltimore City - Alcoholic Beverages - Hours of Sale - References to Park Heights Redevelopment Area
Primary
1
2
Approved by the Governor - Chapter 754

HB0368
Institutions of Higher Education - Hazing - Required Reporting and Education
Primary
1
2
In the House - Unfavorable Report by Appropriations

HB1040 (SB0806)
Creation of a State Debt – Baltimore City – West Arlington Water Tower
Primary
1
2
In the House - Unfavorable Report by Appropriations

HB0001 /CH0004 (SB0002/CH0003)
Family Law - Child Conceived Without Consent - Termination of Parental Rights (Rape Survivor Family Protection Act)
Co-Sponsor
2
2
Approved by the Governor - Chapter 4

HB0030
Family Law – Domestic Violence – Definition of Abuse
Co-Sponsor
2
2
In the Senate - Hearing 3/28 at 1:00 p.m.

HB0113 /CH0147
Public Safety - Baltimore City Safe Streets Initiatives - Funding (The Tyrone Ray Safe Streets Act)
Co-Sponsor
2
2
Approved by the Governor - Chapter 147

HB0117 /CH0229 (SB0394/CH0228)
Baltimore City - Property Tax Credit - School Public Safety Officers
Co-Sponsor
2
2
Approved by the Governor - Chapter 229

HB0122 (SB0938)
Criminal Procedure - Sentencing Guidelines - Previously Adjudicated Delinquent
Co-Sponsor
2
2
In the House - Recommitted to Judiciary (Delegate Vallario)

HB0152 (SB1048/CH0019)
Secure and Accessible Registration Act
Co-Sponsor
2
2
In the House - Hearing 2/06 at 1:00 p.m.

HB0170 (SB0188)
Maryland Consolidated Capital Bond Loan of 2017 - Public School Construction Program - Baltimore City Heating and Ventilation Projects
Co-Sponsor
2
2
In the House - Withdrawn by Sponsor

HB0191 (SB0670)
Family Law - Marriage - Age Requirements
Co-Sponsor
2
2
In the Senate - Conference Committee Appointed

HB0245 /CH0230 (SB0802)
Baltimore City - Alcoholic Beverages - Continuing Care Retirement Community License
Co-Sponsor
2
2
Approved by the Governor - Chapter 230

HB0246 (SB0671)
Hate Crimes - Threats and Penalties
Co-Sponsor
2
2
In the House - Withdrawn by Sponsor

HB0281 /CH0358
Education - Computer Science - Curriculum and Professional Development (Securing the Future: Computer Science Education for All)
Co-Sponsor
2
2
Approved by the Governor - Chapter 358

HB0291 /CH0144 (SB1137/CH0145)
Correctional Services - Inmate Case Record - Educational, Vocational, and Job History
Co-Sponsor
2
2
Approved by the Governor - Chapter 144

HB0295 (SB1113)
Correctional Services - Diminution Credits - Education
Co-Sponsor
2
2
In the House - Withdrawn by Sponsor

HB0301 /CH0362 (SB0270/CH0363)
Courts - Evidence of Sexually Assaultive Behavior - Admissibility (Repeat Sexual Predator Prevention Act of 2018)
Co-Sponsor
2
2
Approved by the Governor - Chapter 362

HB0308 /CH0021 (SB0646/CH0015)
Maryland Estate Tax - Unified Credit
Co-Sponsor
2
2
Enacted under Article II, Section 17(b) of the Maryland Constitution - Chapter 21

HB0314 (SB0431)
Criminal Procedure - Cell Site Simulator Technology
Co-Sponsor
2
2
In the Senate - Third Reading Passed with Amendments (41-3)

HB0315 /CH0560
State Department of Education - Breakfast and Lunch Programs - Funding (Maryland Cares for Kids Act)
Co-Sponsor
2
2
Approved by the Governor - Chapter 560

HB0325 (SB0446)
Criminal Law - Use or Possession of a Controlled Dangerous Substance - De Minimis Quantity
Co-Sponsor
2
2
In the House - Unfavorable Report by Judiciary

HB0326 (SB0288)
Public Health - Overdose and Infectious Disease Prevention Supervised Drug Consumption Facility Program
Co-Sponsor
2
2
In the House - Hearing 2/13 at 1:00 p.m.

HB0328 (SB0121/CH0501)
Family Law - Domestic Violence - Definition of Abuse
Co-Sponsor
2
2
In the House - Withdrawn by Sponsor

HB0365 /CH0574 (SB0184/CH0575)
Income Tax - Personal Exemptions - Alteration
Co-Sponsor
2
2
Approved by the Governor - Chapter 574

HB0388 /CH0427 (SB0170/CH0428)
Criminal Procedure - Violation of Conditions of Release
Co-Sponsor
2
2
Approved by the Governor - Chapter 427

HB0427 /CH0033 (SB0217)
Public Schools – Student Sunscreen Use – Policy
Co-Sponsor
2
2
Approved by the Governor - Chapter 33

HB0435
Baltimore City Charter Amendment - Public Nuisances - Notice
Co-Sponsor
2
2
In the House - Withdrawn by Sponsor

HB0437
Baltimore City - Red Light and Speed Camera Fines - Grants to Schools (Baltimore City Technology and Resource Act of 2018)
Co-Sponsor
2
2
In the House - First Reading Environment and Transportation and Ways and Means

HB0440
Baltimore City - Police Districts - Redistricting
Co-Sponsor
2
2
In the Senate - Hearing 4/09 at 7:30 p.m.

HB0450 (SB0252)
Historically Black Institutions - State Funding - Blount-Rawlings-Britt HBI Comparability Program
Co-Sponsor
2
2
In the House - Hearing 2/08 at 2:00 p.m.

HB0461
Victims and Witnesses - U Nonimmigrant Status - Certification of Victim Helpfulness
Co-Sponsor
2
2
In the Senate - Third Reading Passed with Amendments (42-3)

HB0462
Baltimore City Board of School Commissioners - Public School System - Reports
Co-Sponsor
2
2
In the House - Hearing 2/15 at 1:00 p.m.

HB0464 (SB0189)
Baltimore City - Property Tax Credit - Low-Income Employees
Co-Sponsor
2
2
In the House - Hearing 2/06 at 1:00 p.m.

HB0466
Baltimore City - Ammunition Sales - Record Keeping
Co-Sponsor
2
2
In the House - Withdrawn by Sponsor

HB0467 (SB0808)
Creation of a State Debt - Baltimore City - Langston Hughes Community, Business and Resource Center
Co-Sponsor
2
2
In the House - Unfavorable Report by Appropriations

HB0473
Baltimore City - Private Passenger Motor Vehicle Liability Insurance - Notice and Use of Consumer Report
Co-Sponsor
2
2
In the House - Unfavorable Report by Economic Matters

HB0476
Income Tax Credit - Employment of Diversion Program Participants (Second Chance Act)
Co-Sponsor
2
2
In the Senate - Hearing 3/27 at 1:00 p.m.

HB0479 (SB1066)
Juvenile Law - Lead Testing and Behavioral Health Assessment
Co-Sponsor
2
2
In the House - Unfavorable Report by Judiciary

HB0480 (SB0484)
Criminal Procedure - Pretrial Release - Fees
Co-Sponsor
2
2
In the House - Unfavorable Report by Judiciary

HB0487
Law Enforcement Misconduct - Erroneous Conviction Compensation and Expungement
Co-Sponsor
2
2
In the House - Unfavorable Report by Judiciary

HB0495
Law Enforcement Officers - Body-Worn Cameras - Offense
Co-Sponsor
2
2
In the House - Unfavorable Report by Judiciary

HB0504 (SB0556)
State Personnel - Compensation - Shift Differential Pay
Co-Sponsor
2
2
In the House - Withdrawn by Sponsor

HB0520 (SB0583)
Local Government - Sexual Assault Cases - Local Audits
Co-Sponsor
2
2
In the Senate - First Reading Judicial Proceedings

HB0522 (SB0582)
Public Safety - Maryland Police Training and Standards Commission - Sexual Assault Investigation Training
Co-Sponsor
2
2
In the House - Unfavorable Report by Judiciary

HB0523 /CH0689 (SB0464/CH0690)
State Personnel - Employees in the Same Classification - Report
Co-Sponsor
2
2
Approved by the Governor - Chapter 689

HB0532 /CH0855 (SB0594)
Elective Franchise - Registration and Voting at Precinct Polling Place
Co-Sponsor
2
2
Assigned a chapter number, enactment subject to constitutional referendum - Chapter 855

HB0539 (SB0791)
General Provisions - Commemorative Days - Missing Children Day
Co-Sponsor
2
2
In the House - Unfavorable Report by Health and Government Operations

HB0540
Labor and Employment - Pre-Tax Transportation Fringe Benefit - Requirement (Maryland Pre-Tax Commuter Benefit Act)
Co-Sponsor
2
2
In the House - Unfavorable Report by Economic Matters

HB0542
Election Law - Eligible Detainees - Information on Voting Rights
Co-Sponsor
2
2
In the House - Hearing 2/13 at 1:00 p.m.

HB0543
Law Enforcement - First Responders Killed or Disabled in the Line of Duty Fund
Co-Sponsor
2
2
In the House - Unfavorable Report by Judiciary

HB0545
Landlord-Tenant Action - Body Attachment - Prohibition (Jared Kushner Act)
Co-Sponsor
2
2
In the House - Hearing 2/27 at 1:00 p.m. (Environment and Transportation)

HB0561 (SB1099/CH0753)
Office of Legislative Audits - Audits of the Baltimore City Police Department
Co-Sponsor
2
2
In the Senate - First Reading Education, Health, and Environmental Affairs

HB0568 /CH0381
Education - Student Data Governance
Co-Sponsor
2
2
Approved by the Governor - Chapter 381

HB0572 /CH0603 (SB0153/CH0604)
Income Tax – Oyster Shell Recycling Credit – Maximum Allowable Amount and Sunset Extension
Co-Sponsor
2
2
Approved by the Governor - Chapter 603

HB0597 (SB0417)
Commission on African American Patriots in the American Revolutionary War
Co-Sponsor
2
2
In the Senate - First Reading Education, Health, and Environmental Affairs

HB0598
Vehicle Laws - Plug-In Electric Drive Vehicles - Reserved Parking Spaces
Co-Sponsor
2
2
In the House - Unfavorable Report by Environment and Transportation

HB0604
Baltimore City Lead Remediation and Recovery Act
Co-Sponsor
2
2
In the House - Unfavorable Report by Environment and Transportation

HB0605 /CH0620
State Student Loan Refinancing Program - Market-Specific Consultant Study
Co-Sponsor
2
2
Approved by the Governor - Chapter 620

HB0622 /CH0386 (SB0161/CH0385)
Public Schools – Students With Sickle Cell Disease – Guidelines
Co-Sponsor
2
2
Approved by the Governor - Chapter 386

HB0624 (SB1229)
Public Institutions of Higher Education – Family Members of Killed or Disabled First Responders – Tuition Exemption (Sean Suiter Act)
Co-Sponsor
2
2
In the House - Hearing 2/22 at 1:00 p.m.

HB0628
Correctional Services - Inmates - Labor
Co-Sponsor
2
2
In the Senate - Hearing 3/27 at 1:00 p.m.

HB0629 (SB0568)
State Employee and Retiree Health and Welfare Benefits Program - Retiree Dependent Participation in the Maryland Rx Program
Co-Sponsor
2
2
In the House - Withdrawn by Sponsor

HB0642
Education - Dual Language Immersion Program - Authorization
Co-Sponsor
2
2
In the House - Hearing 2/16 at 1:00 p.m.

HB0643
State Department of Education - Employment Categories and Practices
Co-Sponsor
2
2
Vetoed by the Governor (Policy)

HB0653 /CH0215 (SB0522/CH0216)
Health Care Providers - Opioid and Benzodiazepine Prescriptions - Discussion of Benefits and Risks
Co-Sponsor
2
2
Approved by the Governor - Chapter 215

HB0664 (SB0543)
Labor and Employment - Payment of the Minimum Wage Required (Fight for Fifteen)
Co-Sponsor
2
2
In the House - Hearing 2/27 at 1:00 p.m.

HB0667 (SB0408)
Education - Community Colleges - Collective Bargaining
Co-Sponsor
2
2
In the House - Hearing 2/20 at 1:00 p.m.

HB0668
Pediatric Stroke - Awareness, Training, and Resource Materials
Co-Sponsor
2
2
In the Senate - Hearing 3/29 at 1:00 p.m.

HB0682 (SB0438)
State Department of Education - Nonprofit Youth Development Program - Established
Co-Sponsor
2
2
In the House - Hearing 2/22 at 1:00 p.m.

HB0687
Senior Apartment Housing Facilities - Baltimore City - Security Guard Services
Co-Sponsor
2
2
In the House - Hearing 3/02 at 1:00 p.m.

HB0692
Criminal Procedure - Right of Appeal - Unlawful Possession of Firearm
Co-Sponsor
2
2
In the House - Hearing 3/06 at 1:00 p.m.

HB0693 /CH0387 (SB0612)
State Education Aid - Tax Increment Financing Development Districts - Repeal of Sunset Provision
Co-Sponsor
2
2
Approved by the Governor - Chapter 387

HB0713 (SB1027)
Higher Education - Transfer Student Education Records - Requirements
Co-Sponsor
2
2
In the House - Hearing 2/13 at 1:00 p.m.

HB0787 /CH0827 (SB0629/CH0828)
Correctional Facilities - Pregnant Inmates - Medical Care
Co-Sponsor
2
2
Enacted under Article II, Section 17(c) of the Maryland Constitution - Chapter 827

HB0797 /CH0254 (SB0598/CH0255)
Correctional Services - Inmates - Menstrual Hygiene Products
Co-Sponsor
2
2
Approved by the Governor - Chapter 254

HB0804
Child Support Administration - Suspension of Driver's License or Privilege to Drive for Arrears - Exemption
Co-Sponsor
2
2
In the House - Withdrawn by Sponsor

HB0806
Education - Summer Meals Expansion Grant Pilot Program
Co-Sponsor
2
2
In the House - Hearing 2/22 at 1:00 p.m.

HB0819 /CH0253 (SB0741)
Public Safety – Handgun Permit Review Board – Appeals
Co-Sponsor
2
2
Approved by the Governor - Chapter 253

HB0846 (SB0249)
Inmates - Life Imprisonment - Parole Reform
Co-Sponsor
2
2
In the House - Hearing 2/15 at 1:00 p.m.

HB0856 /CH0612 (SB0647/CH0611)
Earned Income Tax Credit – Individuals Without Qualifying Children – Repeal of Minimum Age Requirement
Co-Sponsor
2
2
Approved by the Governor - Chapter 612

HB0867 (SB0805)
Baltimore City - Table Game Proceeds - Recreational Facilities and School Programs
Co-Sponsor
2
2
In the House - Hearing 2/16 at 1:00 p.m.

HB0888 (SB0707/CH0252)
Criminal Law – Firearm Crimes – Rapid Fire Trigger Activator
Co-Sponsor
2
2
Vetoed by the Governor (Duplicative)

HB0905 /CH0231
Baltimore City - Alcoholic Beverages - Reissuance of Licenses (Community Liquor Empowerment Act of 2018)
Co-Sponsor
2
2
Approved by the Governor - Chapter 231

HB0932 (SB0807)
Creation of a State Debt - Baltimore City - Bnos Yisroel of Baltimore
Co-Sponsor
2
2
In the House - Unfavorable Report by Appropriations

HB0977
State Highway Administration Neighbor Notification Act
Co-Sponsor
2
2
In the House - Unfavorable Report by Environment and Transportation

HB1062 (SB0827)
Historically Black Colleges and Universities – Appointment of a Special Advisor – Development of a Remedial Plan(HBCU Equity Act of 2018)
Co-Sponsor
2
2
In the House - Hearing 3/01 at 1:15 p.m.

HB1139
Baltimore City – Vehicle Height Monitoring Systems – Enforcement
Co-Sponsor
2
2
In the Senate - Rereferred to Judicial Proceedings

HB1152 (SB0965)
Family Law - Age of Majority - Jurisdiction of Court
Co-Sponsor
2
2
In the House - Unfavorable Report by Judiciary

HB1167 (SB1011)
Protect Maryland Health Care Act of 2018
Co-Sponsor
2
2
In the House - Hearing 2/22 at 1:00 p.m.

HB1169 (SB0343)
Baltimore City - Office of State's Attorney - Authority to Appoint Criminal Investigators
Co-Sponsor
2
2
In the Senate - First Reading Judicial Proceedings

HB1194 (SB1023)
Health – Drug Cost Commission
Co-Sponsor
2
2
In the Senate - Favorable Report by Finance

HB1203 (SB1141)
Maryland Education Opportunity Act of 2018
Co-Sponsor
2
2
In the House - Hearing 2/27 at 1:00 p.m.

HB1209 /CH0502
Public Safety – Missing Persons – Information (Eula and Danny's Law)
Co-Sponsor
2
2
Approved by the Governor - Chapter 502

HB1223
Tuition Stabilization Act of 2018
Co-Sponsor
2
2
In the House - Withdrawn by Sponsor

HB1225 (SB0987)
Compensation to Individual Erroneously Convicted, Sentenced, and Confined or Whose Conviction or Adjudication is Reversed
Co-Sponsor
2
2
In the Senate - First Reading Judicial Proceedings and Budget and Taxation

HB1234 /CH0403 (SB0618)
Career Youth and Public Sector Apprenticeship Act
Co-Sponsor
2
2
Approved by the Governor - Chapter 403

HB1259
Baltimore City - Police Department - Reports on Funds
Co-Sponsor
2
2
In the Senate - Hearing 3/27 at 1:00 p.m.

HB1263
Foreclosed Property Registry - Duty to Inspect and Maintain Properties in Baltimore City
Co-Sponsor
2
2
In the House - Unfavorable Report by Environment and Transportation

HB1283 /CH0450
Health Insurance - Prescription Contraceptives - Coverage for Single Dispensing
Co-Sponsor
2
2
Approved by the Governor - Chapter 450

HB1286 /CH0839 (SB0614/CH0840)
State Center - Redevelopment - Requirements, Participation, and Process
Co-Sponsor
2
2
Enacted under Article II, Section 17(c) of the Maryland Constitution - Chapter 839

HB1294
Income Tax Credit – Payment of Tuition at a Community College
Co-Sponsor
2
2
In the House - Hearing 3/09 at 1:00 p.m.

HB1303 /CH0425 (SB0491/CH0426)
Family Law - Domestic Violence - Permanent Protective Orders
Co-Sponsor
2
2
Approved by the Governor - Chapter 425

HB1313
Local Correctional Facilities - Prerelease and Work Release Programs - Assessment of Fees
Co-Sponsor
2
2
In the House - Unfavorable Report by Judiciary

HB1342 /CH0525 (SB1138)
State Government – Discrimination and Harassment
Co-Sponsor
2
2
Approved by the Governor - Chapter 525

HB1383 (SB1212)
Criminal Procedure - Expungement - Expansion (Maryland Record Expungement Designed to Enhance Employment (REDEEM) Act of 2018)
Co-Sponsor
2
2
In the House - Hearing 3/13 at 1:00 p.m.

HB1400 /CH0307
State Employee and Retiree Health and Welfare Benefits Program – Employees of Qualifying Organizations
Co-Sponsor
2
2
Approved by the Governor - Chapter 307

HB1409
Baltimore City – Tax Sales of Real Property – Water Liens (Water Taxpayer Protection Act)
Co-Sponsor
2
2
In the Senate - Hearing 3/28 at 1:00 p.m.

HB1453 (SB0732)
Clean Energy Jobs Act of 2018
Co-Sponsor
2
2
In the House - Withdrawn by Sponsor

HB1462 (SB0701)
Commercial Driver's Licenses - Recognition, Prevention, and Reporting of Human Trafficking
Co-Sponsor
2
2
In the Senate - First Reading Judicial Proceedings

HB1483 /CH0287
Duties of a Guardian of the Person - Visitation
Co-Sponsor
2
2
Approved by the Governor - Chapter 287

HB1516 (SB1002)
Public Health - Healthy Maryland Program - Establishment (Healthy Maryland Act of 2018)
Co-Sponsor
2
2
In the House - Withdrawn by Sponsor

HB1529 (SB1100)
Criminal Law - Assault - Sentencing (Violence Prevention Education Act)
Co-Sponsor
2
2
In the House - Unfavorable Report by Judiciary

HB1536 (SB0546)
Higher Education - Tuition Rates - Exemptions
Co-Sponsor
2
2
In the Senate - First Reading Education, Health, and Environmental Affairs

HB1554 /CH0406
Child Support - Payment Incentive Program Expansion Act of 2018
Co-Sponsor
2
2
Approved by the Governor - Chapter 406

HB1560
Baltimore City Department of Public Works - Water and Sewer Bill Dispute Process, Billing Program Review, and Report
Co-Sponsor
2
2
In the Senate - First Reading Senate Rules

HB1562
Peace Orders and Protective Orders – Surrender of Firearms
Co-Sponsor
2
2
In the House - Unfavorable Report by Judiciary

HB1585 (SB0511)
Civil Actions - Active Duty Service Members - Electronic Deposition and Testimony
Co-Sponsor
2
2
In the House - Withdrawn by Sponsor

HB1596 /CH0738 (SB1010/CH0739)
Disclosing Sexual Harassment in the Workplace Act of 2018
Co-Sponsor
2
2
Approved by the Governor - Chapter 738

HB1610
State–Occupied Buildings – Child Care Centers – Requirements and Renovations
Co-Sponsor
2
2
In the House - Withdrawn by Sponsor

HB1612
Real Property - Wrongful Detainer - Emergency Hearing on Lease Agreement
Co-Sponsor
2
2
In the House - Hearing 3/06 at 1:00 p.m.

HB1630 /CH0409
Higher Education - James Proctor Scholarship Program - Established
Co-Sponsor
2
2
Approved by the Governor - Chapter 409

HB1633
Education - Public School Construction - Contingency Fund
Co-Sponsor
2
2
In the House - Withdrawn by Sponsor

HB1638 (SB0788)
Public Information Act - Revisions
Co-Sponsor
2
2
In the House - Withdrawn by Sponsor

HB1646 /CH0251 (SB1036)
Criminal Procedure - Firearms - Transfer
Co-Sponsor
2
2
Approved by the Governor - Chapter 251

HB1697 (SB1122/CH0357)
Education - Commercial Gaming Revenues - Constitutional Amendment
Co-Sponsor
2
2
In the Senate - Second Reading Passed

HJ0002 (SJ0004)
Increasing Maryland's Competitiveness Through Gender Diversity in Boardrooms
Co-Sponsor
2
2
In the House - Unfavorable Report by House Rules and Executive Nominations

HJ0011 (SJ0007)
United States Constitution - Amendments Convention - Democracy Amendment
Co-Sponsor
2
2
In the Senate - Unfavorable Report by Education, Health, and Environmental Affairs

HJ0012
Presidential Authority Over the Use of Nuclear Weapons
Co-Sponsor
2
2
In the House - Unfavorable Report by House Rules and Executive Nominations
Denotes enacted legislation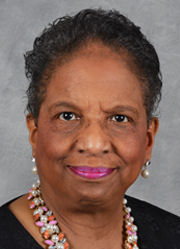 Tenure

Member of the House of Delegates since February 24, 2017.
Current Assignments

2017 Judiciary Committee

2017 Family Law Subcommittee of the Judiciary Committee

2017 Legislative Black Caucus of Maryland

2017 Women Legislators of Maryland
Memberships

Baltimore City Central Committee (41st District Chair), 2006-; Morgan State University Alumni Assocation; Fallstaff Community Association; President, Epsilon Omega Chapter; Alpha Kappa Alpha Sorority, Inc.; Baltimore Chapter, Continental Societies, inc.; The Moles; Vanguard Political Organization, Inc..
Biographical Information

Born in Baltimore, Maryland, March 21, 1949; Eastern High School, Baltimore, Maryland; Morgan State University, B.S.; Government Relations Officer, Special Assistant to the Mayor of Baltimore City, 1987-2017.
Last Updated: 10/15/2019 3:29 PM