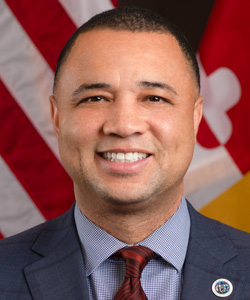 District

40

County

Baltimore City

Committee Assignment(s)

Executive Nominations Committee (Chair)
Finance Committee


Annapolis Info

223 James Senate Office Building
11 Bladen Street
Annapolis, MD 21401
Phone 410-841-3656 | 301-858-3656
Toll-free in MD 1-800-492-7122 ext. 3656
Fax 410-841-3738 | 301-858-3738

Interim Info

223 James Senate Office Building
11 Bladen Street
Annapolis, MD 21401
Phone 410-841-3656 | 301-858-3656
Fax 410-841-3738 | 301-858-3738

Contact

Party

Democrat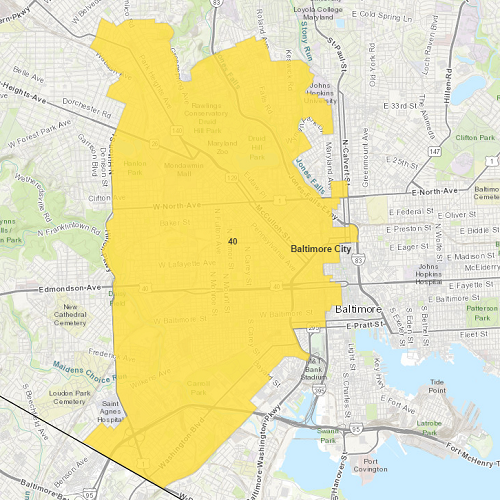 Legislation
Sponsorship Type Sort
Chamber Sort
1
2

Bill/Chapter (Cross/Chapter)

Title

Real Property - Ground Rent Redemption Fund - Establishment

Sponsorship Type

Primary

1
2

Bill/Chapter (Cross/Chapter)

Title

Property Tax Exemption - Religious Group or Organization - Third-Party Leases

Sponsorship Type

Primary

1
2

Bill/Chapter (Cross/Chapter)

Title

Maryland Technology Development Corporation - Business Diversity Incubator Program and Fund - Establishment

Sponsorship Type

Primary

1
2
1
2
1
2
1
2
1
2
1
2
1
2
1
2
1
2
1
2
1
2
1
2
1
2
1
2
1
2
1
2
1
2
1
2
1
2
1
2
2
2
2
2
2
2
2
2
2
2
2
2
2
2
2
2
2
2
2
2
2
2

Bill/Chapter (Cross/Chapter)

Title

Healthy Working Families Act - Railroad Employees - Unpaid Leave

Sponsorship Type

Co-Sponsor

2
2
2
2
2
2

Bill/Chapter (Cross/Chapter)

Title

Maryland Small Food Banks Grant Program - Establishment

Sponsorship Type

Co-Sponsor

2
2
2
2
2
2
2
2
2
2
2
2
3
2
3
2
6
2
Bill/Chapter
(Cross/Chapter)
Title
Sponsorship Type
Sponsorship Type Sort
Chamber Sort
Current Status
Org Committees & Hearings
Opp Committees & Hearings
SB0114 /CH0531
Property Tax - Real Property Tax Assessment and Tax Rate Increases - Notice Requirements
Primary
1
2
Approved by the Governor - Chapter 531

SB0119
Real Property - Ground Rent Redemption Fund - Establishment
Primary
1
2
In the Senate - Withdrawn by Sponsor

SB0122
Property Tax Exemption - Religious Group or Organization - Third-Party Leases
Primary
1
2
In the Senate - Hearing 1/19 at 1:00 p.m.

SB0125
Maryland Technology Development Corporation - Business Diversity Incubator Program and Fund - Establishment
Primary
1
2
In the House - Hearing 3/30 at 1:00 p.m.

SB0331 /CH0136 (HB0627)
Baltimore City – West North Avenue Development Authority – Membership and Procurement
Primary
1
2
Approved by the Governor - Chapter 136

SB0332 /CH0139 (HB0690/CH0140)
Maryland African American Museum Corporation - Board of Directors - Membership
Primary
1
2
Approved by the Governor - Chapter 139

SB0333 /CH0523 (HB0471/CH0522)
Economic Development – Regional Institution Strategic Enterprise Zone Program – Alterations and Financing
Primary
1
2
Approved by the Governor - Chapter 523

SB0334 /CH0138 (HB0809/CH0137)
State Procurement - Minority Business Enterprise Program - Extension and Reports
Primary
1
2
Approved by the Governor - Chapter 138

SB0371 /CH0524 (HB0338)
Baltimore City - Commercial Use - Definition
Primary
1
2
Approved by the Governor - Chapter 524

SB0438 (HB0743)
Minority Business Enterprises - Calculation of Participation Rates - Procurements From Maryland Correctional Enterprises
Primary
1
2
In the Senate - Hearing 2/22 at 1:00 p.m.

SB0439 (HB0475)
Advanced Practice Registered Nurse Compact
Primary
1
2
In the Senate - Hearing 2/28 at 1:00 p.m.

SB0440 /CH0132 (HB0655/CH0133)
Baltimore City - Alcoholic Beverages Districts - Legislative Districting Plan References
Primary
1
2
Approved by the Governor - Chapter 132

SB0445 /CH0134 (HB0625/CH0135)
Appraisal Gap From Historic Redlining Financial Assistance Program - Alterations
Primary
1
2
Approved by the Governor - Chapter 134

SB0455 /CH0386 (HB0669/CH0387)
Real Estate Appraisers - Licensing and Certification - Qualifications
Primary
1
2
Approved by the Governor - Chapter 386

SB0578 (HB0646)
State Procurement - Minority Business Enterprises and Small Business Enterprises - Procurement Forecast, Employee Performance, and Outreach (Small Business Protection Act of Maryland)
Primary
1
2
In the Senate - Hearing 3/01 at 1:00 p.m.

SB0579 /CH0525 (HB0728)
Residential Property - Service Agreements - Prohibitions
Primary
1
2
Approved by the Governor - Chapter 525

SB0587 (HB1135)
Health Care Facilities - Use of Medical Cannabis
Primary
1
2
In the Senate - Hearing 3/09 at 1:00 p.m.

SB0588 /CH0388 (HB0886/CH0389)
Baltimore City - 40th District - Alcoholic Beverages
Primary
1
2
Approved by the Governor - Chapter 388

SB0589 /CH0391 (HB0885/CH0390)
Baltimore City – Alcoholic Beverages – Related Event Promoter's Permit
Primary
1
2
Approved by the Governor - Chapter 391

SB0826 /CH0528 (HB0897/CH0529)
Homeowners' Property Tax Credit - Qualified Homeowner - Application and Certification Requirements
Primary
1
2
Approved by the Governor - Chapter 528

SB0827 /CH0526 (HB0909/CH0527)
State Commission of Real Estate Appraisers, Appraisal Management Companies, and Home Inspectors – Sunset Extension
Primary
1
2
Approved by the Governor - Chapter 526

SB0828 /CH0259 (HB0988/CH0258)
Family and Medical Leave Insurance Program - Modifications
Primary
1
2
Approved by the Governor - Chapter 259

SB0847 /CH0393 (HB0916/CH0394)
Baltimore City – Alcoholic Beverages – Violation Procedures and Fines
Primary
1
2
Approved by the Governor - Chapter 393

SB0052 (HB0087)
Supplemental Nutrition Assistance Programs – Waiver – Diapers and Menstrual Hygiene Products
Co-Sponsor
2
2
In the House - Hearing canceled

SB0090 /CH0413 (HB0037/CH0414)
Commercial Law - Consumer Protection - Telephone Solicitation (Stop the Spam Calls Act of 2023)
Co-Sponsor
2
2
Approved by the Governor - Chapter 413

SB0193 /CH0181 (HB0092/CH0180)
Ground Leases - Collection of Rent, Interest, Fees, and Other Expenses - Registration Requirements
Co-Sponsor
2
2
Approved by the Governor - Chapter 181

SB0194 /CH0185 (HB0118/CH0184)
Ground Leases – Notices and Billing – Forms and Requirements
Co-Sponsor
2
2
Approved by the Governor - Chapter 185

SB0196 /CH0182 (HB0093/CH0183)
Residential Ground Leases - Redemption and Extinguishment - Requirements
Co-Sponsor
2
2
Approved by the Governor - Chapter 182

SB0228 /CH0667 (HB0614/CH0668)
Department of Aging - Long-Term Care and Dementia Care Navigation Programs
Co-Sponsor
2
2
Approved by the Governor - Chapter 667

SB0231 /CH0621 (HB0726/CH0620)
Maryland Medical Assistance Program - Autism Waiver - Military Families
Co-Sponsor
2
2
Approved by the Governor - Chapter 621

SB0234 /CH0374 (HB0420/CH0373)
Health Services Cost Review Commission - Hospital Rates - All-Payer Model Contract
Co-Sponsor
2
2
Approved by the Governor - Chapter 374

SB0289 /CH0733 (HB0372/CH0734)
Higher Education - Veterans of the Afghanistan and Iraq Conflicts Scholarship - Altering Name of Scholarship
Co-Sponsor
2
2
Approved by the Governor - Chapter 733

SB0379 /CH0152 (HB0535/CH0151)
Election Law - Ballot Issuance, Processing, and Reporting Procedures and 2024 Primary Date
Co-Sponsor
2
2
Approved by the Governor - Chapter 152

SB0404 /CH0311 (HB0333/CH0310)
Hospitals - Financial Assistance - Medical Bill Reimbursement Process
Co-Sponsor
2
2
Approved by the Governor - Chapter 311

SB0456
Healthy Working Families Act - Railroad Employees - Unpaid Leave
Co-Sponsor
2
2
In the Senate - Hearing 3/02 at 1:00 p.m.

SB0460 /CH0252 (HB0283/CH0253)
Maryland Medical Assistance Program – Gender–Affirming Treatment (Trans Health Equity Act)
Co-Sponsor
2
2
Approved by the Governor - Chapter 252

SB0516 /CH0255 (HB0556/CH0254)
Cannabis Reform
Co-Sponsor
2
2
Approved by the Governor - Chapter 255

SB0562
Maryland Small Food Banks Grant Program - Establishment
Co-Sponsor
2
2
In the House - Hearing 3/30 at 1:00 p.m.

SB0601 /CH0256 (HB0814/CH0257)
Maryland Health Benefit Exchange - State-Based Young Adult Health Insurance Subsidies Pilot Program - Sunset Extension
Co-Sponsor
2
2
Approved by the Governor - Chapter 256

SB0617 /CH0483 (HB0673/CH0484)
Maryland Transit Administration – Fare Price Requirements – Alterations
Co-Sponsor
2
2
Approved by the Governor - Chapter 483

SB0867 (HB0652)
Vehicle Laws – Special and Commemorative Registration Plate – Maryland Heroes
Co-Sponsor
2
2
In the House - First Reading Environment and Transportation

SB0959 /CH0113 (HB1290)
Higher Education - Maryland 529 Program - Reform
Co-Sponsor
2
2
Approved by the Governor - Chapter 113

SB0974 /CH0106 (HB1301)
State-Owned Nursing Homes - Deficiencies, Citations, and Fines - Contractor Reporting Requirements
Co-Sponsor
2
2
Approved by the Governor - Chapter 106

SB0547 (HB0551/CH0440)
Office of Statewide Broadband - Study of Broadband Expansion Incentives
By Request - Administration
3
2
In the House - First Reading House Rules and Executive Nominations

SB0550 /CH0433 (HB0548/CH0432)
Financial Regulation - Maryland Community Investment Venture Fund - Establishment (Access to Banking Act)
By Request - Administration
3
2
Approved by the Governor - Chapter 433

SB0665 /CH0008 (HB0774/CH0007)
Assisted Living Programs - Unlicensed Programs - Resident Abuse, Exploitation, and Neglect (The Senator Delores Kelley Residents of Unlicensed Programs Protection Act)
By Request - Other
6
2
Approved by the Governor - Chapter 8
Denotes enacted legislation
Legislative Bond Initiatives
Project Name

Status

Introduced

House Sponsors

Senate Sponsors

County

Baltimore City

Amount Requested

$200,000

Senate Initiative

$100,000

House Initiative

Other Funding

Total Funding

$100,000
Project Name

Status

Introduced

House Sponsors

Senate Sponsors

County

Baltimore City

Amount Requested

$250,000

Senate Initiative

House Initiative

$250,000

Other Funding

Total Funding

$250,000
Project Name

Status

Introduced

House Sponsors

Senate Sponsors

County

Baltimore City

Amount Requested

$750,000

Senate Initiative

House Initiative

Other Funding

$300,000

Total Funding

$300,000
Project Name

Status

Introduced

House Sponsors

Senate Sponsors

County

Baltimore City

Amount Requested

$100,000

Senate Initiative

House Initiative

Other Funding

$100,000

Total Funding

$100,000
Project Name

Status

Introduced

House Sponsors

Senate Sponsors

County

Baltimore City

Amount Requested

$250,000

Senate Initiative

$150,000

House Initiative

Other Funding

Total Funding

$150,000
Project Name

Status

Introduced

House Sponsors

Senate Sponsors

County

Baltimore City

Amount Requested

$350,000

Senate Initiative

$175,000

House Initiative

Other Funding

Total Funding

$175,000
Project Name

Status

Introduced

House Sponsors

Senate Sponsors

County

Baltimore City

Amount Requested

$500,000

Senate Initiative

House Initiative

Other Funding

Total Funding

$0
Project Name

Status

Introduced

House Sponsors

Senate Sponsors

County

Baltimore City

Amount Requested

$500,000

Senate Initiative

House Initiative

$250,000

Other Funding

Total Funding

$250,000
| Project Name | Status | House Sponsors | Senate Sponsors | County | Amount Requested | Senate Initiative | House Initiative | Other Funding | Total Funding |
| --- | --- | --- | --- | --- | --- | --- | --- | --- | --- |
| Afya Center for Community Mindfulness | Introduced | | | Baltimore City | $200,000 | $100,000 | | | $100,000 |
| Community Resource Center Rooftop Garden | Introduced | | | Baltimore City | $250,000 | | $250,000 | | $250,000 |
| Delta Community Center | Introduced | | | Baltimore City | $750,000 | | | $300,000 | $300,000 |
| Delta Lambda Foundation Outreach Center | Introduced | | | Baltimore City | $100,000 | | | $100,000 | $100,000 |
| Douglas Village Apartments Phase I | Introduced | | | Baltimore City | $250,000 | $150,000 | | | $150,000 |
| No Struggle No Success Youth and Adult Re-entry | Introduced | | | Baltimore City | $350,000 | $175,000 | | | $175,000 |
| Old Gilmor Elementary | Introduced | | | Baltimore City | $500,000 | | | | $0 |
| Penn North Out of School Time Initiative | Introduced | | | Baltimore City | $500,000 | | $250,000 | | $250,000 |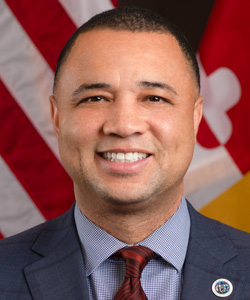 Tenure

First elected to the Maryland Senate in 2018. Member of the Senate since January 9, 2019. Member of the Maryland House of Delegates, 2015-2019
Current Assignments

2023 Chair, Executive Nominations Committee (Vice Chair-2023)

2019 Finance Committee

2023 Joint Committee on Unemployment Insurance Oversight

2020 Joint Committee on Administrative, Executive, and Legislative Review (AELR)

2019 Legislative Black Caucus of Maryland
Past Senate Service

Majority Whip, 2023; Vice Chair, Reapportionment and Redistricting Committee, 2022; Energy and Public Utilities Subcommittee of the Finance Committee, 2019-2023; Senate Chair, Joint Committee on Behavioral Health & Opiod Use Disorders, 2019-2021; Joint Committee on Federal Relations, 2019-2023; Chair, Senate Select Committee 12, Baltimore City Delegation, 2019-2020.
Public Service

West North Avenue Development Authority, 2021-; Maryland Medicaid Advisory Committee, 2019-; Pimlico Community Development Authority, 2019-; Local (Video Lottery) Development Council, Baltimore City, 2016-; Behavioral Health Advisory Council, 2015-2019.
Memberships

Empowerment Temple African Methodist Episcopal (AME) Church, Baltimore.
Biographical Information

Born, Baltimore, Maryland, December 9, 1977; Frostburg State University, B.S. Political Science, 2000; Legislative Aide to Delegate Salima Siler Marriott of Baltimore, 2000-2002; Director of Legislative Affairs for City Council President, Baltimore City 2003-2006; Assistant Deputy Mayor of Administration, 2007-2010; Baltimore City Department of Social Services, 2010-present.
Last Updated: 11/1/2023 6:31 AM