Delegate Michael J. Hough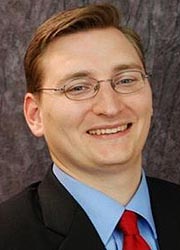 District

3B

County

Frederick and Washington

Committee Assignment(s)

Annapolis Info

213 House Office Building
6 Bladen Street
Annapolis, MD 21401
Phone 301-858-3472
Toll-free in MD

Interim Info

320 House Office Building
6 Bladen Street
Annapolis, 21401
Phone 301-858-3472

Contact

Party

Republican
Legislation
Sponsorship Type Sort
Chamber Sort

Bill/Chapter (Cross/Chapter)

Title

Home Improvement Contractors - Qualifications of Applicants - Trade Experience

Sponsorship Type

Primary

1
2

Bill/Chapter (Cross/Chapter)

Title

Determination of Unemployment Insurance Benefits - Voluntarily Leaving Work - Valid Circumstances

Sponsorship Type

Primary

1
2

Bill/Chapter (Cross/Chapter)

Title

Unemployment Insurance - Appeal of Benefit Determination - Discovery of Financial Crime

Sponsorship Type

Primary

1
2

Bill/Chapter (Cross/Chapter)

Title

Tax Increases - Majority Vote Required

Sponsorship Type

Primary

1
2
1
2
1
2
1
2
1
2
1
2

Bill/Chapter (Cross/Chapter)

Title

Statewide Information Technology Master Plan - Security Policy

Sponsorship Type

Primary

1
2

Bill/Chapter (Cross/Chapter)

Title

Public Schools - Extracurricular Activities - Students Not Enrolled in Public School (Fairness for All Children Act)

Sponsorship Type

Primary

1
2

Bill/Chapter (Cross/Chapter)

Title

Criminal Law - Cannabimimetic Agents - Prohibition

Sponsorship Type

Co-Sponsor

2
2

Bill/Chapter (Cross/Chapter)

Title

Occupational Safety and Health - Good Faith Actions by Business Owners - Penalty Forgiveness

Sponsorship Type

Co-Sponsor

2
2

Bill/Chapter (Cross/Chapter)

Title

Election Law - Polling Places - Proof of Identity

Sponsorship Type

Co-Sponsor

2
2

Bill/Chapter (Cross/Chapter)

Title

Vehicle Laws - Accidents Resulting in Death or Life-Threatening Injury - Mandatory Drug and Alcohol Testing (Kara's Law)

Sponsorship Type

Co-Sponsor

2
2

Bill/Chapter (Cross/Chapter)

Title

Criminal Procedure - Successive Federal and State Prosecutions - Bar

Sponsorship Type

Co-Sponsor

2
2

Bill/Chapter (Cross/Chapter)

Title

Office of the Public Defender - Representation at Bail Hearing - Provisional

Sponsorship Type

Co-Sponsor

2
2
2
2

Bill/Chapter (Cross/Chapter)

Title

Transportation Trust Fund Protection Act

Sponsorship Type

Co-Sponsor

2
2

Bill/Chapter (Cross/Chapter)

Title

Corporate Income Tax - Rate Reduction

Sponsorship Type

Co-Sponsor

2
2

Bill/Chapter (Cross/Chapter)

Title

Retail Service Stations - Disaster Preparation - Generator Tax Credit

Sponsorship Type

Co-Sponsor

2
2
2
2

Bill/Chapter (Cross/Chapter)

Title

Elections - Study Commission on the Redistricting Process in Maryland

Sponsorship Type

Co-Sponsor

2
2

Bill/Chapter (Cross/Chapter)

Title

Election Law - Districting Plan Questions - Inclusion of Map

Sponsorship Type

Co-Sponsor

2
2
2
2
2
2

Bill/Chapter (Cross/Chapter)

Title

State Government - E-Verify Program

Sponsorship Type

Co-Sponsor

2
2

Bill/Chapter (Cross/Chapter)

Title

Labor and Employment - Labor Organizations - Right to Work

Sponsorship Type

Co-Sponsor

2
2
2
2

Bill/Chapter (Cross/Chapter)

Title

Hunting - Deer Muzzle Loader Season - January Days

Sponsorship Type

Co-Sponsor

2
2

Bill/Chapter (Cross/Chapter)

Title

Income Tax Credit - Cat and Dog Adoption

Sponsorship Type

Co-Sponsor

2
2

Bill/Chapter (Cross/Chapter)

Title

Education - Primary and Secondary Schools - Electronic Control Devices

Sponsorship Type

Co-Sponsor

2
2

Bill/Chapter (Cross/Chapter)

Title

Handguns - Permit Qualifications and Carrying on School Property - School Guardians

Sponsorship Type

Co-Sponsor

2
2

Bill/Chapter (Cross/Chapter)

Title

Criminal Law - Carrying Weapons on School Property - Law Enforcement Officers Safety Act

Sponsorship Type

Co-Sponsor

2
2

Bill/Chapter (Cross/Chapter)

Title

Public Safety - Firearm Ammunition - Purchaser Information

Sponsorship Type

Co-Sponsor

2
2

Bill/Chapter (Cross/Chapter)

Title

Income Tax - Subtraction Modification - Military Retirement Income

Sponsorship Type

Co-Sponsor

2
2

Bill/Chapter (Cross/Chapter)

Title

Natural Resources - Deer Bow Hunting Season - End Date

Sponsorship Type

Co-Sponsor

2
2

Bill/Chapter (Cross/Chapter)

Title

Vehicle Laws - Motorcycles - Expiration of Learner's Instructional Permit

Sponsorship Type

Co-Sponsor

2
2

Bill/Chapter (Cross/Chapter)

Title

Motor Vehicle Administration - Multiple Copies of Driving Records - Fees

Sponsorship Type

Co-Sponsor

2
2

Bill/Chapter (Cross/Chapter)

Title

Corporate Income Tax - Rate Reduction

Sponsorship Type

Co-Sponsor

2
2

Bill/Chapter (Cross/Chapter)

Title

Environment - Wastewater Treatment Facilities - Financial Assistance Study

Sponsorship Type

Co-Sponsor

2
2

Bill/Chapter (Cross/Chapter)

Title

State Government - Inspector General

Sponsorship Type

Co-Sponsor

2
2

Bill/Chapter (Cross/Chapter)

Title

Office of the Inspector General - Establishment

Sponsorship Type

Co-Sponsor

2
2
2
2

Bill/Chapter (Cross/Chapter)

Title

Veterans' Organizations - Instant Ticket Lottery Machines - Use of Proceeds

Sponsorship Type

Co-Sponsor

2
2

Bill/Chapter (Cross/Chapter)

Title

Firearms Freedom Act

Sponsorship Type

Co-Sponsor

2
2

Bill/Chapter (Cross/Chapter)

Title

Alcoholic Beverages - Direct Shipment - Kosher or Sacramental Wine Sold at Retail

Sponsorship Type

Co-Sponsor

2
2

Bill/Chapter (Cross/Chapter)

Title

Environment - Sediment Control - Agricultural Land Management Practices

Sponsorship Type

Co-Sponsor

2
2
2
2

Bill/Chapter (Cross/Chapter)

Title

Sales and Use Tax - Tax-Free Week - School Supplies

Sponsorship Type

Co-Sponsor

2
2
2
2
2
2

Bill/Chapter (Cross/Chapter)

Title

Criminal Law - False Statement Concerning Destructive Device or Toxic Material - Venue

Sponsorship Type

Co-Sponsor

2
2

Bill/Chapter (Cross/Chapter)

Title

Criminal Defendants - Citations - Theft

Sponsorship Type

Co-Sponsor

2
2
2
2

Bill/Chapter (Cross/Chapter)

Title

Capital Projects - Eliminating Individual Bond Bills

Sponsorship Type

Co-Sponsor

2
2
2
2
2
2
2
2

Bill/Chapter (Cross/Chapter)

Title

State Employees Pension Choice Act

Sponsorship Type

Co-Sponsor

2
2
2
2

Bill/Chapter (Cross/Chapter)

Title

Prudent Pension Management Act

Sponsorship Type

Co-Sponsor

2
2

Bill/Chapter (Cross/Chapter)

Title

Family Farm - Prevailing Party - Attorney's Fees and Expenses

Sponsorship Type

Co-Sponsor

2
2

Bill/Chapter (Cross/Chapter)

Title

State Board of Education - Financial Literacy Curriculum - Graduation Requirement

Sponsorship Type

Co-Sponsor

2
2

Bill/Chapter (Cross/Chapter)

Title

Corporate Income Tax - Investments in Maryland

Sponsorship Type

Co-Sponsor

2
2

Bill/Chapter (Cross/Chapter)

Title

Personal Property Tax - Investments in Maryland

Sponsorship Type

Co-Sponsor

2
2

Bill/Chapter (Cross/Chapter)

Title

Criminal Procedure - Financial Crimes Against Vulnerable and Elder Adults - Petition to Freeze Assets

Sponsorship Type

Co-Sponsor

2
2

Bill/Chapter (Cross/Chapter)

Title

Education - Public Schools - Parent Empowerment

Sponsorship Type

Co-Sponsor

2
2
2
2

Bill/Chapter (Cross/Chapter)

Title

Criminal Law - Identity Fraud - Prohibitions

Sponsorship Type

Co-Sponsor

2
2
2
2

Bill/Chapter (Cross/Chapter)

Title

Task Force to Study Social Impact Bonds

Sponsorship Type

Co-Sponsor

2
2

Bill/Chapter (Cross/Chapter)

Title

State Government - Maryland Public Information Act - Required Denials Regarding Firearm Dealers, Owners, and Permit Holders

Sponsorship Type

Co-Sponsor

2
2

Bill/Chapter (Cross/Chapter)

Title

Motor Fuel Taxes - Consumer Disclosure Requirements

Sponsorship Type

Co-Sponsor

2
2

Bill/Chapter (Cross/Chapter)

Title

Income Tax Return Preparers - False Returns or Claims for Refund - Statute of Limitations

Sponsorship Type

Co-Sponsor

2
2

Bill/Chapter (Cross/Chapter)

Title

Commission to Consider Mental Health-Related Ways to Limit Mass Violence by Individuals with Antisocial Personality Disorders, Depressive Disorders, or Other Mental Illness

Sponsorship Type

Co-Sponsor

2
2
2
2
2
2
2
2

Bill/Chapter (Cross/Chapter)

Title

Junk Dealers and Scrap Metal Processors - Shopping Carts and Metal Piping

Sponsorship Type

Co-Sponsor

2
2
2
2

Bill/Chapter (Cross/Chapter)

Title

Correctional Services - Diminution Credits - Use of a Firearm in Commission of a Crime

Sponsorship Type

Co-Sponsor

2
2

Bill/Chapter (Cross/Chapter)

Title

Income Tax Credit - Renewable Energy Systems

Sponsorship Type

Co-Sponsor

2
2

Bill/Chapter (Cross/Chapter)

Title

Citizens' Congressional Redistricting Commission

Sponsorship Type

Co-Sponsor

2
2

Bill/Chapter (Cross/Chapter)

Title

Health Occupations - Certified Professional Midwives - Pilot Program

Sponsorship Type

Co-Sponsor

2
2
2
2
2
2

Bill/Chapter (Cross/Chapter)

Title

Task Force to Study Forfeiture of Retirement Benefits for Public Officials Charged with or Convicted of a Crime

Sponsorship Type

Co-Sponsor

2
2
2
2
2
2
2
2
2
2

Bill/Chapter (Cross/Chapter)

Title

Education - Charter Schools - Principals and Teachers - Resident Certification

Sponsorship Type

Co-Sponsor

2
2

Bill/Chapter (Cross/Chapter)

Title

Regulated Firearms - License Issued by Delaware, Pennsylvania, Virginia, or West Virginia - Reciprocity

Sponsorship Type

Co-Sponsor

2
2

Bill/Chapter (Cross/Chapter)

Title

Task Force to Study Mental Illness Among Students in Public Schools

Sponsorship Type

Co-Sponsor

2
2

Bill/Chapter (Cross/Chapter)

Title

Video Lottery Proceeds - Education Trust Fund - Security and Mental Health Services at Public Schools

Sponsorship Type

By Request - Committee

4
2
4
2
4
2
4
2
4
2
Bill/Chapter
(Cross/Chapter)
Title
Sponsorship Type
Sponsorship Type Sort
Chamber Sort
Current Status
Org Committees & Hearings
Opp Committees & Hearings
HB0159
Home Improvement Contractors - Qualifications of Applicants - Trade Experience
Primary
1
2
In the House - Withdrawn by Sponsor
HB0281
Determination of Unemployment Insurance Benefits - Voluntarily Leaving Work - Valid Circumstances
Primary
1
2
In the House - Unfavorable Report by Economic Matters

HB0283
Unemployment Insurance - Appeal of Benefit Determination - Discovery of Financial Crime
Primary
1
2
In the House - Unfavorable Report by Economic Matters

HB0363
Tax Increases - Majority Vote Required
Primary
1
2
In the House - Hearing 3/11 at 2:00 p.m.

HB0541 (SB0571)
Criminal Procedure - Certificate of Completion
Primary
1
2
In the Senate - First Reading Judicial Proceedings

HB0604 /CH0497 (SB0536/CH0496)
Department of Juvenile Services - Graduated Responses - Report
Primary
1
2
Approved by the Governor - Chapter 497

HB0631 /CH0380 (SB0534)
Family Law - Preventing or Interfering with Report of Suspected Child Abuse or Neglect
Primary
1
2
Approved by the Governor - Chapter 380

HB0897 (SB0570)
Professional Licensing and Certification Governing Bodies - Child Abuse Mandated Reporter Training and Discipline
Primary
1
2
In the House - Hearing 2/21 at 1:00 p.m.

HB1258 (SB1040)
Mental Hygiene - Reform of Laws and Delivery of Services
Primary
1
2
In the House - Hearing 3/05 at 1:00 p.m.

HB1276
Statewide Information Technology Master Plan - Security Policy
Primary
1
2
In the House - Hearing 3/06 at 1:00 p.m.

HB1441
Public Schools - Extracurricular Activities - Students Not Enrolled in Public School (Fairness for All Children Act)
Primary
1
2
In the House - First Reading House Rules and Executive Nominations
HB0001
Criminal Law - Cannabimimetic Agents - Prohibition
Co-Sponsor
2
2
Vetoed by the Governor (Duplicative)

HB0104
Occupational Safety and Health - Good Faith Actions by Business Owners - Penalty Forgiveness
Co-Sponsor
2
2
In the House - Unfavorable Report by Economic Matters

HB0137
Election Law - Polling Places - Proof of Identity
Co-Sponsor
2
2
In the House - Hearing 2/07 at 1:00 p.m.

HB0150
Vehicle Laws - Accidents Resulting in Death or Life-Threatening Injury - Mandatory Drug and Alcohol Testing (Kara's Law)
Co-Sponsor
2
2
In the House - Unfavorable Report by Judiciary

HB0152
Criminal Procedure - Successive Federal and State Prosecutions - Bar
Co-Sponsor
2
2
In the House - Third Reading Failed (46-89)

HB0153
Office of the Public Defender - Representation at Bail Hearing - Provisional
Co-Sponsor
2
2
In the House - Conference Committee Appointed

HB0165 (SB0807)
Elementary and Secondary Education - Security - School Resource Officers
Co-Sponsor
2
2
In the House - Unfavorable Report by Ways and Means

HB0176
Transportation Trust Fund Protection Act
Co-Sponsor
2
2
In the House - Hearing 2/26 at 1:00 p.m. (Appropriations)

HB0181
Corporate Income Tax - Rate Reduction
Co-Sponsor
2
2
In the House - Hearing 2/19 at 1:00 p.m.

HB0188
Retail Service Stations - Disaster Preparation - Generator Tax Credit
Co-Sponsor
2
2
In the House - Hearing 2/06 at 1:00 p.m.

HB0230 /CH0088
Alcoholic Beverages - Farm Breweries and Micro-Breweries
Co-Sponsor
2
2
Approved by the Governor - Chapter 88

HB0233
Elections - Study Commission on the Redistricting Process in Maryland
Co-Sponsor
2
2
In the House - Hearing 3/11 at 2:00 p.m.

HB0236
Election Law - Districting Plan Questions - Inclusion of Map
Co-Sponsor
2
2
In the House - Hearing 3/11 at 2:00 p.m.

HB0261 (SB0034)
Corporate Income Tax - Rate Reduction
Co-Sponsor
2
2
In the House - Hearing 2/26 at 1:00 p.m.

HB0311 /CH0366
Crimes - Requirement to Report Death or Disappearance of Minor - Penalties
Co-Sponsor
2
2
Approved by the Governor - Chapter 366

HB0317
State Government - E-Verify Program
Co-Sponsor
2
2
In the House - Hearing 3/13 at 1:00 p.m.

HB0318
Labor and Employment - Labor Organizations - Right to Work
Co-Sponsor
2
2
In the House - Unfavorable Report by Economic Matters

HB0322 (SB0222)
Motor Vehicle Administration - Yellow Dot Program
Co-Sponsor
2
2
In the House - Withdrawn by Sponsor

HB0369
Hunting - Deer Muzzle Loader Season - January Days
Co-Sponsor
2
2
In the House - Withdrawn by Sponsor

HB0371
Income Tax Credit - Cat and Dog Adoption
Co-Sponsor
2
2
In the House - Hearing 2/26 at 1:00 p.m.

HB0394
Education - Primary and Secondary Schools - Electronic Control Devices
Co-Sponsor
2
2
In the House - Unfavorable Report by Ways and Means

HB0395
Handguns - Permit Qualifications and Carrying on School Property - School Guardians
Co-Sponsor
2
2
In the House - Hearing 3/05 at 1:00 p.m.

HB0397
Criminal Law - Carrying Weapons on School Property - Law Enforcement Officers Safety Act
Co-Sponsor
2
2
In the House - Withdrawn by Sponsor

HB0426
Public Safety - Firearm Ammunition - Purchaser Information
Co-Sponsor
2
2
In the House - Hearing 3/05 at 1:00 p.m.

HB0439
Income Tax - Subtraction Modification - Military Retirement Income
Co-Sponsor
2
2
In the House - Hearing 3/12 at 1:00 p.m.

HB0499
Natural Resources - Deer Bow Hunting Season - End Date
Co-Sponsor
2
2
In the House - Unfavorable Report by Environmental Matters

HB0500
Vehicle Laws - Motorcycles - Expiration of Learner's Instructional Permit
Co-Sponsor
2
2
In the House - Unfavorable Report by Environmental Matters

HB0501
Motor Vehicle Administration - Multiple Copies of Driving Records - Fees
Co-Sponsor
2
2
In the House - Unfavorable Report by Environmental Matters

HB0533
Corporate Income Tax - Rate Reduction
Co-Sponsor
2
2
In the House - Hearing 3/12 at 1:00 p.m.

HB0569
Environment - Wastewater Treatment Facilities - Financial Assistance Study
Co-Sponsor
2
2
In the Senate - Unfavorable Report by Education, Health, and Environmental Affairs

HB0570
State Government - Inspector General
Co-Sponsor
2
2
In the House - Unfavorable Report by Health and Government Operations

HB0574
Office of the Inspector General - Establishment
Co-Sponsor
2
2
In the House - Unfavorable Report by Health and Government Operations

HB0578 (SB0023)
Income Tax - Credit for Long-Term Care Premiums
Co-Sponsor
2
2
In the House - Hearing 3/15 at 1:00 p.m.

HB0579
Veterans' Organizations - Instant Ticket Lottery Machines - Use of Proceeds
Co-Sponsor
2
2
In the House - Hearing 3/05 at 1:00 p.m.

HB0589
Firearms Freedom Act
Co-Sponsor
2
2
In the House - Withdrawn by Sponsor
HB0590
Alcoholic Beverages - Direct Shipment - Kosher or Sacramental Wine Sold at Retail
Co-Sponsor
2
2
In the House - Hearing 2/25 at 1:00 p.m.

HB0623
Environment - Sediment Control - Agricultural Land Management Practices
Co-Sponsor
2
2
In the House - Hearing 2/27 at 1:00 p.m.

HB0627 (SB0850)
Vehicle Laws - Accidents Resulting in Injury - Mandatory Drug and Alcohol Testing
Co-Sponsor
2
2
In the House - Hearing 2/13 at 1:00 p.m.

HB0666
Sales and Use Tax - Tax-Free Week - School Supplies
Co-Sponsor
2
2
In the House - Hearing 3/12 at 1:00 p.m.

HB0713 /CH0636
Criminal Procedure - Seizure and Forfeiture - Property Used in Human Trafficking
Co-Sponsor
2
2
Approved by the Governor - Chapter 636

HB0715 (SB0620)
Family Law - Denial of Paternity, Custody, and Visitation
Co-Sponsor
2
2
In the House - Hearing 2/28 at 1:00 p.m.

HB0719
Criminal Law - False Statement Concerning Destructive Device or Toxic Material - Venue
Co-Sponsor
2
2
In the Senate - Hearing 3/27 at 1:00 p.m.

HB0727
Criminal Defendants - Citations - Theft
Co-Sponsor
2
2
In the House - Unfavorable Report by Judiciary

HB0730 (SB0542/CH0498)
Election Law - Polling Places - Electioneering
Co-Sponsor
2
2
Vetoed by the Governor (Duplicative)

HB0731
Capital Projects - Eliminating Individual Bond Bills
Co-Sponsor
2
2
In the House - Hearing 3/11 at 2:00 p.m.

HB0742 /CH0386 (SB0991)
Criminal Procedure - Citation Authority
Co-Sponsor
2
2
Approved by the Governor - Chapter 386

HB0765 (SB0959)
Drugged Driving - Drug Recognition Expert - Testimony
Co-Sponsor
2
2
In the House - Hearing 2/20 at 1:00 p.m.

HB0777 (SB0505/CH0487)
Criminal Procedure - Bail Bonds - Cash Bail
Co-Sponsor
2
2
Vetoed by the Governor (Duplicative)

HB0780
State Employees Pension Choice Act
Co-Sponsor
2
2
In the House - Unfavorable Report by Appropriations

HB0785 (SB0375/CH0247)
Commercial Law - Maryland Credit Services Businesses Act - Scope
Co-Sponsor
2
2
Vetoed by the Governor (Duplicative)

HB0819
Prudent Pension Management Act
Co-Sponsor
2
2
In the House - Hearing 3/12 at 1:00 p.m.

HB0837
Family Farm - Prevailing Party - Attorney's Fees and Expenses
Co-Sponsor
2
2
In the House - Unfavorable Report by Judiciary

HB0843
State Board of Education - Financial Literacy Curriculum - Graduation Requirement
Co-Sponsor
2
2
In the House - Hearing 3/13 at 1:00 p.m.

HB0850
Corporate Income Tax - Investments in Maryland
Co-Sponsor
2
2
In the House - Hearing 3/12 at 1:00 p.m.

HB0856
Personal Property Tax - Investments in Maryland
Co-Sponsor
2
2
In the House - Hearing 3/07 at 1:00 p.m.

HB0866
Criminal Procedure - Financial Crimes Against Vulnerable and Elder Adults - Petition to Freeze Assets
Co-Sponsor
2
2
In the House - Unfavorable Report by Judiciary

HB0875
Education - Public Schools - Parent Empowerment
Co-Sponsor
2
2
In the House - Hearing 2/27 at 1:00 p.m.

HB0892 (SB0731)
Family Law - Protective Orders - Additional Relief
Co-Sponsor
2
2
In the House - Unfavorable Report by Judiciary

HB0930
Criminal Law - Identity Fraud - Prohibitions
Co-Sponsor
2
2
In the Senate - Unfavorable Report by Judicial Proceedings

HB0937 (SB0494)
Commission on Maryland Cybersecurity Innovation and Excellence - Duties
Co-Sponsor
2
2
In the House - Unfavorable Report by Economic Matters

HB0951
Task Force to Study Social Impact Bonds
Co-Sponsor
2
2
In the House - Hearing 2/26 at 1:00 p.m.

HB0961
State Government - Maryland Public Information Act - Required Denials Regarding Firearm Dealers, Owners, and Permit Holders
Co-Sponsor
2
2
In the House - Withdrawn by Sponsor

HB0962
Motor Fuel Taxes - Consumer Disclosure Requirements
Co-Sponsor
2
2
In the House - Unfavorable Report by Economic Matters

HB0967
Income Tax Return Preparers - False Returns or Claims for Refund - Statute of Limitations
Co-Sponsor
2
2
In the House - Hearing 3/08 at 1:00 p.m.

HB0969
Commission to Consider Mental Health-Related Ways to Limit Mass Violence by Individuals with Antisocial Personality Disorders, Depressive Disorders, or Other Mental Illness
Co-Sponsor
2
2
In the House - Withdrawn by Sponsor

HB0972 (SB0567)
Criminal Law - Identity Fraud - Prohibitions
Co-Sponsor
2
2
In the House - Withdrawn by Sponsor

HB0985 (SB0722)
Criminal Law - Third Degree Sexual Offense - Burglary
Co-Sponsor
2
2
In the Senate - First Reading Judicial Proceedings

HB1112 (SB0556)
Criminal Procedure - Persons Committed as Not Criminally Responsible - Release
Co-Sponsor
2
2
In the House - Unfavorable Report by Judiciary

HB1144
Junk Dealers and Scrap Metal Processors - Shopping Carts and Metal Piping
Co-Sponsor
2
2
In the House - Unfavorable Report by Economic Matters

HB1156 (SB0819)
Maryland Contributory Negligence Act
Co-Sponsor
2
2
In the House - Hearing 3/06 at 1:00 p.m.

HB1192
Correctional Services - Diminution Credits - Use of a Firearm in Commission of a Crime
Co-Sponsor
2
2
In the House - Hearing 3/12 at 1:00 p.m.

HB1198
Income Tax Credit - Renewable Energy Systems
Co-Sponsor
2
2
In the House - Hearing 3/07 at 1:00 p.m.

HB1199
Citizens' Congressional Redistricting Commission
Co-Sponsor
2
2
In the House - Hearing 3/11 at 2:00 p.m.

HB1202
Health Occupations - Certified Professional Midwives - Pilot Program
Co-Sponsor
2
2
In the House - Withdrawn by Sponsor

HB1211 /CH0486 (SB0489/CH0485)
Estates and Trusts - Slayer's Statute (Ann Sue Metz Law)
Co-Sponsor
2
2
Approved by the Governor - Chapter 486

HB1230 (SB0490)
Domestic Violence - Persons Eligible for Relief and Orders to Vacate Home
Co-Sponsor
2
2
In the House - Hearing 2/28 at 1:00 p.m.

HB1264
Task Force to Study Forfeiture of Retirement Benefits for Public Officials Charged with or Convicted of a Crime
Co-Sponsor
2
2
In the House - Hearing 3/07 at 1:00 p.m.

HB1265 (SB0835)
Patient Safety Early Intervention Programs
Co-Sponsor
2
2
In the House - Hearing 3/06 at 1:00 p.m. (Judiciary)

HB1310 (SB0834)
Health Care Malpractice Claims - Definition of "Health Care Provider"
Co-Sponsor
2
2
In the Senate - Hearing 4/05 at 1:00 p.m.

HB1316 (SB0771)
Postjudgment Interest - Medical Injury
Co-Sponsor
2
2
In the House - Unfavorable Report by Judiciary

HB1396 /CH0415
Criminal Law - Theft-Related Crimes - Penalties
Co-Sponsor
2
2
Approved by the Governor - Chapter 415

HB1398
Education - Charter Schools - Principals and Teachers - Resident Certification
Co-Sponsor
2
2
In the House - Hearing 3/13 at 1:00 p.m.

HB1421
Regulated Firearms - License Issued by Delaware, Pennsylvania, Virginia, or West Virginia - Reciprocity
Co-Sponsor
2
2
In the House - Hearing 3/26 at 1:00 p.m.

HB1423
Task Force to Study Mental Illness Among Students in Public Schools
Co-Sponsor
2
2
In the House - First Reading House Rules and Executive Nominations
HB0138
Video Lottery Proceeds - Education Trust Fund - Security and Mental Health Services at Public Schools
By Request - Committee
4
2
In the House - Hearing 2/12 at 1:00 p.m.

HB0146 (SB0174)
Education - Public Charter Schools - Capital Improvement Requests
By Request - Committee
4
2
In the House - Unfavorable Report by Appropriations

HB0942 /CH0301 (SB0624/CH0300)
Identity Fraud - Health Information and Health Care Records
By Request - Committee
4
2
Approved by the Governor - Chapter 301

HB0959 (SB0676/CH0304)
Governmental Procedures - Security and Protection of Information
By Request - Committee
4
2
In the Senate - Favorable Report by Education, Health, and Environmental Affairs

HB0960 (SB0859)
Maryland Personal Information Protection Act - Revisions
By Request - Committee
4
2
In the House - Unfavorable Report by Economic Matters
Denotes enacted legislation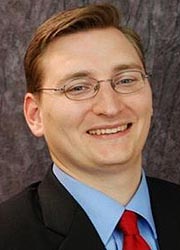 Tenure

First elected to the Maryland House of Delegates, 2010. Member of the House since 2011.
Current Assignments

2013- Assistant Minority Leader

2011- Judiciary Committee

2011- Civil Law and Procedure Subcommittee of the Judiciary Committee

2013- Special Joint Commission on Public Safety and Security in State and Local Correctional Facilities
Memberships

Maryland Community Caucus, 2012-; Maryland Rural Caucus, 2012-; Maryland Veterans Caucus, 2011-; Frederick County Republican Central Committee, 2006-2010; Chair and Vice Chair, Frederick County Republican Central Committee, 2008; American Legion Post no. 297, Baltimore; Knights of Columbus.
Biographical Information

Born, Silver Spring, Maryland, November 4, 1979; Watkins Mill High School, Gaithersburg; Community College of the Air Force, A.A., Applied Sciences, 2002; Towson University, B.S., Political Science, 2007; U.S. Air Force, Missile Maintenance Technician, 1998-2002; Sales Associate, Sears, 2002-04; Legislative Aide to State Senator Alex X. Mooney, 2004-07; Director, Commerce, Insurance and Economic Development Task Force, and Public Safety and Elections Task Force, American Legislative Exchange Council (ALEC), 2007-11; Member, St. Francis of Assisi and St. Mary's Catholic Church; Married, Three children.
Last Updated: 10/15/2019 3:26 PM