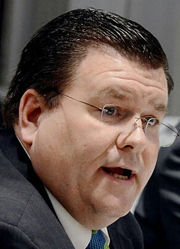 District

1C

County

Allegany and Washington

Committee Assignment(s)

Annapolis Info

322 House Office Building
6 Bladen Street
Annapolis, MD 21401
Phone 410-841-3321 | 301-858-3321
Toll-free in MD

Interim Info

322 House Office Building
6 Bladen Street
Annapolis, MD 21401
Phone 410-841-3321 | 301-858-3321

Contact

Party

Republican
Legislation
Sponsorship Type Sort
Chamber Sort
1
2

Bill/Chapter (Cross/Chapter)

Title

Public Safety - Handgun Permits - Correctional Officer

Sponsorship Type

Primary

1
2
1
2

Bill/Chapter (Cross/Chapter)

Title

State Government - Legislation Impacting Local Government Land Use Decisions - Economic Impact Analyses

Sponsorship Type

Primary

1
2

Bill/Chapter (Cross/Chapter)

Title

Criminal Procedure - Initial Appearance Before a District Court Commissioner - Funding

Sponsorship Type

Primary

1
2
2
2

Bill/Chapter (Cross/Chapter)

Title

Motor Fuel Tax Rates - Consumer Price Index Adjustment - Repeal

Sponsorship Type

Co-Sponsor

2
2
2
2

Bill/Chapter (Cross/Chapter)

Title

Protection of Persons and Property - Criminal Immunity

Sponsorship Type

Co-Sponsor

2
2
2
2
2
2
2
2
2
2

Bill/Chapter (Cross/Chapter)

Title

Public Safety - Regulated Firearms - Disqualifying Crime

Sponsorship Type

Co-Sponsor

2
2
2
2
2
2
2
2

Bill/Chapter (Cross/Chapter)

Title

Public Safety - Honorably Discharged Veterans - Handgun License

Sponsorship Type

Co-Sponsor

2
2
2
2
2
2
2
2
2
2

Bill/Chapter (Cross/Chapter)

Title

Handgun Permits - Qualifications - Former and Retired Law Enforcement Officers

Sponsorship Type

Co-Sponsor

2
2

Bill/Chapter (Cross/Chapter)

Title

Property Tax - Homeowner's Tax Credit - Computation and Eligibility

Sponsorship Type

Co-Sponsor

2
2
2
2
2
2

Bill/Chapter (Cross/Chapter)

Title

Personal Property Tax - Investments in Maryland

Sponsorship Type

Co-Sponsor

2
2

Bill/Chapter (Cross/Chapter)

Title

Retire in Maryland Act of 2016

Sponsorship Type

Co-Sponsor

2
2
2
2
2
2

Bill/Chapter (Cross/Chapter)

Title

Manslaughter by Motor Vehicle or Vessel While Under the Influence or Impaired - Penalty

Sponsorship Type

Co-Sponsor

2
2

Bill/Chapter (Cross/Chapter)

Title

General Provisions - Commemorative Days - Watermen's Day

Sponsorship Type

Co-Sponsor

2
2

Bill/Chapter (Cross/Chapter)

Title

Elementary and Secondary Education - Required Number of School Days - Repeal

Sponsorship Type

Co-Sponsor

2
2

Bill/Chapter (Cross/Chapter)

Title

General Provisions - Commemorative Days - Farmers' Day

Sponsorship Type

Co-Sponsor

2
2
2
2

Bill/Chapter (Cross/Chapter)

Title

Law Enforcement Officers' Bill of Rights - Hearing Board - Final Order

Sponsorship Type

Co-Sponsor

2
2

Bill/Chapter (Cross/Chapter)

Title

Vehicle Laws - School Vehicles - Definition

Sponsorship Type

Co-Sponsor

2
2
2
2

Bill/Chapter (Cross/Chapter)

Title

Taxation - Prohibition on Exemptions and Credits for Organizations Having Known Ties to Terrorism (Homegrown Terrorism Prevention Act)

Sponsorship Type

Co-Sponsor

2
2
2
2

Bill/Chapter (Cross/Chapter)

Title

Criminal Law - Smoking Marijuana in a Public Place - Prohibition

Sponsorship Type

Co-Sponsor

2
2
2
2

Bill/Chapter (Cross/Chapter)

Title

Marijuana - Smoking or Consuming in a Vehicle or Vessel - Prohibition

Sponsorship Type

Co-Sponsor

2
2
2
2

Bill/Chapter (Cross/Chapter)

Title

Behavioral Health Administration - Creation and Maintenance of Mental Health Professional Profiles (Patient Protection Provider Information Act)

Sponsorship Type

Co-Sponsor

2
2
2
2

Bill/Chapter (Cross/Chapter)

Title

Criminal Law - Professional Counselors and Therapists - Misconduct (Lynette's Law)

Sponsorship Type

Co-Sponsor

2
2

Bill/Chapter (Cross/Chapter)

Title

Labor and Employment - Number of Employees Granted H-1B or L-1 Visa - Disclosure

Sponsorship Type

Co-Sponsor

2
2
2
2
2
2

Bill/Chapter (Cross/Chapter)

Title

Health Care Practitioners - Use of Teletherapy

Sponsorship Type

Co-Sponsor

2
2
2
2

Bill/Chapter (Cross/Chapter)

Title

Public Health - Final Disposition of Unclaimed Bodies - Authorizing Agent (Nancy's Law)

Sponsorship Type

Co-Sponsor

2
2

Bill/Chapter (Cross/Chapter)

Title

Election Law - Contribution to a Candidate for Judicial Office

Sponsorship Type

Co-Sponsor

2
2

Bill/Chapter (Cross/Chapter)

Title

Income Tax - Rates

Sponsorship Type

Co-Sponsor

2
2

Bill/Chapter (Cross/Chapter)

Title

Criminal Law - Sentencing - Subsequent Offenders (Career Criminal Truth in Sentencing Act)

Sponsorship Type

Co-Sponsor

2
2

Bill/Chapter (Cross/Chapter)

Title

Rental Deposit Assistance Loan Programs and Fund

Sponsorship Type

Co-Sponsor

2
2

Bill/Chapter (Cross/Chapter)

Title

Corporate Income Tax - Rate Reduction

Sponsorship Type

Co-Sponsor

2
2

Bill/Chapter (Cross/Chapter)

Title

Education - PARCC Testing - Exemption for Children With Disabilities (Ben's Rule)

Sponsorship Type

Co-Sponsor

2
2
2
2

Bill/Chapter (Cross/Chapter)

Title

Income Tax Credit - Single-Family Dwellings - Smoke Detection Systems

Sponsorship Type

Co-Sponsor

2
2

Bill/Chapter (Cross/Chapter)

Title

House Legislative Districts - Single Member

Sponsorship Type

Co-Sponsor

2
2
2
2
2
2

Bill/Chapter (Cross/Chapter)

Title

Habitual Drunk Driver - Mandatory Minimum Penalty and Vehicle Forfeiture

Sponsorship Type

Co-Sponsor

2
2

Bill/Chapter (Cross/Chapter)

Title

Public Safety - Handgun Permits - Renewal Period for Retired Law Enforcement Officer

Sponsorship Type

Co-Sponsor

2
2

Bill/Chapter (Cross/Chapter)

Title

Income Tax Credit - Cat and Dog Adoption

Sponsorship Type

Co-Sponsor

2
2
2
2

Bill/Chapter (Cross/Chapter)

Title

Gas and Electricity - Smart Meters - Customer Rights and Required Reports

Sponsorship Type

Co-Sponsor

2
2

Bill/Chapter (Cross/Chapter)

Title

Gas and Electricity - Analog Meters - Purchase and Installation

Sponsorship Type

Co-Sponsor

2
2
2
2

Bill/Chapter (Cross/Chapter)

Title

Hunting and Fishing - Complimentary Licenses - Military and Veterans

Sponsorship Type

Co-Sponsor

2
2

Bill/Chapter (Cross/Chapter)

Title

Public Schools and Libraries - Access to Obscene Materials and Child Pornography - Prohibited

Sponsorship Type

Co-Sponsor

2
2
2
2

Bill/Chapter (Cross/Chapter)

Title

Real Property - Vacant and Abandoned Property - Expedited Foreclosure

Sponsorship Type

Co-Sponsor

2
2
2
2

Bill/Chapter (Cross/Chapter)

Title

Transportation - Motor Fuel Tax and Highway User Revenue - Increased Local Share

Sponsorship Type

Co-Sponsor

2
2
2
2
2
2

Bill/Chapter (Cross/Chapter)

Title

Fishing Under a Boat License - Repeal of Registration Requirement (Fishing Freedom Act of 2016)

Sponsorship Type

Co-Sponsor

2
2

Bill/Chapter (Cross/Chapter)

Title

Criminal Procedure - Expungement - Common Law Battery

Sponsorship Type

Co-Sponsor

2
2

Bill/Chapter (Cross/Chapter)

Title

Public Schools - Access to Obscene Materials and Child Pornography - Prohibited

Sponsorship Type

Co-Sponsor

2
2
2
2

Bill/Chapter (Cross/Chapter)

Title

Commercial Drivers' Licenses - Cancellations and Downgrades (Driving Privilege Preservation Act of 2016)

Sponsorship Type

Co-Sponsor

2
2
2
2
2
2

Bill/Chapter (Cross/Chapter)

Title

Public Safety - Handgun Permits - Expiration

Sponsorship Type

Co-Sponsor

2
2
2
2
2
2

Bill/Chapter (Cross/Chapter)

Title

Commencement of Life of the Human Person at Conception

Sponsorship Type

Co-Sponsor

2
2
3
2
3
2
3
2

Bill/Chapter (Cross/Chapter)

Title

Maryland Education Credit

Sponsorship Type

By Request - Administration

3
2
3
2
3
2
3
2
3
2
3
2
3
2
3
2
3
2
3
2
Bill/Chapter
(Cross/Chapter)
Title
Sponsorship Type
Sponsorship Type Sort
Chamber Sort
Current Status
Org Committees & Hearings
Opp Committees & Hearings
HB0868 /CH0071 (SB0516/CH0070)
Washington County - Fire, Rescue, and Ambulance Service - Local Authority
Primary
1
2
Approved by the Governor - Chapter 71

HB1207
Public Safety - Handgun Permits - Correctional Officer
Primary
1
2
In the House - Hearing 3/15 at 1:00 p.m.

HB1297 (SB0770/CH0230)
Education - Public High Schools - Agriculture Science
Primary
1
2
In the Senate - First Reading Education, Health, and Environmental Affairs

HB1413
State Government - Legislation Impacting Local Government Land Use Decisions - Economic Impact Analyses
Primary
1
2
In the House - Hearing 2/29 at 1:00 p.m.

HB1638
Criminal Procedure - Initial Appearance Before a District Court Commissioner - Funding
Primary
1
2
In the House - First Reading House Rules and Executive Nominations

HB0115 /CH0682 (SB0582/CH0681)
Education - Robotics Grant Program - Establishment
Co-Sponsor
2
2
Enacted under Article II, Section 17(c) of the Maryland Constitution - Chapter 682

HB0116
Motor Fuel Tax Rates - Consumer Price Index Adjustment - Repeal
Co-Sponsor
2
2
In the House - Hearing 2/10 at 1:00 p.m.

HB0219 (SB0527)
Criminal Law - Human Trafficking - Adult Victim - Penalty
Co-Sponsor
2
2
In the House - Withdrawn by Sponsor

HB0252
Protection of Persons and Property - Criminal Immunity
Co-Sponsor
2
2
In the House - Unfavorable Report by Judiciary

HB0312 /CH0618 (SB0208)
Public Safety - Renewal of Handgun Permits - Fingerprinting
Co-Sponsor
2
2
Approved by the Governor - Chapter 618

HB0313 (SB0014)
Sales and Use Tax - Aircraft Parts and Equipment - Exemption
Co-Sponsor
2
2
In the House - Hearing 2/16 at 1:00 p.m.

HB0349 /CH0717 (SB1162)
Baltimore County - Education - Career Exploration and Development Activities - Coffee (Java Act)
Co-Sponsor
2
2
Enacted under Article II, Section 17(c) of the Maryland Constitution - Chapter 717

HB0365 /CH0262
Public Schools - Bullying, Harassment, and Intimidation Policies - Update
Co-Sponsor
2
2
Approved by the Governor - Chapter 262

HB0367
Public Safety - Regulated Firearms - Disqualifying Crime
Co-Sponsor
2
2
In the House - Hearing 3/15 at 1:00 p.m.

HB0369 (SB0403)
Handgun Permits - Universal Recognition
Co-Sponsor
2
2
In the House - Hearing 3/15 at 1:00 p.m.

HB0389 /CH0103
Chesapeake and Atlantic Coastal Bays Critical Area Protection Program - Intrafamily Transfers
Co-Sponsor
2
2
Approved by the Governor - Chapter 103

HB0390 (SB0425/CH0387)
Maryland Income Tax Refunds - Warrant Intercept Program - Statewide
Co-Sponsor
2
2
In the Senate - Rereferred to Budget and Taxation

HB0398
Public Safety - Honorably Discharged Veterans - Handgun License
Co-Sponsor
2
2
In the House - Hearing 3/15 at 1:00 p.m.

HB0411 /CH0104
General Assembly - Joint Committee on Ending Homelessness - Membership
Co-Sponsor
2
2
Approved by the Governor - Chapter 104

HB0420 /CH0522 (SB0417/CH0521)
Individuals With Disabilities - Minimum Wage and Community Integration (Ken Capone Equal Employment Act)
Co-Sponsor
2
2
Approved by the Governor - Chapter 522

HB0436 (SB0468)
Vehicle Laws - Speed Monitoring, Work Zone Speed Control, and Traffic Control Signal Monitoring Systems - Repeal
Co-Sponsor
2
2
In the House - Unfavorable Report by Environment and Transportation

HB0465 (SB0652)
Public Safety - Retired Law Enforcement Officer Identification Card - Failure to Issue
Co-Sponsor
2
2
In the House - Withdrawn by Sponsor

HB0466
Handgun Permits - Qualifications - Former and Retired Law Enforcement Officers
Co-Sponsor
2
2
In the House - Hearing 3/15 at 1:00 p.m.

HB0483
Property Tax - Homeowner's Tax Credit - Computation and Eligibility
Co-Sponsor
2
2
In the House - Hearing 2/24 at 1:00 p.m.

HB0488 /CH0487
Property Tax - Property Transferred to New Owner - Appeals
Co-Sponsor
2
2
Approved by the Governor - Chapter 487

HB0494 /CH0267
Agriculture - Animal Shelters - Uniform Standards of Operation and Care (Animal Shelters Standards Act of 2016)
Co-Sponsor
2
2
Approved by the Governor - Chapter 267

HB0572
Personal Property Tax - Investments in Maryland
Co-Sponsor
2
2
In the House - Hearing 3/02 at 2:30 p.m.

HB0586
Retire in Maryland Act of 2016
Co-Sponsor
2
2
In the House - Hearing 2/23 at 1:00 p.m.

HB0593 /CH0332 (SB0022/CH0331)
Human Services - Interagency Council on Homelessness - Membership
Co-Sponsor
2
2
Approved by the Governor - Chapter 332

HB0603 (SB0749)
Pain-Capable Unborn Child Protection Act
Co-Sponsor
2
2
In the House - Hearing 3/11 at 1:00 p.m.

HB0612
Manslaughter by Motor Vehicle or Vessel While Under the Influence or Impaired - Penalty
Co-Sponsor
2
2
In the Senate - Hearing 3/30 at 1:00 p.m.

HB0614
General Provisions - Commemorative Days - Watermen's Day
Co-Sponsor
2
2
In the House - Hearing 3/15 at 1:00 p.m.

HB0620
Elementary and Secondary Education - Required Number of School Days - Repeal
Co-Sponsor
2
2
In the House - Hearing 2/25 at 1:00 p.m.

HB0638
General Provisions - Commemorative Days - Farmers' Day
Co-Sponsor
2
2
In the House - Hearing 3/15 at 1:00 p.m.

HB0644 (SB0691)
Public Health - Provision of Life-Preserving Health Care Services (Vulnerable Protection Act)
Co-Sponsor
2
2
In the House - Hearing 3/15 at 1:00 p.m.

HB0674
Law Enforcement Officers' Bill of Rights - Hearing Board - Final Order
Co-Sponsor
2
2
In the House - Withdrawn by Sponsor

HB0681
Vehicle Laws - School Vehicles - Definition
Co-Sponsor
2
2
In the Senate - Hearing 3/29 at 1:00 p.m.

HB0719 (SB0522)
Sales and Use Tax - Exemptions - Girl Scouts and Boy Scouts
Co-Sponsor
2
2
In the House - Hearing 3/01 at 1:00 p.m.

HB0729
Taxation - Prohibition on Exemptions and Credits for Organizations Having Known Ties to Terrorism (Homegrown Terrorism Prevention Act)
Co-Sponsor
2
2
In the House - Unfavorable Report by Ways and Means

HB0735 (SB0763)
Manslaughter and Homicide by Vehicle or Vessel
Co-Sponsor
2
2
In the House - Unfavorable Report by Judiciary

HB0777
Criminal Law - Smoking Marijuana in a Public Place - Prohibition
Co-Sponsor
2
2
In the Senate - Hearing 3/30 at 1:00 p.m.

HB0785 (SB0233/CH0542)
Public Safety - Motorcycle Profiling - Training
Co-Sponsor
2
2
Veto sustained (0-135)

HB0809
Marijuana - Smoking or Consuming in a Vehicle or Vessel - Prohibition
Co-Sponsor
2
2
In the House - Unfavorable Report by Judiciary

HB0849 /CH0175 (SB0182/CH0174)
Public Safety - Rental Dwelling Units - Carbon Monoxide Alarms
Co-Sponsor
2
2
Approved by the Governor - Chapter 175

HB0885
Behavioral Health Administration - Creation and Maintenance of Mental Health Professional Profiles (Patient Protection Provider Information Act)
Co-Sponsor
2
2
In the House - Hearing 2/23 at 1:00 p.m.

HB0898 /CH0498
Property Tax Credit - Elderly Individuals and Veterans
Co-Sponsor
2
2
Approved by the Governor - Chapter 498

HB0944
Criminal Law - Professional Counselors and Therapists - Misconduct (Lynette's Law)
Co-Sponsor
2
2
In the House - Hearing 3/10 at 1:00 p.m.

HB0950
Labor and Employment - Number of Employees Granted H-1B or L-1 Visa - Disclosure
Co-Sponsor
2
2
In the House - Hearing 3/08 at 1:00 p.m.

HB0955 (SB0267)
Public Schools - Voluntary Nonsectarian Prayer at School-Sponsored Student Events
Co-Sponsor
2
2
In the House - Hearing 2/26 at 1:00 p.m.

HB1019 (SB0229)
Firearms - Handgun Qualification License - Live-Fire Component
Co-Sponsor
2
2
In the House - Hearing 3/15 at 1:00 p.m.

HB1103
Health Care Practitioners - Use of Teletherapy
Co-Sponsor
2
2
In the House - Withdrawn by Sponsor

HB1110 (SB0645)
Chesapeake and Atlantic Coastal Bays 2010 Trust Fund - Allocation of Funds
Co-Sponsor
2
2
In the House - Hearing 3/09 at 1:00 p.m. (Environment and Transportation)

HB1152
Public Health - Final Disposition of Unclaimed Bodies - Authorizing Agent (Nancy's Law)
Co-Sponsor
2
2
In the House - Hearing 3/08 at 1:00 p.m.

HB1164
Election Law - Contribution to a Candidate for Judicial Office
Co-Sponsor
2
2
In the House - Hearing 3/04 at 1:00 p.m.

HB1166
Income Tax - Rates
Co-Sponsor
2
2
In the House - Hearing 3/08 at 1:00 p.m.

HB1173
Criminal Law - Sentencing - Subsequent Offenders (Career Criminal Truth in Sentencing Act)
Co-Sponsor
2
2
In the House - Unfavorable Report by Judiciary

HB1176
Rental Deposit Assistance Loan Programs and Fund
Co-Sponsor
2
2
In the House - Unfavorable Report by Environment and Transportation

HB1177
Corporate Income Tax - Rate Reduction
Co-Sponsor
2
2
In the House - Hearing 3/01 at 1:00 p.m.

HB1204
Education - PARCC Testing - Exemption for Children With Disabilities (Ben's Rule)
Co-Sponsor
2
2
In the House - Hearing 3/10 at 1:00 p.m.

HB1240 (SB0812)
Sediment Control - Violations - Enforcement
Co-Sponsor
2
2
In the House - Unfavorable Report by Environment and Transportation

HB1245
Income Tax Credit - Single-Family Dwellings - Smoke Detection Systems
Co-Sponsor
2
2
In the House - Hearing 3/11 at 1:00 p.m.

HB1270
House Legislative Districts - Single Member
Co-Sponsor
2
2
In the House - Hearing 2/29 at 1:00 p.m.

HB1271 (SB0351)
Sales and Use Tax - Exemption - Firearm Safety Devices
Co-Sponsor
2
2
In the House - Hearing 3/08 at 1:00 p.m.

HB1284 (SB0627)
Vehicle Laws - Dangerous Accumulations of Snow and Ice - Removal From Exposed Vehicle Surfaces
Co-Sponsor
2
2
In the House - Withdrawn by Sponsor

HB1306
Habitual Drunk Driver - Mandatory Minimum Penalty and Vehicle Forfeiture
Co-Sponsor
2
2
In the House - Unfavorable Report by Judiciary

HB1332
Public Safety - Handgun Permits - Renewal Period for Retired Law Enforcement Officer
Co-Sponsor
2
2
In the House - Hearing 3/15 at 1:00 p.m.

HB1335
Income Tax Credit - Cat and Dog Adoption
Co-Sponsor
2
2
In the House - Hearing 3/14 at 1:00 p.m.

HB1342 (SB0945/CH0512)
Drunk Driving Reduction Act of 2016 (Noah's Law)
Co-Sponsor
2
2
In the Senate - Third Reading Passed with Amendments (46-0)

HB1354
Gas and Electricity - Smart Meters - Customer Rights and Required Reports
Co-Sponsor
2
2
In the House - Unfavorable Report by Economic Matters

HB1355
Gas and Electricity - Analog Meters - Purchase and Installation
Co-Sponsor
2
2
In the House - Unfavorable Report by Economic Matters

HB1365 (SB0621)
Landlord and Tenant - Military Personnel - Limitation on Liability for Rent
Co-Sponsor
2
2
In the Senate - First Reading Judicial Proceedings

HB1374
Hunting and Fishing - Complimentary Licenses - Military and Veterans
Co-Sponsor
2
2
In the House - Unfavorable Report by Environment and Transportation

HB1375
Public Schools and Libraries - Access to Obscene Materials and Child Pornography - Prohibited
Co-Sponsor
2
2
In the House - Hearing 3/11 at 1:00 p.m.

HB1376 (SB1121)
Health Insurance - Coverage of Air Ambulance Transport Services
Co-Sponsor
2
2
In the House - Unfavorable Report by Health and Government Operations

HB1377
Real Property - Vacant and Abandoned Property - Expedited Foreclosure
Co-Sponsor
2
2
In the House - Referred to interim study by Environment and Transportation

HB1387 /CH0709 (SB1054/CH0708)
Commercial Northern Snakehead Bowfishing License - Establishment
Co-Sponsor
2
2
Enacted under Article II, Section 17(c) of the Maryland Constitution - Chapter 709

HB1388
Transportation - Motor Fuel Tax and Highway User Revenue - Increased Local Share
Co-Sponsor
2
2
In the House - Hearing 3/10 at 1:00 p.m.

HB1403 /CH0033 (SB1170)
Next Generation Scholars of Maryland
Co-Sponsor
2
2
Enacted under Article II, Section 17(b) of the Maryland Constitution - Chapter 33

HB1428 (SB0748)
Sustainable Growth and Agricultural Preservation Act - Application
Co-Sponsor
2
2
In the House - Unfavorable Report by Environment and Transportation

HB1435
Fishing Under a Boat License - Repeal of Registration Requirement (Fishing Freedom Act of 2016)
Co-Sponsor
2
2
In the House - Unfavorable Report by Environment and Transportation

HB1436
Criminal Procedure - Expungement - Common Law Battery
Co-Sponsor
2
2
In the House - Hearing 3/08 at 1:00 p.m.

HB1456
Public Schools - Access to Obscene Materials and Child Pornography - Prohibited
Co-Sponsor
2
2
In the House - Hearing 3/11 at 1:00 p.m.

HB1459 (SB0440)
Prevailing Wage - Career and Technology Centers or STEM and STEAM Classrooms (Student Preparedness Act of 2016)
Co-Sponsor
2
2
In the House - Unfavorable Report by Economic Matters

HB1461
Commercial Drivers' Licenses - Cancellations and Downgrades (Driving Privilege Preservation Act of 2016)
Co-Sponsor
2
2
Veto sustained (0-135)

HB1464 (SB0927)
Program Open Space Trust Fund Act of 2016
Co-Sponsor
2
2
In the House - Unfavorable Report by Appropriations

HB1503 /CH0141
Adult Education - GED Testing Fees - Exemption for Homeless Youth
Co-Sponsor
2
2
Approved by the Governor - Chapter 141

HB1522
Public Safety - Handgun Permits - Expiration
Co-Sponsor
2
2
In the House - Hearing 4/06 at 1:00 p.m.

HB1624 /CH0526 (SB1104/CH0525)
Transportation - Highways - Heroes Highway
Co-Sponsor
2
2
Approved by the Governor - Chapter 526

HJ0003 (SJ0004)
United States Constitution - Amendments Convention - Limitations on Federal Power
Co-Sponsor
2
2
In the House - Hearing 2/29 at 1:00 p.m.

HJ0007
Commencement of Life of the Human Person at Conception
Co-Sponsor
2
2
In the House - Hearing 2/29 at 1:00 p.m.

HB0449 (SB0375)
Relief From Budget Mandates
By Request - Administration
3
2
In the House - Hearing 3/08 at 1:00 p.m.

HB0450 (SB0386)
Tax Credits - Manufacturing Empowerment Zones
By Request - Administration
3
2
In the House - Hearing 2/23 at 1:00 p.m.

HB0452 (SB0384)
Earned Income Tax Credit - Expansion
By Request - Administration
3
2
In the Senate - Third Reading Passed with Amendments (38-8)

HB0453
Maryland Education Credit
By Request - Administration
3
2
In the House - Hearing 3/07 at 1:00 p.m.

HB0455 (SB0387)
Income Tax Exemption Amount - Elderly Individuals
By Request - Administration
3
2
In the House - Hearing 2/25 at 1:00 p.m.

HB0456 (SB0382)
Prescription Drug Monitoring Program - Revisions
By Request - Administration
3
2
In the House - Hearing 2/18 at 1:00 p.m.

HB0457 (SB0385)
Corporations and Associations - Filing Fees - Reductions
By Request - Administration
3
2
In the House - Unfavorable Report by Economic Matters

HB0458 (SB0380)
General Assembly and Congressional Legislative Redistricting and Apportionment Commission
By Request - Administration
3
2
In the House - Hearing 2/29 at 1:00 p.m.

HB0459 /CH0316 (SB0389)
Birth and Death Certificates - Fee Reduction
By Request - Administration
3
2
Approved by the Governor - Chapter 316

HB0460 (SB0381/CH0146)
Housing and Community Development - Community Development Administration - Student and Residential Mortgage Loans
By Request - Administration
3
2
Veto sustained (0-135)

HB0461 (SB0388)
Crimes - Criminal Gangs - Prohibitions and Funding
By Request - Administration
3
2
In the House - Unfavorable Report by Judiciary

HB0462 /CH0010 (SB0383)
Program Open Space - Transfer Tax Repayment - Use of Funds
By Request - Administration
3
2
Approved by the Governor - Chapter 10

HB0464 (SB0376/CH0144)
Pathways in Technology Early College High (P-TECH) Schools Act of 2016
By Request - Administration
3
2
In the House - Hearing 2/25 at 1:00 p.m. (Ways and Means)
Denotes enacted legislation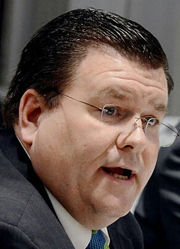 Tenure

First elected to the Maryland House of Delegates in 2014. Member since 2015.
Current Assignments

2015 Appropriations Committee

2015 Public Safety and Administration of the Appropriations Committee

2015 Oversight Committee on Pensions of the Appropriations Committee

2015 Joint Committee on Ending Homelessness
Public Service

Rural Maryland Council - representing Western Maryland, 2015-; President, Board of County Commissioners, Allegany County, 2010-2014; Board of Education, Allegany County, 2010-; Social Services Board, Allegany County, 2010-; Tri-County Council for Western Maryland, 2011-2014.
Memberships

Allegany County Chamber of Commerce; Mid-Atlantic Drycleaners Association; Maryland Association of Counties; Cornerstone Baptist Church.
Biographical Information

Born, Rockville, Maryland, March 5, 1969; President and CEO, Allegany Management Services, Inc.; Owner and President, Dryclean & Shirt Salon, Cumberland; Married, 8 children.
Last Updated: 10/15/2019 3:27 PM