District

20

County

Montgomery

Committee Assignment(s)

Annapolis Info

220 House Office Building
6 Bladen Street
Annapolis, MD 21401
Phone 410-841-3474 | 301-858-3474
Toll-free in MD 1-800-492-7122 ext. 3474

Interim Info

220 House Office Building
6 Bladen Street
Annapolis, MD 21401
Phone 410-841-3474 | 301-858-3474

Contact

Party

Democrat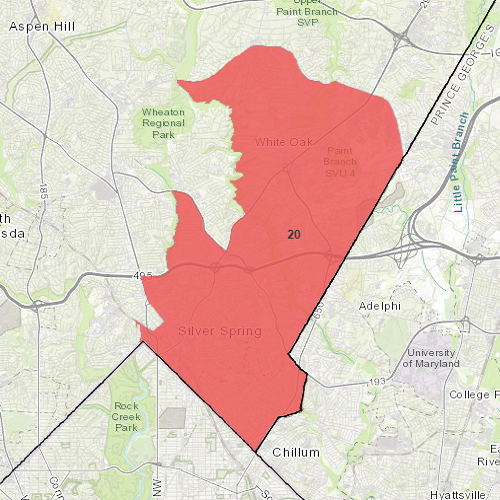 Legislation
Sponsorship Type Sort
Chamber Sort
1
2

Bill/Chapter (Cross/Chapter)

Title

Criminal Procedure - Coram Nobis - Time for Filing

Sponsorship Type

Primary

1
2
1
2
1
2
1
2
1
2
1
2
1
2
1
2
1
2
1
2
1
2

Bill/Chapter (Cross/Chapter)

Title

Interstate Compact on Washington Area Professional Football Team Franchise Facility Incentives

Sponsorship Type

Primary

1
2
1
2
1
2

Bill/Chapter (Cross/Chapter)

Title

Constitutional Amendment - Cannabis - Use, Possession, Cultivation, and Sale

Sponsorship Type

Primary

1
2
1
2
1
2

Bill/Chapter (Cross/Chapter)

Title

Criminal Law - Marijuana - Urinalyses, Civil Offense Threshold, and Evidence Standards

Sponsorship Type

Primary

1
2
1
2
1
2
1
2
2
2
2
2

Bill/Chapter (Cross/Chapter)

Title

Extension of Electric Vehicle Incentives Act

Sponsorship Type

Co-Sponsor

2
2
2
2
2
2
2
2
2
2
2
2
2
2

Bill/Chapter (Cross/Chapter)

Title

Public School Students – Daily Physical Activity (Student Health and Fitness Act)

Sponsorship Type

Co-Sponsor

2
2
2
2
2
2
2
2
2
2
2
2
2
2
2
2
2
2
2
2
2
2
2
2
2
2

Bill/Chapter (Cross/Chapter)

Title

General Assembly - Fiscal Notes - Environmental Impact Statements

Sponsorship Type

Co-Sponsor

2
2
2
2
2
2
2
2
2
2

Bill/Chapter (Cross/Chapter)

Title

Clerks of the Courts - Maryland Judiciary Case Search - Information on Judge or Magistrate

Sponsorship Type

Co-Sponsor

2
2
2
2
2
2
2
2
2
2
2
2
2
2

Bill/Chapter (Cross/Chapter)

Title

Health Occupations - Pharmacists - Disclosure of Price and Cost Share for Prescription Drugs

Sponsorship Type

Co-Sponsor

2
2
2
2
2
2
2
2
2
2
2
2
2
2

Bill/Chapter (Cross/Chapter)

Title

Labor and Employment – Family and Medical Leave Insurance Program – Establishment (Time to Care Act of 2019)

Sponsorship Type

Co-Sponsor

2
2
2
2

Bill/Chapter (Cross/Chapter)

Title

Admissions and Amusement Tax - Limitations on Municipal Corporations - Drive-In Movies and Roller Skating Rinks

Sponsorship Type

Co-Sponsor

2
2

Bill/Chapter (Cross/Chapter)

Title

Natural Resources - Submerged Aquatic Vegetation Protection Zones - Revisions

Sponsorship Type

Co-Sponsor

2
2

Bill/Chapter (Cross/Chapter)

Title

Public Health - State-Provided Health Care Benefits

Sponsorship Type

Co-Sponsor

2
2
2
2
2
2
2
2
2
2
2
2
2
2
2
2
2
2

Bill/Chapter (Cross/Chapter)

Title

Constitutional Amendment - Environmental Rights

Sponsorship Type

Co-Sponsor

2
2
2
2
2
2

Bill/Chapter (Cross/Chapter)

Title

Procurement - Carbon-Intensive Foods

Sponsorship Type

Co-Sponsor

2
2
2
2
2
2

Bill/Chapter (Cross/Chapter)

Title

Crimes - Unattended Restraint of Dogs in Extreme Temperatures

Sponsorship Type

Co-Sponsor

2
2

Bill/Chapter (Cross/Chapter)

Title

Purchase of Motor Vehicles and Building Construction, Renovation, Rehabilitation, and Modification - Social Cost of Carbon Emissions

Sponsorship Type

Co-Sponsor

2
2
2
2

Bill/Chapter (Cross/Chapter)

Title

Procurement Preferences - Maryland Child Care Act

Sponsorship Type

Co-Sponsor

2
2

Bill/Chapter (Cross/Chapter)

Title

Public Schools - Use of Lead Ammunition in School Programs - Prohibition

Sponsorship Type

Co-Sponsor

2
2
2
2
2
2
2
2
2
2
2
2
2
2
2
2
2
2
2
2

Bill/Chapter (Cross/Chapter)

Title

Public Safety - Regulated Firearms - Colt AR-15 Sporter H-BAR Rifle

Sponsorship Type

Co-Sponsor

2
2
2
2
2
2
2
2
2
2
2
2
2
2
2
2
2
2
2
2

Bill/Chapter (Cross/Chapter)

Title

Operation of Uninsured Motor Vehicle - Criminal Penalties

Sponsorship Type

Co-Sponsor

2
2

Bill/Chapter (Cross/Chapter)

Title

Civil Actions – Child Sexual Abuse – Definition and Statute of Limitations (Hidden Predator Act of 2019)

Sponsorship Type

Co-Sponsor

2
2
2
2
2
2
2
2
2
2
2
2

Bill/Chapter (Cross/Chapter)

Title

Maryland Police Training and Standards Commission - Training Requirements - Hate Crimes

Sponsorship Type

Co-Sponsor

2
2
2
2
2
2
2
2
2
2
2
2
2
2
2
2
2
2

Bill/Chapter (Cross/Chapter)

Title

Education - Community Colleges - Collective Bargaining

Sponsorship Type

Co-Sponsor

2
2
2
2
2
2
2
2
2
2
2
2
2
2
2
2
2
2

Bill/Chapter (Cross/Chapter)

Title

Workgroup on Effective Professional Development Programs in Local Health Departments

Sponsorship Type

Co-Sponsor

2
2
2
2
2
2
2
2
2
2
2
2

Bill/Chapter (Cross/Chapter)

Title

Crimes - Controlled Dangerous Substances - Sentences

Sponsorship Type

Co-Sponsor

2
2
2
2
2
2
2
2

Bill/Chapter (Cross/Chapter)

Title

Public Schools - Fees for Summer School Courses - Prohibition

Sponsorship Type

Co-Sponsor

2
2
2
2
2
2
2
2
2
2
2
2

Bill/Chapter (Cross/Chapter)

Title

Correctional Services - Restrictive Housing - Direct Release

Sponsorship Type

Co-Sponsor

2
2
2
2

Bill/Chapter (Cross/Chapter)

Title

State Mental Health Facilities - Staffing Committee and Plan

Sponsorship Type

Co-Sponsor

2
2
2
2
2
2
2
2
2
2

Bill/Chapter (Cross/Chapter)

Title

Declaration of Rights - Right of Bodily Integrity and Privacy

Sponsorship Type

Co-Sponsor

2
2

Bill/Chapter (Cross/Chapter)

Title

Labor and Employment - Exemptions From Overtime Pay - Administrative, Executive, or Professional Capacity (Overtime Modernization Act of 2019)

Sponsorship Type

Co-Sponsor

2
2

Bill/Chapter (Cross/Chapter)

Title

Agriculture - Cost-Sharing Program - Sale of Harvested Cover Crops

Sponsorship Type

Co-Sponsor

2
2
2
2
2
2
2
2
2
2

Bill/Chapter (Cross/Chapter)

Title

Maryland People's Fund - Establishment

Sponsorship Type

Co-Sponsor

2
2
2
2
2
2

Bill/Chapter (Cross/Chapter)

Title

Maryland Transit Administration - Extension of MARC Service - Plans and Report

Sponsorship Type

Co-Sponsor

2
2

Bill/Chapter (Cross/Chapter)

Title

Use of Public Funds - Playground and Athletic Field Surfaces - Authorizations, Preferences, and Prohibitions

Sponsorship Type

Co-Sponsor

2
2

Bill/Chapter (Cross/Chapter)

Title

Election Law – Campaign Contributions – Prohibition

Sponsorship Type

Co-Sponsor

2
2

Bill/Chapter (Cross/Chapter)

Title

Home and Hospital Teaching Program for Students – Report

Sponsorship Type

Co-Sponsor

2
2

Bill/Chapter (Cross/Chapter)

Title

Environment - Hazardous Materials - Disposal of Synthetic Turf and Turf Infill

Sponsorship Type

Co-Sponsor

2
2

Bill/Chapter (Cross/Chapter)

Title

Higher Education - Collective Bargaining - Tenured Faculty, Adjunct Faculty, and Graduate Student Employees

Sponsorship Type

Co-Sponsor

2
2
2
2
2
2
2
2

Bill/Chapter (Cross/Chapter)

Title

Medical Cannabis - Pesticide Use - Labeling and Study

Sponsorship Type

Co-Sponsor

2
2

Bill/Chapter (Cross/Chapter)

Title

Public Safety - Certification of Police Officers - Medical Cannabis Employment

Sponsorship Type

Co-Sponsor

2
2

Bill/Chapter (Cross/Chapter)

Title

Maryland Stepping Up to Reduce Mental Illness in Correctional Facilities Commission

Sponsorship Type

Co-Sponsor

2
2
2
2
2
2
2
2
2
2

Bill/Chapter (Cross/Chapter)

Title

County Boards of Education - Computer Science Courses

Sponsorship Type

Co-Sponsor

2
2
2
2
2
2
2
2
2
2
2
2

Bill/Chapter (Cross/Chapter)

Title

Office of Administrative Hearings - Administrative Law Judges - Special Education Law Training

Sponsorship Type

Co-Sponsor

2
2
2
2

Bill/Chapter (Cross/Chapter)

Title

United States of America - District of Columbia - Statehood

Sponsorship Type

Co-Sponsor

2
2
2
2
6
2
Bill/Chapter
(Cross/Chapter)
Title
Sponsorship Type
Sponsorship Type Sort
Chamber Sort
Current Status
Org Committees & Hearings
Opp Committees & Hearings
HB0073 (SB0236/CH0750)
Jury Service - Qualification Criteria - Criminal Conviction or Charge
Primary
1
2
In the House - Hearing 1/30 at 2:00 p.m.

HB0074
Criminal Procedure - Coram Nobis - Time for Filing
Primary
1
2
In the House - Hearing 2/26 at 1:00 p.m.

HB0076 /CH0494 (SB0237/CH0493)
Vehicle Laws - Canceled, Revoked, and Suspended Driver's Licenses - Penalties
Primary
1
2
Approved by the Governor - Chapter 494

HB0077 /CH0571 (SB0395)
Criminal Law - Decriminalization of Attempted Suicide
Primary
1
2
Enacted under Article II, Section 17(c) of the Maryland Constitution - Chapter 571

HB0085 (SB0313)
General Assembly - Special Election to Fill a Vacancy in Office
Primary
1
2
In the House - Hearing 1/31 at 1:00 p.m.

HB0090 (SB0117)
Public Safety - Smoke Detection System Violation - Civil Offense
Primary
1
2
In the House - Hearing 1/29 at 1:00 p.m.

HB0113 (SB0842/CH0495)
Criminal Law - Gaming - Civil Offense
Primary
1
2
Vetoed by the Governor (Duplicative)

HB0135 /CH0061 (SB0152/CH0062)
Criminal Law – Cruelty to Animals – Payment of Costs
Primary
1
2
Approved by the Governor - Chapter 61

HB0138 (SB0210/CH0321)
Law Enforcement – Federal Military Surplus Program – Equipment Acquisition
Primary
1
2
Vetoed by the Governor (Duplicative)

HB0143 (SB0308)
Criminal Procedure - Providing Electronic Device Location Information - Historical Data
Primary
1
2
In the House - Hearing 2/05 at 1:00 p.m.

HB0147 (SB0535)
Election Law - Local Public Campaign Financing - Boards of Education
Primary
1
2
In the House - Hearing 2/05 at 1:00 p.m.

HB0259 /CH0599 (SB0394/CH0600)
Criminal Procedure - Expungement - Boating Offenses
Primary
1
2
Enacted under Article II, Section 17(c) of the Maryland Constitution - Chapter 599

HB0303
Interstate Compact on Washington Area Professional Football Team Franchise Facility Incentives
Primary
1
2
In the House - Withdrawn by Sponsor

HB0418 (SB0824)
Juvenile Law - Waiver and Transfer of Jurisdiction
Primary
1
2
In the House - Hearing 2/21 at 1:00 p.m.

HB0462 (SB0539)
Maryland Police Training and Standards Commission - Body-Worn Camera Policy
Primary
1
2
In the House - Withdrawn by Sponsor

HB0632
Constitutional Amendment - Cannabis - Use, Possession, Cultivation, and Sale
Primary
1
2
In the House - Hearing 3/06 at 1:00 p.m.

HB0758 (SB0659)
Criminal Procedure - Pretrial Release - Reimbursement of Special Condition Costs
Primary
1
2
In the House - Hearing 2/26 at 1:00 p.m.

HB0828 (SB0836)
Criminal Law - Drug Paraphernalia - Prevention of HIV and Viral Hepatitis
Primary
1
2
In the House - Hearing 3/05 at 1:00 p.m.

HB0875
Criminal Law - Marijuana - Urinalyses, Civil Offense Threshold, and Evidence Standards
Primary
1
2
In the House - Hearing 3/05 at 1:00 p.m.

HB0913 (SB0817)
Correctional Facilities and Police Officers – Procedures – Immigration Status
Primary
1
2
In the House - Hearing 3/05 at 1:00 p.m.

HB1223 (SB0221)
Workgroup on Establishing an Independent School Board for the Juvenile Services Education System
Primary
1
2
In the House - Hearing 2/21 at 1:00 p.m. (Judiciary)

HB1361 (SB0769)
Courts - Discovery - In-Custody Witness Testimony
Primary
1
2
In the House - First Reading House Rules and Executive Nominations

HB0011 (SB0452)
Juveniles Charged as Adults – Confidentiality of Records
Co-Sponsor
2
2
In the House - Conference Committee Appointed

HB0025 /CH0531 (SB0195)
Public Health - Prescription Drug Monitoring Program - Revisions
Co-Sponsor
2
2
Approved by the Governor - Chapter 531

HB0072
Extension of Electric Vehicle Incentives Act
Co-Sponsor
2
2
In the House - Withdrawn by Sponsor

HB0081 (SB0816/CH0036)
Property Tax Credit - Surviving Spouse of Veteran
Co-Sponsor
2
2
Vetoed by the Governor (Duplicative)

HB0086 (SB0765)
Health Insurance - Continuation Coverage - Change in Employment Status
Co-Sponsor
2
2
In the House - Withdrawn by Sponsor

HB0087 /CH0576 (SB0529/CH0577)
State Board of Education – Membership – Teacher and Parent Members
Co-Sponsor
2
2
Enacted under Article II, Section 17(c) of the Maryland Constitution - Chapter 576

HB0088 /CH0578
Criminal Law and Civil Offenses – Classifications
Co-Sponsor
2
2
Enacted under Article II, Section 17(c) of the Maryland Constitution - Chapter 578

HB0102 (SB0442)
Toll Roads, Highways, and Bridges - County Government Consent Requirement - Expansion
Co-Sponsor
2
2
In the House - Hearing 2/07 at 1:00 p.m.

HB0109 /CH0579 (SB0285/CH0580)
Environment – Expanded Polystyrene Food Service Products – Prohibitions
Co-Sponsor
2
2
Enacted under Article II, Section 17(c) of the Maryland Constitution - Chapter 579

HB0110
Public School Students – Daily Physical Activity (Student Health and Fitness Act)
Co-Sponsor
2
2
In the Senate - Third Reading Passed with Amendments (45-0)

HB0111 (SB0549)
Income Tax Credit - Agency Shop Fees and Union Dues
Co-Sponsor
2
2
In the House - Hearing 2/06 at 1:00 p.m.

HB0120 (SB0203)
Natural Resources - No Net Loss of Forest - Definition
Co-Sponsor
2
2
In the House - Hearing 2/06 at 1:30 p.m.

HB0122 (SB0209)
Protective Orders – Relief Eligibility – Rape and Sexual Offenses
Co-Sponsor
2
2
In the House - Third Reading Passed (117-18)

HB0136 (SB0314)
Department of General Services - Energy-Conserving and Bird-Safe Building Standards (Maryland Sustainable Buildings Act of 2019)
Co-Sponsor
2
2
In the House - Third Reading Passed (93-40)

HB0139 (SB0135)
Public Health – Overdose and Infectious Disease Prevention Site Program
Co-Sponsor
2
2
In the House - Withdrawn by Sponsor

HB0144 (SB0199)
General Assembly - Live and Archived Video Streaming of Meetings
Co-Sponsor
2
2
In the House - Withdrawn by Sponsor

HB0166 /CH0010 (SB0280/CH0011)
Labor and Employment – Payment of Wages – Minimum Wage (Fight for Fifteen)
Co-Sponsor
2
2
Gubernatorial Veto Override - Chapter 10

HB0213 /CH0343 (SB0143)
Cownose Ray Fishery Management Plan and Moratorium on Contests
Co-Sponsor
2
2
Approved by the Governor - Chapter 343

HB0214 /CH0422 (SB0144/CH0421)
Victims and Witnesses - U Nonimmigrant Status - Certification of Victim Helpfulness
Co-Sponsor
2
2
Approved by the Governor - Chapter 422

HB0226 (SB0550)
Food Stamp Program - Minimum Benefit for Disabled Individuals - State Supplement
Co-Sponsor
2
2
In the House - Withdrawn by Sponsor

HB0240 /CH0028 (SB0232/CH0029)
Hate Crimes – Threats
Co-Sponsor
2
2
Approved by the Governor - Chapter 28

HB0245 /CH0398
Education - Student Data Privacy Council
Co-Sponsor
2
2
Approved by the Governor - Chapter 398

HB0246
General Assembly - Fiscal Notes - Environmental Impact Statements
Co-Sponsor
2
2
In the House - Hearing 2/25 at 2:00 p.m.

HB0248 /CH0595 (SB0181/CH0596)
Education - Child Care Subsidies - Mandatory Funding Level
Co-Sponsor
2
2
Enacted under Article II, Section 17(c) of the Maryland Constitution - Chapter 595

HB0250 (SB0374)
Real Property - Maryland Condominium Act - Priority of Liens
Co-Sponsor
2
2
In the House - Withdrawn by Sponsor

HB0251 /CH0308 (SB0279/CH0309)
Department of Aging - Grants for Aging-in-Place Programs (Nonprofits for our Aging Neighbors Act - "NANA")
Co-Sponsor
2
2
Approved by the Governor - Chapter 308

HB0252 (SB0936)
Election Law – Correctional Facilities – Voting Coordinators
Co-Sponsor
2
2
In the Senate - First Reading Education, Health, and Environmental Affairs and Judicial Proceedings

HB0254
Clerks of the Courts - Maryland Judiciary Case Search - Information on Judge or Magistrate
Co-Sponsor
2
2
In the House - Hearing 2/06 at 1:00 p.m.

HB0262 (SB0537)
Higher Education - Tuition Rates - Exemptions
Co-Sponsor
2
2
Vetoed by the Governor (Policy)

HB0269 (SB0343)
Election Law - Voting by Absentee Ballot - Prepaid Postage for the Return of Ballots
Co-Sponsor
2
2
In the House - Hearing 2/12 at 1:00 p.m.

HB0270 (SB0491)
Higher Education - Collective Bargaining - Graduate Assistants (Graduate Assistant Collective Bargaining Fairness Act)
Co-Sponsor
2
2
In the Senate - First Reading Finance

HB0275 (SB0270)
Pesticides - Use of Chlorpyrifos - Prohibition
Co-Sponsor
2
2
In the Senate - First Reading Education, Health, and Environmental Affairs

HB0286 /CH0609
Election Law - Registration and Voting at Precinct Polling Places
Co-Sponsor
2
2
Enacted under Article II, Section 17(c) of the Maryland Constitution - Chapter 609

HB0294 (SB0621)
Correctional Services - Diminution Credits - Education
Co-Sponsor
2
2
In the House - Hearing 2/12 at 1:00 p.m.

HB0296
Health Occupations - Pharmacists - Disclosure of Price and Cost Share for Prescription Drugs
Co-Sponsor
2
2
In the House - Hearing 2/12 at 1:00 p.m.

HB0305 (SB0608)
State Procurement - Maryland Food for Maryland Institutions Task Force
Co-Sponsor
2
2
In the House - Withdrawn by Sponsor

HB0306 (SB0402)
Mental Health - Involuntary Admission - Inmates in Correctional Facilities
Co-Sponsor
2
2
In the House - Hearing 2/12 at 1:00 p.m.

HB0307 /CH0041
Maryland Lynching Truth and Reconciliation Commission
Co-Sponsor
2
2
Approved by the Governor - Chapter 41

HB0322 (SB0606)
Election Law - References to Absentee Voting in Public Communications - Voting by Mail
Co-Sponsor
2
2
In the House - Hearing 2/12 at 1:00 p.m.

HB0336 /CH0001 (SB0391/CH0002)
Civilian Federal Employees – Unemployment Insurance Benefits and Federal Government Shutdown Employee Assistance Loan Fund (Federal Shutdown Paycheck Protection Act)
Co-Sponsor
2
2
Approved by the Governor - Chapter 1

HB0338 /CH0635 (SB0218/CH0636)
Human Services - Food Supplements (Summer SNAP for Children Act)
Co-Sponsor
2
2
Enacted under Article II, Section 17(c) of the Maryland Constitution - Chapter 635

HB0341
Labor and Employment – Family and Medical Leave Insurance Program – Establishment (Time to Care Act of 2019)
Co-Sponsor
2
2
In the House - Hearing 2/12 at 1:00 p.m.

HB0364 (SB0909/CH0425)
Health Care Practitioners - Medical Examinations on Anesthetized or Unconscious Patients
Co-Sponsor
2
2
Vetoed by the Governor (Duplicative)

HB0369
Admissions and Amusement Tax - Limitations on Municipal Corporations - Drive-In Movies and Roller Skating Rinks
Co-Sponsor
2
2
In the House - Hearing 2/12 at 1:00 p.m.

HB0377
Natural Resources - Submerged Aquatic Vegetation Protection Zones - Revisions
Co-Sponsor
2
2
In the House - Withdrawn by Sponsor

HB0378
Public Health - State-Provided Health Care Benefits
Co-Sponsor
2
2
In the House - Hearing 3/14 at 1:00 p.m. (Health and Government Operations)

HB0399 (SB0311)
End-of-Life Option Act (Richard E. Israel and Roger "Pip" Moyer Act)
Co-Sponsor
2
2
In the Senate - First Reading Judicial Proceedings

HB0413 (SB0979)
Public Information Act - Personnel and Investigatory Records - Formal Complaints Against Public Employees
Co-Sponsor
2
2
In the House - Withdrawn by Sponsor

HB0421 /CH0648 (SB0196/CH0649)
Vehicle Laws - Licenses, Identification Cards, and Moped Operator's Permits - Indication of Applicant's Sex
Co-Sponsor
2
2
Enacted under Article II, Section 17(c) of the Maryland Constitution - Chapter 648

HB0423 (SB0934)
Election Law – Voter Registration Drive – High Schools
Co-Sponsor
2
2
In the Senate - Unfavorable Report by Education, Health, and Environmental Affairs

HB0437 (SB0128/CH0013)
County Boards of Education - School Year - Start and End Dates
Co-Sponsor
2
2
In the House - Hearing 2/14 at 1:00 p.m.

HB0443 (SB0121)
Inmates - Life Imprisonment - Parole Reform
Co-Sponsor
2
2
In the House - Hearing 2/19 at 1:00 p.m.

HB0463 (SB0110)
Congressional Districts - Standards (Anti-Gerrymandering of Maryland's Congressional Districts)
Co-Sponsor
2
2
In the House - Unfavorable Report by House Rules and Executive Nominations

HB0468 (SB0441)
Public Safety - Access to Firearms - Storage Requirements
Co-Sponsor
2
2
In the House - Hearing 2/25 at 10:00 a.m.

HB0472
Constitutional Amendment - Environmental Rights
Co-Sponsor
2
2
In the House - Withdrawn by Sponsor

HB0473 (SB0941)
Residential Leases - Definition of "Rent"
Co-Sponsor
2
2
In the House - Withdrawn by Sponsor

HB0481 /CH0365
Criminal Law - Sale of a Minor - Felony
Co-Sponsor
2
2
Approved by the Governor - Chapter 365

HB0492
Procurement - Carbon-Intensive Foods
Co-Sponsor
2
2
In the House - Withdrawn by Sponsor

HB0495 (SB0401)
Juvenile Law - Informal Adjustment
Co-Sponsor
2
2
In the House - Hearing 2/21 at 1:00 p.m.

HB0499 (SB0100)
Civil Actions - Interstate Pipeline Liability Act
Co-Sponsor
2
2
In the House - Withdrawn by Sponsor

HB0501
Crimes - Unattended Restraint of Dogs in Extreme Temperatures
Co-Sponsor
2
2
In the House - Unfavorable Report by Environment and Transportation

HB0504
Purchase of Motor Vehicles and Building Construction, Renovation, Rehabilitation, and Modification - Social Cost of Carbon Emissions
Co-Sponsor
2
2
In the House - Hearing 2/19 at 1:00 p.m.

HB0517 (SB0460/CH0519)
Crosswalks – Violation of Pedestrian Right–of–Way – Penalty
Co-Sponsor
2
2
In the Senate - Hearing 3/28 at 12:00 p.m.

HB0521
Procurement Preferences - Maryland Child Care Act
Co-Sponsor
2
2
In the House - Hearing 2/26 at 1:00 p.m.

HB0523
Public Schools - Use of Lead Ammunition in School Programs - Prohibition
Co-Sponsor
2
2
In the House - Withdrawn by Sponsor

HB0527 /CH0370 (SB0290/CH0371)
Public Health – Cottage Food Products – Definition and Sale
Co-Sponsor
2
2
Approved by the Governor - Chapter 370

HB0530 (SB0489)
Ballot Access - Voter Registration - Affiliating With a Party
Co-Sponsor
2
2
In the House - Hearing 2/19 at 1:00 p.m.

HB0535 (SB0373)
Election Law - Deadline for Selection of Lieutenant Governor
Co-Sponsor
2
2
In the House - Hearing 2/19 at 1:00 p.m.

HB0542 /CH0372 (SB0149)
Task Force to Study Crime Classification and Penalties
Co-Sponsor
2
2
Approved by the Governor - Chapter 372

HB0565 (SB0363)
Election Law - Voting Systems - Accessibility for Voters With Disabilities
Co-Sponsor
2
2
In the House - Referred to interim study by Ways and Means

HB0568 (SB0009)
Income Tax - Subtraction Modification - Expenses of Medical Cannabis Grower, Processor, Dispensary, or Independent Testing Laboratory
Co-Sponsor
2
2
In the House - Hearing 2/20 at 1:00 p.m. (Ways and Means)

HB0579 (SB0351)
Workgroup to Study Prize-Linked Savings Accounts
Co-Sponsor
2
2
In the House - Hearing 2/20 at 1:00 p.m.

HB0584 (SB0263)
Earned Income Tax Credit - Individuals Without Qualifying Children - Eligibility and Refundability
Co-Sponsor
2
2
In the House - Hearing 2/20 at 1:00 p.m.

HB0585 (SB0262)
Earned Income Tax Credit - Individuals Without Qualifying Children - Calculation and Refundability
Co-Sponsor
2
2
In the House - Hearing 2/20 at 1:00 p.m.

HB0612
Public Safety - Regulated Firearms - Colt AR-15 Sporter H-BAR Rifle
Co-Sponsor
2
2
In the House - Hearing 2/25 at 10:00 a.m.

HB0634 (SB0738)
Labor and Employment - Wage History and Wage Range
Co-Sponsor
2
2
In the House - Hearing 2/19 at 1:00 p.m.

HB0640 (SB0555)
Peace Orders - Workplace Violence
Co-Sponsor
2
2
In the Senate - Unfavorable Report by Judicial Proceedings

HB0641 /CH0072 (SB0355)
Criminal Law – Sexual Contact With an Animal – Aggravated Cruelty to Animals
Co-Sponsor
2
2
Approved by the Governor - Chapter 72

HB0652 /CH0678 (SB0471/CH0679)
Agriculture - Use of Antimicrobial Drugs - Limitations and Reporting Requirements
Co-Sponsor
2
2
Enacted under Article II, Section 17(c) of the Maryland Constitution - Chapter 678

HB0656 (SB0771)
Cannabis - Legalization, Taxation, and Regulation
Co-Sponsor
2
2
In the House - Hearing 3/06 at 1:00 p.m. (Judiciary)

HB0659 /CH0560
Juvenile Law - Continued Detention - Minimum Age
Co-Sponsor
2
2
Approved by the Governor - Chapter 560

HB0663 (SB0781)
Public-Private Partnership Projects - Real Property Acquisition - Prohibition
Co-Sponsor
2
2
In the House - Hearing 2/26 at 1:00 p.m. (Environment and Transportation) and Hearing canceled (Appropriations)

HB0668 (SB0641)
Public School Construction - Maryland Stadium Authority - Montgomery County and Other School Systems With Significant Enrollment Growth
Co-Sponsor
2
2
In the House - Unfavorable Report by Appropriations

HB0669 (SB0387)
Environment - Water Quality Certifications (Pipeline and Water Protection Act of 2019)
Co-Sponsor
2
2
In the House - Unfavorable Report by Economic Matters

HB0675
Operation of Uninsured Motor Vehicle - Criminal Penalties
Co-Sponsor
2
2
In the House - Withdrawn by Sponsor

HB0687
Civil Actions – Child Sexual Abuse – Definition and Statute of Limitations (Hidden Predator Act of 2019)
Co-Sponsor
2
2
In the Senate - Unfavorable Report by Judicial Proceedings

HB0690 (SB0734/CH0512)
Education - Students With Reading Difficulties - Screenings and Interventions
Co-Sponsor
2
2
In the House - Hearing 2/21 at 1:00 p.m.

HB0694 (SB0823)
Juvenile Proceedings - Fines, Fees, and Costs
Co-Sponsor
2
2
In the House - Hearing 2/21 at 1:00 p.m.

HB0695 (SB0788)
Transportation Climate Accountability Act of 2019
Co-Sponsor
2
2
In the House - Hearing 2/26 at 1:00 p.m. (Environment and Transportation)

HB0696 (SB0430)
Maryland Health Care Commission - Authorized Prescribers - Reporting of Financial Gratuities or Incentives
Co-Sponsor
2
2
In the House - Withdrawn by Sponsor

HB0697 /CH0418 (SB0868/CH0417)
Health Insurance – Consumer Protections and Maryland Health Insurance Coverage Protection Commission
Co-Sponsor
2
2
Approved by the Governor - Chapter 418

HB0699
Maryland Police Training and Standards Commission - Training Requirements - Hate Crimes
Co-Sponsor
2
2
In the House - Hearing 2/26 at 1:00 p.m.

HB0706 (SB0919)
Election Law - Absentee Ballot Requests, Delivery, and Marking
Co-Sponsor
2
2
In the House - Hearing 2/26 at 1:00 p.m.

HB0715 (SB0419)
Correctional Services - Prerelease Unit for Women - Requirement to Operate
Co-Sponsor
2
2
In the House - Hearing 2/26 at 1:00 p.m.

HB0725 /CH0691 (SB0766)
Public Schools - Student Discipline - Restorative Approaches
Co-Sponsor
2
2
Enacted under Article II, Section 17(c) of the Maryland Constitution - Chapter 691

HB0730 (SB0660)
Electric Industry - Community Choice Aggregation
Co-Sponsor
2
2
In the House - Referred to interim study by Economic Matters

HB0734 /CH0023 (SB0689/CH0024)
Criminal Law - Labor Trafficking (Anti-Exploitation Act of 2019)
Co-Sponsor
2
2
Approved by the Governor - Chapter 23

HB0740 (SB0882)
Criminal Law – Firearms – Computer–Aided Fabrication and Serial Number (3–D Printed Firearms )
Co-Sponsor
2
2
In the Senate - First Reading Judicial Proceedings

HB0745 (SB0809/CH0324)
Correctional Facilities - Restrictive Housing - Pregnant Inmates
Co-Sponsor
2
2
In the Senate - Rereferred to Judicial Proceedings

HB0760 (SB0566)
Criminal Procedure - Criminal Citations - Reporting
Co-Sponsor
2
2
In the House - Hearing 3/12 at 1:00 p.m.

HB0766
Education - Community Colleges - Collective Bargaining
Co-Sponsor
2
2
In the House - Withdrawn by Sponsor

HB0768 /CH0692 (SB0759)
Health - Prescription Drug Affordability Board
Co-Sponsor
2
2
Enacted under Article II, Section 17(c) of the Maryland Constitution - Chapter 692

HB0782 (SB0691)
Criminal Procedure - Motion to Vacate Judgment - Human Trafficking (True Freedom Act of 2019)
Co-Sponsor
2
2
In the Senate - First Reading Judicial Proceedings

HB0786 (SB0737)
Public Safety – Rifles and Shotguns – Secondary Transactions
Co-Sponsor
2
2
In the House - Conference Committee Appointed

HB0790 /CH0694
Equal Pay for Equal Work - Enforcement - Civil Penalties (Equal Pay Remedies and Enforcement Act)
Co-Sponsor
2
2
Enacted under Article II, Section 17(c) of the Maryland Constitution - Chapter 694

HB0810 (SB0870/CH0432)
Income Tax - Child and Dependent Care Tax Credit - Alterations
Co-Sponsor
2
2
Vetoed by the Governor (Duplicative)

HB0813 (SB0814)
Drunk Driving - Administrative Per Se Offenses - Ignition Interlock System Program
Co-Sponsor
2
2
In the House - Hearing 2/27 at 1:00 p.m.

HB0814 /CH0423 (SB0802/CH0424)
Maryland Easy Enrollment Health Insurance Program
Co-Sponsor
2
2
Approved by the Governor - Chapter 423

HB0818 (SB0629)
Access to Maryland Courts Act
Co-Sponsor
2
2
In the House - Hearing 3/01 at 11:30 a.m.

HB0823
Workgroup on Effective Professional Development Programs in Local Health Departments
Co-Sponsor
2
2
In the House - Withdrawn by Sponsor

HB0827 /CH0559 (SB0688)
Child Abuse and Neglect – Sex Trafficking – Services and Investigations (Child Sex Trafficking Screening and Services Act of 2019)
Co-Sponsor
2
2
Approved by the Governor - Chapter 559

HB0855 (SB0231)
Family Law - Marriage - Age Requirements
Co-Sponsor
2
2
In the House - Hearing 3/07 at 1:00 p.m.

HB0856 (SB0953)
Health Care Facilities - Hospitals and Related Institutions - Discrimination Protections
Co-Sponsor
2
2
In the House - Hearing 3/04 at 3:00 p.m.

HB0871 /CH0021 (SB0690/CH0022)
Criminal Law - Human Trafficking and Prostitution Offenses
Co-Sponsor
2
2
Approved by the Governor - Chapter 21

HB0874 /CH0702 (SB0676)
Criminal Procedure - Postconviction Review - State's Motion to Vacate
Co-Sponsor
2
2
Enacted under Article II, Section 17(c) of the Maryland Constitution - Chapter 702

HB0877
Crimes - Controlled Dangerous Substances - Sentences
Co-Sponsor
2
2
In the House - Withdrawn by Sponsor

HB0885 /CH0377
Transportation - Vision Zero - Establishment
Co-Sponsor
2
2
Approved by the Governor - Chapter 377

HB0921 (SB1036)
Environment - Conowingo Dam - Water Quality Certification
Co-Sponsor
2
2
In the House - Withdrawn by Sponsor

HB0960 /CH0707
Baltimore City – Alcoholic Beverages Licenses – Prohibited Transfers
Co-Sponsor
2
2
Enacted under Article II, Section 17(c) of the Maryland Constitution - Chapter 707

HB0966
Public Schools - Fees for Summer School Courses - Prohibition
Co-Sponsor
2
2
In the Senate - Hearing 3/20 at 1:00 p.m.

HB0968 /CH0378 (SB0672)
Criminal Injuries Compensation Board - Compensation to Claimants
Co-Sponsor
2
2
Approved by the Governor - Chapter 378

HB0977 (SB0833)
Criminal Procedure - Expungement - Expansion
Co-Sponsor
2
2
In the House - Hearing 3/05 at 1:00 p.m.

HB0983 (SB0898)
Public Safety - Investigation of an Officer-Involved Death (Law Enforcement Trust and Transparency Act)
Co-Sponsor
2
2
In the House - Hearing 3/05 at 1:00 p.m.

HB0994 (SB0839)
Labor and Employment - Criminal Record Screening Practices (Ban the Box)
Co-Sponsor
2
2
Vetoed by the Governor (Policy)

HB1001 /CH0526 (SB0774/CH0527)
Correctional Services - Restrictive Housing - Reporting by Correctional Units and Requirements Relating to Minors
Co-Sponsor
2
2
Approved by the Governor - Chapter 526

HB1002
Correctional Services - Restrictive Housing - Direct Release
Co-Sponsor
2
2
In the Senate - Second Reading Passed with Amendments

HB1005 (SB0905)
Action for Change of Name - Procedures and Requirements
Co-Sponsor
2
2
In the House - Hearing 2/20 at 11:00 a.m.

HB1006
State Mental Health Facilities - Staffing Committee and Plan
Co-Sponsor
2
2
In the House - Withdrawn by Sponsor

HB1007 /CH0050 (SB0739/CH0051)
Child Advocacy Centers - Expansion
Co-Sponsor
2
2
Approved by the Governor - Chapter 50

HB1010 /CH0317 (SB0801/CH0318)
Brewery Modernization Act of 2019
Co-Sponsor
2
2
Approved by the Governor - Chapter 317

HB1011 (SB1037)
Maryland Police Training and Standards Commission - Uniform Citizen Complaint Process (Anton's Law)
Co-Sponsor
2
2
In the House - Hearing 2/26 at 1:00 p.m.

HB1027 /CH0325 (SB0736/CH0326)
Criminal Law - Child Pornography
Co-Sponsor
2
2
Approved by the Governor - Chapter 325

HB1031
Declaration of Rights - Right of Bodily Integrity and Privacy
Co-Sponsor
2
2
In the House - Withdrawn by Sponsor

HB1040
Labor and Employment - Exemptions From Overtime Pay - Administrative, Executive, or Professional Capacity (Overtime Modernization Act of 2019)
Co-Sponsor
2
2
In the House - Unfavorable Report by Economic Matters

HB1050
Agriculture - Cost-Sharing Program - Sale of Harvested Cover Crops
Co-Sponsor
2
2
In the House - Withdrawn by Sponsor

HB1062 (SB0397)
General Provisions - Commemorative Days - Freedom of the Press Day
Co-Sponsor
2
2
In the House - Withdrawn by Sponsor

HB1082 (SB0645)
Local Health Services Funding - Modifications
Co-Sponsor
2
2
In the House - Hearing 3/05 at 1:00 p.m.

HB1087 (SB0871)
Public Health - Healthy Maryland Program - Establishment
Co-Sponsor
2
2
In the House - Withdrawn by Sponsor

HB1088 (SB0918)
State Department of Assessments and Taxation - Assessments, Audits, Records, and Appeals (SDAT Reform Act of 2019)
Co-Sponsor
2
2
In the House - Hearing 3/05 at 1:00 p.m.

HB1089
Maryland People's Fund - Establishment
Co-Sponsor
2
2
In the House - Hearing 3/01 at 1:00 p.m. (Ways and Means)

HB1096 /CH0034 (SB0767/CH0033)
Criminal Procedure - Sexual Assault Evidence Collection Kits - Analysis
Co-Sponsor
2
2
Approved by the Governor - Chapter 34

HB1107 (SB0518)
Discrimination in Employment - Pregnancy and Childbirth
Co-Sponsor
2
2
In the House - Hearing 3/11 at 1:00 p.m.

HB1117
Maryland Transit Administration - Extension of MARC Service - Plans and Report
Co-Sponsor
2
2
In the House - Withdrawn by Sponsor

HB1118
Use of Public Funds - Playground and Athletic Field Surfaces - Authorizations, Preferences, and Prohibitions
Co-Sponsor
2
2
In the House - Hearing 3/12 at 1:00 p.m.

HB1130
Election Law – Campaign Contributions – Prohibition
Co-Sponsor
2
2
In the House - Withdrawn by Sponsor

HB1137
Home and Hospital Teaching Program for Students – Report
Co-Sponsor
2
2
In the Senate - Hearing 3/27 at 1:00 p.m.

HB1142
Environment - Hazardous Materials - Disposal of Synthetic Turf and Turf Infill
Co-Sponsor
2
2
In the House - Withdrawn by Sponsor

HB1143
Higher Education - Collective Bargaining - Tenured Faculty, Adjunct Faculty, and Graduate Student Employees
Co-Sponsor
2
2
In the House - Hearing 3/01 at 1:30 p.m.

HB1144 /CH0564 (SB0964)
County Boards of Education - Equal Access to Public Services for Individuals With Limited English Proficiency
Co-Sponsor
2
2
Approved by the Governor - Chapter 564

HB1158 (SB0516/CH0757)
Clean Energy Jobs
Co-Sponsor
2
2
In the House - Hearing 3/08 at 1:00 p.m.

HB1165 (SB0718)
State Government – Government Agents – Requests for and Use of Immigration Status Information
Co-Sponsor
2
2
In the Senate - First Reading Judicial Proceedings

HB1174
Medical Cannabis - Pesticide Use - Labeling and Study
Co-Sponsor
2
2
In the House - Withdrawn by Sponsor

HB1176
Public Safety - Certification of Police Officers - Medical Cannabis Employment
Co-Sponsor
2
2
In the Senate - Hearing 3/26 at 12:00 p.m.

HB1182
Maryland Stepping Up to Reduce Mental Illness in Correctional Facilities Commission
Co-Sponsor
2
2
In the House - Withdrawn by Sponsor

HB1201 (SB0972)
Task Force on Educational Outcomes of Pregnant and Parenting Students in High School and GED Programs
Co-Sponsor
2
2
In the House - Hearing 2/22 at 1:00 p.m.

HB1204 (SB0789)
Involuntary Commitment - Procedures for Admission
Co-Sponsor
2
2
In the House - Hearing 3/11 at 2:00 p.m.

HB1210 (SB0815)
Public Safety - Crisis Intervention Team Technical Assistance Center
Co-Sponsor
2
2
In the Senate - First Reading Judicial Proceedings

HB1217 (SB0497)
Pharmacists - Aids for the Cessation of Tobacco Product Use - Prescribing and Dispensing
Co-Sponsor
2
2
In the House - Withdrawn by Sponsor

HB1224
County Boards of Education - Computer Science Courses
Co-Sponsor
2
2
In the Senate - Hearing 3/27 at 1:00 p.m.

HB1242 (SB0915)
Public School Students – Vision Services – Reporting
Co-Sponsor
2
2
In the Senate - First Reading Education, Health, and Environmental Affairs

HB1249 (SB0657/CH0431)
Pilot Program - Alleged Rape, Sexual Offense, or Child Sexual Abuse - HIV Postexposure Prophylaxis
Co-Sponsor
2
2
Vetoed by the Governor (Duplicative)

HB1253 /CH0557 (SB0481)
Drinking Water Outlets in School Buildings – Lead Testing and Reporting Requirements and Grant Programs
Co-Sponsor
2
2
Approved by the Governor - Chapter 557

HB1268 /CH0508 (SB0569/CH0509)
Public Safety - Rape Kit Testing Grant Fund - Established
Co-Sponsor
2
2
Approved by the Governor - Chapter 508

HB1273 (SB0599)
Immigration Enforcement – Public Schools, Hospitals, and Courthouses – Policies
Co-Sponsor
2
2
In the Senate - First Reading Judicial Proceedings and Education, Health, and Environmental Affairs

HB1275
Office of Administrative Hearings - Administrative Law Judges - Special Education Law Training
Co-Sponsor
2
2
In the House - Withdrawn by Sponsor

HJ0002 (SJ0001)
United States Constitution - Amendments Convention - Democracy Amendment
Co-Sponsor
2
2
In the House - Withdrawn by Sponsor

HJ0007
United States of America - District of Columbia - Statehood
Co-Sponsor
2
2
In the House - Hearing 2/25 at 2:00 p.m.

HJ0008 (SJ0004)
Conowingo Dam - Pollution Cleanup - Costs
Co-Sponsor
2
2
In the House - Hearing 2/25 at 2:00 p.m.

HB0593 (SB0485)
Maryland Collection Agency Licensing Act - Definitions and Legislative Intent
By Request - Other
6
2
In the Senate - First Reading Senate Rules
Denotes enacted legislation
Legislative Bond Initiatives
Project Name

Status

Introduced

House Sponsors

Senate Sponsors

County

Montgomery

Amount Requested

$150,000

House Initiative

Senate Initiative

$150,000

Other Funding

Total Funding

$150,000
| Project Name | Status | House Sponsors | Senate Sponsors | County | Amount Requested | House Initiative | Senate Initiative | Other Funding | Total Funding |
| --- | --- | --- | --- | --- | --- | --- | --- | --- | --- |
| Takoma Park Library | Introduced | | | Montgomery | $150,000 | | $150,000 | | $150,000 |
Tenure

First elected to the House of Delegates in 2014. Member of the House since 2015.
Current Assignments

2015 Judiciary Committee

2017 Chair, Juvenile Law Subcommittee of the Judiciary Committee (Member, 2015)

2019 Public Safety Subcommittee of the Judiciary Committee

2019 Joint Audit and Evaluation Committee

2019 Marijuana Legalization Work Group

2019 Co-Chair, Legislative and Policy Committee, Maryland Legislative Asian American and Pacific Islander Caucus, Inc. (Member, 2016)

2015 Maryland Legislative Latino Caucus, Associate Member
Past House Service

Family Law Subcommittee of the Judiciary Committee, 2015-2019.
Public Service

Criminal Justice Information Advisory Board, 2015-2019.
Awards

Best State Political Bloggers, The Washington Post, 2013.
Biographical Information

Born, Takoma Park, Maryland, January 28, 1979; Walt Whitman High School, Bethesda, Maryland, 1997; Tufts University, B.A., Sociology & Philosophy, 2001; American University, Washington College of Law, J.D., 2004; Progressive Political Consultant, Moon Strategies, 2010-; MarylandJuice.com, Founder & Editor, August 2011-; Demand Progress, Program Director, January 2011 -; Executive Director, Communities for Transit, 2013; Married.
Last Updated: 10/25/2019 10:31 AM