Delegate Edith J. Patterson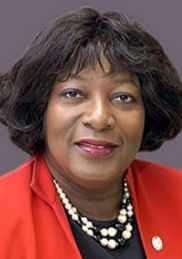 District

28

County

Charles

Committee Assignment(s)

Annapolis Info

221 House Office Building
6 Bladen Street
Annapolis, MD 21401
Phone 410-841-3247 | 301-858-3247
Toll-free in MD

Interim Info

221 House Office Building
6 Bladen Street
Annapolis, MD 21401
Phone 410-841-3247 | 301-858-3247

Contact

Party

Democrat
Legislation
Sponsorship Type Sort
Chamber Sort
2
2
2
2
2
2

Bill/Chapter (Cross/Chapter)

Title

Higher Education - College of Southern Maryland - Bachelor's Degree Programs

Sponsorship Type

Co-Sponsor

2
2
2
2
2
2
2
2
2
2
2
2
2
2

Bill/Chapter (Cross/Chapter)

Title

State Department of Education - Financial Advisory Board - Establishment

Sponsorship Type

Co-Sponsor

2
2

Bill/Chapter (Cross/Chapter)

Title

State Police Retirement System and Law Enforcement Officers' Pension System - Reemployment of Retirees

Sponsorship Type

Co-Sponsor

2
2
2
2

Bill/Chapter (Cross/Chapter)

Title

Property Tax Credit - Elderly Individuals and Veterans

Sponsorship Type

Co-Sponsor

2
2
2
2
2
2

Bill/Chapter (Cross/Chapter)

Title

Income Tax Checkoff - Maryland Veterans Trust Fund

Sponsorship Type

Co-Sponsor

2
2
2
2

Bill/Chapter (Cross/Chapter)

Title

Maryland Estate Tax - Unified Credit

Sponsorship Type

Co-Sponsor

2
2
2
2
2
2
2
2

Bill/Chapter (Cross/Chapter)

Title

Property Tax Credit - Elderly Homeowners

Sponsorship Type

Co-Sponsor

2
2

Bill/Chapter (Cross/Chapter)

Title

State Board of Plumbing - Grounds for Disciplinary Action - Exception

Sponsorship Type

Co-Sponsor

2
2
2
2

Bill/Chapter (Cross/Chapter)

Title

State Prosecutor - Law Enforcement Officer-Involved Deaths

Sponsorship Type

Co-Sponsor

2
2
2
2

Bill/Chapter (Cross/Chapter)

Title

Public Safety - Honorably Discharged Veterans - Handgun Permits

Sponsorship Type

Co-Sponsor

2
2
2
2
2
2
2
2
2
2
2
2

Bill/Chapter (Cross/Chapter)

Title

Education - Community Colleges - Collective Bargaining

Sponsorship Type

Co-Sponsor

2
2
2
2
2
2
2
2

Bill/Chapter (Cross/Chapter)

Title

Labor and Employment - Overwork Prohibition Act

Sponsorship Type

Co-Sponsor

2
2

Bill/Chapter (Cross/Chapter)

Title

Enterprise Zone Income Tax Credit - Economically Disadvantaged Individuals - Qualified Ex-Felons

Sponsorship Type

Co-Sponsor

2
2
2
2
2
2

Bill/Chapter (Cross/Chapter)

Title

Consumer Protection - Monitoring Consumer Behavior and Shopping Habits - Required Notice

Sponsorship Type

Co-Sponsor

2
2
2
2
2
2
2
2
2
2
2
2

Bill/Chapter (Cross/Chapter)

Title

Maryland Education Credit

Sponsorship Type

By Request - Administration

3
2
6
2
Bill/Chapter
(Cross/Chapter)
Title
Sponsorship Type
Sponsorship Type Sort
Chamber Sort
Current Status
Org Committees & Hearings
Opp Committees & Hearings
HB0001 /CH0317 (SB0185/CH0316)
Higher Education - Workforce Shortage Student Assistance Grants for Child Care Providers - Hattie N. Harrison Memorial Scholarship
Co-Sponsor
2
2
Approved by the Governor - Chapter 317

HB0197 /CH0406 (SB0295)
Prince George's County - Education - Youth Wellness Leadership Pilot Program
Co-Sponsor
2
2
Approved by the Governor - Chapter 406

HB0198 (SB0294)
Education - Youth Wellness Leadership Pilot Program
Co-Sponsor
2
2
In the House - Withdrawn by Sponsor

HB0212
Higher Education - College of Southern Maryland - Bachelor's Degree Programs
Co-Sponsor
2
2
In the House - Hearing 2/12 at 1:00 p.m.

HB0278 /CH0411 (SB0015)
Task Force to Study the Implementation of a Dyslexia Education Program
Co-Sponsor
2
2
Approved by the Governor - Chapter 411

HB0298 /CH0413
Education - Student Data Privacy Act of 2015
Co-Sponsor
2
2
Approved by the Governor - Chapter 413

HB0340 /CH0241 (SB0889)
General Provisions - Commemorative Days - Thurgood Marshall Day
Co-Sponsor
2
2
Approved by the Governor - Chapter 241

HB0346 /CH0414
Court Personnel - Altering References from Master to Magistrate
Co-Sponsor
2
2
Approved by the Governor - Chapter 414

HB0383 (SB0489)
Education - Sexual Abuse and Assault Awareness and Prevention Program - Development and Implementation
Co-Sponsor
2
2
In the Senate - Unfavorable Report by Education, Health, and Environmental Affairs

HB0385 (SB0040)
Labor and Employment - Maryland Healthy Working Families Act
Co-Sponsor
2
2
In the House - Hearing 2/13 at 12:30 p.m.

HB0502
State Department of Education - Financial Advisory Board - Establishment
Co-Sponsor
2
2
In the House - Hearing 2/26 at 1:00 p.m.

HB0569
State Police Retirement System and Law Enforcement Officers' Pension System - Reemployment of Retirees
Co-Sponsor
2
2
In the House - Unfavorable Report by Appropriations

HB0595 (SB0529)
Special Elections for United States Senate Vacancies Act
Co-Sponsor
2
2
In the House - Hearing 3/04 at 1:00 p.m.

HB0644
Property Tax Credit - Elderly Individuals and Veterans
Co-Sponsor
2
2
In the Senate - Hearing 4/01 at 1:00 p.m.

HB0663 (SB0179)
Business Relief and Tax Fairness Act of 2015
Co-Sponsor
2
2
In the House - Hearing 3/06 at 1:00 p.m.

HB0672 /CH0176 (SB0496/CH0175)
Maryland College Education Export Act of 2015
Co-Sponsor
2
2
Approved by the Governor - Chapter 176

HB0686
Income Tax Checkoff - Maryland Veterans Trust Fund
Co-Sponsor
2
2
In the Senate - First Reading Senate Rules

HB0694 /CH0268 (SB0286)
Law Enforcement Officers' Pension System - Division of Parole and Probation - Warrant Apprehension Unit Employees - Membership
Co-Sponsor
2
2
Approved by the Governor - Chapter 268

HB0730
Maryland Estate Tax - Unified Credit
Co-Sponsor
2
2
In the House - Hearing 3/03 at 1:00 p.m.

HB0749 (SB0817)
Higher Education - Sexual Assault Policies - Reporting
Co-Sponsor
2
2
In the House - Hearing 3/10 at 1:00 p.m.

HB0753 (SB0905/CH0486)
Income Tax - Film Production Activity Tax Credit
Co-Sponsor
2
2
In the House - Hearing 3/10 at 1:00 p.m.

HB0779 /CH0201 (SB0816/CH0200)
Maryland Higher Education Outreach and College Access Pilot Program
Co-Sponsor
2
2
Approved by the Governor - Chapter 201

HB0792
Property Tax Credit - Elderly Homeowners
Co-Sponsor
2
2
In the House - Withdrawn by Sponsor

HB0798
State Board of Plumbing - Grounds for Disciplinary Action - Exception
Co-Sponsor
2
2
In the House - Withdrawn by Sponsor

HB0799 /CH0279
Higher Education - Veterans and Dependents Nonresident Tuition - Compliance With Federal Law
Co-Sponsor
2
2
Approved by the Governor - Chapter 279

HB0813
State Prosecutor - Law Enforcement Officer-Involved Deaths
Co-Sponsor
2
2
In the House - Unfavorable Report by Judiciary

HB0827 /CH0282
Alcoholic Beverage Taxes - Wine Tax Revenue Distribution
Co-Sponsor
2
2
Approved by the Governor - Chapter 282

HB0842
Public Safety - Honorably Discharged Veterans - Handgun Permits
Co-Sponsor
2
2
In the House - Hearing 3/10 at 1:00 p.m.

HB0847 /CH0341 (SB0335/CH0340)
Community Colleges - Victims of Human Trafficking - Exemption From Out-of-County and Out-of-Region Fees
Co-Sponsor
2
2
Approved by the Governor - Chapter 341

HB0885 (SB0153)
Corporations - Political Expenditures - Stockholder Approval
Co-Sponsor
2
2
In the House - Hearing 3/11 at 1:00 p.m.

HB0918 (SB0727)
Public Safety - Motorcycle Profiling - Training
Co-Sponsor
2
2
In the House - Hearing 3/17 at 1:00 p.m.

HB0949 (SB0471)
Task Force to Study the Provision of Health Care Coverage to Uninsured Marylanders
Co-Sponsor
2
2
In the House - Withdrawn by Sponsor

HB0954 /CH0134
Public Safety - Deaths Involving a Law Enforcement Officer - Reports
Co-Sponsor
2
2
Approved by the Governor - Chapter 134

HB0966
Education - Community Colleges - Collective Bargaining
Co-Sponsor
2
2
In the House - Hearing 3/10 at 1:00 p.m.

HB0969 (SB0688)
Labor and Employment - Fair Scheduling Act
Co-Sponsor
2
2
In the House - Withdrawn by Sponsor

HB0970 (SB0689/CH0047)
Prince George's County - Transfer Tax - Deputy Sheriffs
Co-Sponsor
2
2
Veto sustained (0-141)

HB0980 (SB0340)
Election Law - Voting Rights - Ex-Felons
Co-Sponsor
2
2
Became law per Maryland Constitution, Chapter 6 of 2016

HB1027
Labor and Employment - Overwork Prohibition Act
Co-Sponsor
2
2
In the House - Withdrawn by Sponsor

HB1047
Enterprise Zone Income Tax Credit - Economically Disadvantaged Individuals - Qualified Ex-Felons
Co-Sponsor
2
2
In the House - Hearing 3/13 at 1:00 p.m.

HB1051 (SB0424)
Labor and Employment - Equal Pay for Equal Work
Co-Sponsor
2
2
In the House - Withdrawn by Sponsor

HB1080 /CH0116 (SB0576)
9-1-1 Emergency Telephone System - Multiple-Line Telephone Systems - Direct Dial (Kari's Law)
Co-Sponsor
2
2
Approved by the Governor - Chapter 116

HB1094
Consumer Protection - Monitoring Consumer Behavior and Shopping Habits - Required Notice
Co-Sponsor
2
2
In the Senate - Unfavorable Report by Finance

HB1137 (SB0699)
Primary Education - Prekindergarten Through Grade 2 State Assessments - Required Study
Co-Sponsor
2
2
In the Senate - Unfavorable Report by Education, Health, and Environmental Affairs

HB1195 (SB0877)
Fair Foreclosure Act of 2015
Co-Sponsor
2
2
In the House - Hearing 3/18 at 1:00 p.m.

HB1233 (SB0763/CH0050)
Tax Amnesty Program
Co-Sponsor
2
2
Veto sustained (0-141)

HB1253 (SB0910/CH0208)
Motor Vehicle Insurance - Entry-Level Commercial Truck Driver's License Holders - Study
Co-Sponsor
2
2
In the House - First Reading House Rules and Executive Nominations

HJ0002 (SJ0002)
United States Constitution - Democracy Amendment
Co-Sponsor
2
2
In the Senate - First Reading Senate Rules

HB0487
Maryland Education Credit
By Request - Administration
3
2
In the House - Hearing 2/26 at 1:00 p.m.

HB0942 /CH0140 (SB0772)
Apprenticeship Pilot Program - Apprenticeship Maryland
By Request - Other
6
2
Approved by the Governor - Chapter 140
Denotes enacted legislation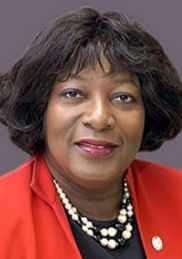 Tenure

First elected to the House of Delegates in 2014. Member of the House since 2015.
Current Assignments

2015 Ways and Means Committee

2015 Finance Resources Subcommittee of the Ways and Means Committee

2015 Education Subcommittee of the Ways and Means Committee

2015 Women Legislators of Maryland

2015 Legislative Black Caucus of Maryland
Public Service

Rural Maryland Council - representing Southern Maryland, 2015-; Congressional Black Caucus Education Braintrust - (Congressman Major R. Owens); Maryland Higher Education Commission, 2012-; Blue Ribbon Commission on Maryland Transportation Funding; Charles County Commission for Women; Charles County United Negro College Fund Drive, Chair; University of Maryland College Park Talent Search Advisory Board; Charles County Housing Commission; Children's Aid Society.
Memberships

American Association of University Women; American Association for Counseling & Development; Maryland Association of Boards of Education; Alpha Kappa Alpha Sorority, Inc; Charles County Children's Aid Society; Charles County NAACP Branch #7016; Links Inc. - Southern Maryland Chain Chapter (President 2004-2008); National Association of School Board Members; Waldorf Kiwanis Club.
Awards

Education Leadership Award, Maryland State NAACP, 2013-; John Thomas Parran Leadership Award, Charles County Democratic Central Committee, 2012-; Service Award, Charles County NAACP, 2011-; Service Award, Southern MD Tri-County Council, 2011-; Charles County Commission for Women Pioneer Award, 2010-; "Outstanding Citizen Award", Omega Psi Phi Fraternity, 2009-; "Women Opening the Pipeline", Congressional Award, 2007-; Congressional Award for "Technology Advocacy", 2004-.
Biographical Information

Born, Doswell, Virginia, November 18, 1945; John M. Gandy High School, 1964; Virginia Union University, B.S., Biology/Chemistry 1968; Bowie State College, M.Ed., Guidance & Counseling 1973; George Washington University; Ed.D, Higher Education Administration 1991; Charles County Board of Commissioners 2005-2010; College of Southern Maryland, Director, Educational Talent Search 1991-2012; Charles County Community College, Counselor 1974-1991; 2 children.
Last Updated: 10/15/2019 3:26 PM