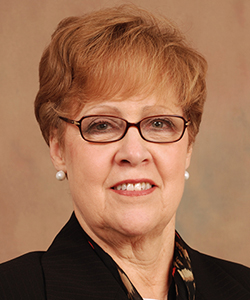 District

27A

County

Charles and Prince George's

Committee Assignment(s)

Annapolis Info

423 House Office Building
6 Bladen Street
Annapolis, MD 21401
Phone 410-841-3083 | 301-858-3083
Toll-free in MD 1-800-492-7122 ext. 3083
Fax 410-841-3459 | 301-858-3459

Interim Info

14202 Cold Harbour Dr.
Accokeek, MD 20607-3701
Phone 301-203-0310
Fax 301-203-0225

Contact

Party

Democrat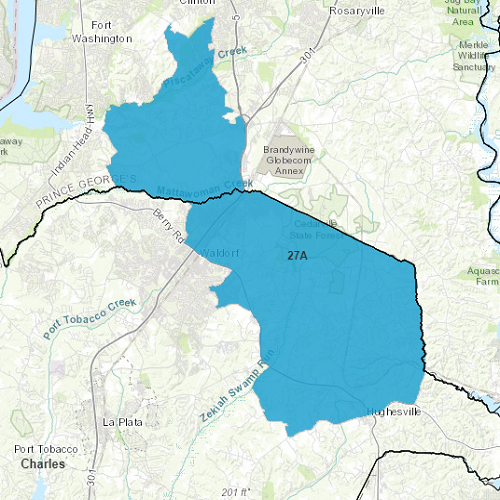 Legislation
Sponsorship Type Sort
Chamber Sort

Bill/Chapter (Cross/Chapter)

Title

Public Safety - Task Force on Missing Persons

Sponsorship Type

Primary

1
2

Bill/Chapter (Cross/Chapter)

Title

Public School Students – Daily Physical Activity (Student Health and Fitness Act)

Sponsorship Type

Co-Sponsor

2
2
2
2
2
2
2
2

Bill/Chapter (Cross/Chapter)

Title

Final Protective Orders – Relief – Transfer of Wireless Telephone Service

Sponsorship Type

Co-Sponsor

2
2
2
2
2
2
2
2
2
2
2
2

Bill/Chapter (Cross/Chapter)

Title

Primary and Secondary Education - Nonpublic Schools - Required Information

Sponsorship Type

Co-Sponsor

2
2

Bill/Chapter (Cross/Chapter)

Title

State Board of Education - Financial Literacy Curriculum - Graduation Requirement

Sponsorship Type

Co-Sponsor

2
2
2
2
2
2
2
2
2
2
2
2
2
2
2
2
2
2

Bill/Chapter (Cross/Chapter)

Title

Public Safety - Regulated Firearms - Colt AR-15 Sporter H-BAR Rifle

Sponsorship Type

Co-Sponsor

2
2

Bill/Chapter (Cross/Chapter)

Title

Commission on 380 Years of African American History in Maryland

Sponsorship Type

Co-Sponsor

2
2

Bill/Chapter (Cross/Chapter)

Title

State Department of Education - Nonprofit Youth Development Program - Established

Sponsorship Type

Co-Sponsor

2
2
2
2
2
2
2
2
2
2
2
2
2
2

Bill/Chapter (Cross/Chapter)

Title

Education - Community Colleges - Collective Bargaining

Sponsorship Type

Co-Sponsor

2
2
2
2

Bill/Chapter (Cross/Chapter)

Title

Higher Education - Historically Black Colleges and Universities - Funding

Sponsorship Type

Co-Sponsor

2
2
2
2
2
2
2
2
2
2
2
2

Bill/Chapter (Cross/Chapter)

Title

Maryland Department of Health - Residential Service Agencies - Regulation Requirements

Sponsorship Type

Co-Sponsor

2
2
2
2
2
2

Bill/Chapter (Cross/Chapter)

Title

State Mental Health Facilities - Staffing Committee and Plan

Sponsorship Type

Co-Sponsor

2
2
2
2
2
2
2
2
2
2
2
2
2
2
2
2

Bill/Chapter (Cross/Chapter)

Title

Medical Cannabis - Pesticide Use - Labeling and Study

Sponsorship Type

Co-Sponsor

2
2

Bill/Chapter (Cross/Chapter)

Title

State Income and Property Tax Credits - Privately Operated Mass Transportation Project

Sponsorship Type

Co-Sponsor

2
2
2
2
2
2
2
2
2
2
2
2
4
2
Bill/Chapter
(Cross/Chapter)
Title
Sponsorship Type
Sponsorship Type Sort
Chamber Sort
Current Status
Org Committees & Hearings
Opp Committees & Hearings
HB1417
Public Safety - Task Force on Missing Persons
Primary
1
2
In the House - Hearing 4/05 at 1:00 p.m.

HB0110
Public School Students – Daily Physical Activity (Student Health and Fitness Act)
Co-Sponsor
2
2
In the Senate - Third Reading Passed with Amendments (45-0)

HB0146 (SB0887)
Motor Vehicles - Duplicate Driver's Licenses - Victims of Robbery or Theft
Co-Sponsor
2
2
In the Senate - Unfavorable Report by Judicial Proceedings

HB0166 /CH0010 (SB0280/CH0011)
Labor and Employment – Payment of Wages – Minimum Wage (Fight for Fifteen)
Co-Sponsor
2
2
Gubernatorial Veto Override - Chapter 10

HB0214 /CH0422 (SB0144/CH0421)
Victims and Witnesses - U Nonimmigrant Status - Certification of Victim Helpfulness
Co-Sponsor
2
2
Approved by the Governor - Chapter 422

HB0253
Final Protective Orders – Relief – Transfer of Wireless Telephone Service
Co-Sponsor
2
2
In the Senate - Unfavorable Report by Judicial Proceedings

HB0262 (SB0537)
Higher Education - Tuition Rates - Exemptions
Co-Sponsor
2
2
Vetoed by the Governor (Policy)

HB0307 /CH0041
Maryland Lynching Truth and Reconciliation Commission
Co-Sponsor
2
2
Approved by the Governor - Chapter 41

HB0320 (SB0455)
2020 Census Complete Count Commission
Co-Sponsor
2
2
In the House - Withdrawn by Sponsor

HB0338 /CH0635 (SB0218/CH0636)
Human Services - Food Supplements (Summer SNAP for Children Act)
Co-Sponsor
2
2
Enacted under Article II, Section 17(c) of the Maryland Constitution - Chapter 635

HB0355 /CH0541
Education – County Boards of Education – Disclosures and Requirements
Co-Sponsor
2
2
Approved by the Governor - Chapter 541

HB0356
Primary and Secondary Education - Nonpublic Schools - Required Information
Co-Sponsor
2
2
In the Senate - Unfavorable Report by Education, Health, and Environmental Affairs

HB0371
State Board of Education - Financial Literacy Curriculum - Graduation Requirement
Co-Sponsor
2
2
In the House - Hearing 2/14 at 1:00 p.m.

HB0399 (SB0311)
End-of-Life Option Act (Richard E. Israel and Roger "Pip" Moyer Act)
Co-Sponsor
2
2
In the Senate - First Reading Judicial Proceedings

HB0417 /CH0310
Water Pollution Control – Notification of Sewer Overflows and Treatment Plant Bypasses – Alteration
Co-Sponsor
2
2
Approved by the Governor - Chapter 310

HB0428 /CH0651 (SB0269/CH0652)
Comprehensive Flood Management Grant Program – Awards for Flood Damage and Mandatory Funding
Co-Sponsor
2
2
Enacted under Article II, Section 17(c) of the Maryland Constitution - Chapter 651

HB0440 /CH0384
Pathways in Technology Early College High (P-TECH) Expansion Act of 2019
Co-Sponsor
2
2
Approved by the Governor - Chapter 384

HB0443 (SB0121)
Inmates - Life Imprisonment - Parole Reform
Co-Sponsor
2
2
In the House - Hearing 2/19 at 1:00 p.m.

HB0481 /CH0365
Criminal Law - Sale of a Minor - Felony
Co-Sponsor
2
2
Approved by the Governor - Chapter 365

HB0506 /CH0478 (SB0970/CH0477)
Maryland Department of Health - Special Supplemental Nutrition Program for Women, Infants, and Children - Reports
Co-Sponsor
2
2
Approved by the Governor - Chapter 478

HB0604 /CH0215 (SB0646/CH0216)
Workers' Compensation – Medical Presumptions for Diseases and Cancer – Eligibility (Firefighter Jesse McCullough's Cancer Protection Law)
Co-Sponsor
2
2
Approved by the Governor - Chapter 215

HB0612
Public Safety - Regulated Firearms - Colt AR-15 Sporter H-BAR Rifle
Co-Sponsor
2
2
In the House - Hearing 2/25 at 10:00 a.m.

HB0644
Commission on 380 Years of African American History in Maryland
Co-Sponsor
2
2
In the House - Hearing 2/26 at 1:00 p.m.

HB0664
State Department of Education - Nonprofit Youth Development Program - Established
Co-Sponsor
2
2
In the Senate - Hearing 3/20 at 1:00 p.m.

HB0669 (SB0387)
Environment - Water Quality Certifications (Pipeline and Water Protection Act of 2019)
Co-Sponsor
2
2
In the House - Unfavorable Report by Economic Matters

HB0685 /CH0280 (SB0421/CH0281)
Video Lottery Terminals - Minority Business Participation Goals - Enforcement and Reporting
Co-Sponsor
2
2
Approved by the Governor - Chapter 280

HB0693 (SB0746)
Public Safety - Correctional Facilities - Mental Disorder Screening
Co-Sponsor
2
2
In the House - Hearing 2/26 at 1:00 p.m.

HB0694 (SB0823)
Juvenile Proceedings - Fines, Fees, and Costs
Co-Sponsor
2
2
In the House - Hearing 2/21 at 1:00 p.m.

HB0715 (SB0419)
Correctional Services - Prerelease Unit for Women - Requirement to Operate
Co-Sponsor
2
2
In the House - Hearing 2/26 at 1:00 p.m.

HB0761 (SB0600/CH0452)
Health – Sickle Cell Disease – Steering Committee and Services
Co-Sponsor
2
2
Vetoed by the Governor (Duplicative)

HB0766
Education - Community Colleges - Collective Bargaining
Co-Sponsor
2
2
In the House - Withdrawn by Sponsor

HB0768 /CH0692 (SB0759)
Health - Prescription Drug Affordability Board
Co-Sponsor
2
2
Enacted under Article II, Section 17(c) of the Maryland Constitution - Chapter 692

HB0779
Higher Education - Historically Black Colleges and Universities - Funding
Co-Sponsor
2
2
In the House - Withdrawn by Sponsor

HB0786 (SB0737)
Public Safety – Rifles and Shotguns – Secondary Transactions
Co-Sponsor
2
2
In the House - Conference Committee Appointed

HB0790 /CH0694
Equal Pay for Equal Work - Enforcement - Civil Penalties (Equal Pay Remedies and Enforcement Act)
Co-Sponsor
2
2
Enacted under Article II, Section 17(c) of the Maryland Constitution - Chapter 694

HB0814 /CH0423 (SB0802/CH0424)
Maryland Easy Enrollment Health Insurance Program
Co-Sponsor
2
2
Approved by the Governor - Chapter 423

HB0832 (SB0699/CH0414)
Maryland Medical Assistance Program - Home- and Community-Based Waiver Services - Prohibition on Denial
Co-Sponsor
2
2
In the Senate - First Reading Senate Rules

HB0864 (SB0675)
Duties of a Guardian of the Person - Petition for Visitation
Co-Sponsor
2
2
In the House - Withdrawn by Sponsor

HB0967
Maryland Department of Health - Residential Service Agencies - Regulation Requirements
Co-Sponsor
2
2
In the House - Hearing 3/13 at 1:00 p.m.

HB0977 (SB0833)
Criminal Procedure - Expungement - Expansion
Co-Sponsor
2
2
In the House - Hearing 3/05 at 1:00 p.m.

HB0994 (SB0839)
Labor and Employment - Criminal Record Screening Practices (Ban the Box)
Co-Sponsor
2
2
Vetoed by the Governor (Policy)

HB1006
State Mental Health Facilities - Staffing Committee and Plan
Co-Sponsor
2
2
In the House - Withdrawn by Sponsor

HB1011 (SB1037)
Maryland Police Training and Standards Commission - Uniform Citizen Complaint Process (Anton's Law)
Co-Sponsor
2
2
In the House - Hearing 2/26 at 1:00 p.m.

HB1062 (SB0397)
General Provisions - Commemorative Days - Freedom of the Press Day
Co-Sponsor
2
2
In the House - Withdrawn by Sponsor

HB1072 /CH0226 (SB0701)
Transportation Network Companies - Insurance
Co-Sponsor
2
2
Approved by the Governor - Chapter 226

HB1107 (SB0518)
Discrimination in Employment - Pregnancy and Childbirth
Co-Sponsor
2
2
In the House - Hearing 3/11 at 1:00 p.m.

HB1124 /CH0212
State Government – Regulations Impacting Small Businesses
Co-Sponsor
2
2
Approved by the Governor - Chapter 212

HB1144 /CH0564 (SB0964)
County Boards of Education - Equal Access to Public Services for Individuals With Limited English Proficiency
Co-Sponsor
2
2
Approved by the Governor - Chapter 564

HB1158 (SB0516/CH0757)
Clean Energy Jobs
Co-Sponsor
2
2
In the House - Hearing 3/08 at 1:00 p.m.

HB1174
Medical Cannabis - Pesticide Use - Labeling and Study
Co-Sponsor
2
2
In the House - Withdrawn by Sponsor

HB1202
State Income and Property Tax Credits - Privately Operated Mass Transportation Project
Co-Sponsor
2
2
In the House - Withdrawn by Sponsor

HB1203 (SB0564)
Cosmetologist - Licensing Examination - Requirements
Co-Sponsor
2
2
In the House - Withdrawn by Sponsor

HB1225 (SB0266)
Parking for Individuals With Disabilities - Continuing Care Retirement Facility - Time Limitation
Co-Sponsor
2
2
In the House - Withdrawn by Sponsor

HB1266 /CH0732 (SB0754)
National Capital Strategic Economic Development Program - Established
Co-Sponsor
2
2
Enacted under Article II, Section 17(c) of the Maryland Constitution - Chapter 732

HB1349 /CH0542
Public Schools - Students With Sickle Cell Disease - Revisions
Co-Sponsor
2
2
Approved by the Governor - Chapter 542

HJ0002 (SJ0001)
United States Constitution - Amendments Convention - Democracy Amendment
Co-Sponsor
2
2
In the House - Withdrawn by Sponsor

HB0397 /CH0301 (SB0339/CH0302)
Public Safety - 9-1-1 Emergency Telephone System (Carl Henn's Law)
By Request - Committee
4
2
Approved by the Governor - Chapter 301
Denotes enacted legislation
Legislative Bond Initiatives
| Project Name | Status | House Sponsors | Senate Sponsors | County | Amount Requested | Senate Initiative | House Initiative | Other Funding | Total Funding |
| --- | --- | --- | --- | --- | --- | --- | --- | --- | --- |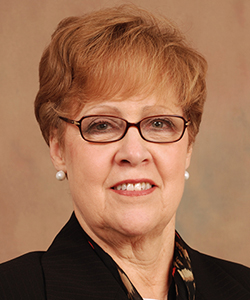 Tenure

Member of the Maryland House of Delegates since October 30, 2015. First elected to the Maryland House of Delegates in 2018. Sworn in January 9, 2019.
Current Assignments

2019 Appropriations Committee

2019 Health and Social Services Subcommittee of the Appropriations Committee

2019 Oversight Committee on Pensions

2019 Joint Committee on the Management of Public Funds

2015 Legislative Black Caucus of Maryland

2015 Women Legislators of Maryland

2017 Maryland Veterans Caucus
Past House Service

Judiciary Committee, 2015-2019; Juvenile Law Subcommittee of the Judiciary Committee, 2016-2019.
Public Service

Tri-County Council for Southern Maryland, 2015-; Task Force to Study the Restraint, Searches and Needs of Children in the Juvenile Justice System, 2016-2017; Chair, Prince George's County Property Tax Assessment Appeals Board, 2008-2015; Vice-Chair, Board of Trustees, Prince George's Community College, 2011-2016; Prince George's County Commission on Children and Youth; Prince George's County Board of Community Support Services; Board of Directors, Community Support System, Inc., Prince George's County Public Schools, 1997-2004; Chair, Legislative Committee, Prince George's County Teacher's Association, 1999.
Memberships

Fire/EMS Caucus, 2017-; Maryland State Teachers Association; Southern Maryland Black Chamber of Commerce.
Biographical Information

Born September 15, 1940; Bowie Sate University, B.S. (Education), 1962. M.A. (Special Education), 1973.; Special education teacher, 1962-1977; Prince George's County Public Schools, Pupil Personnel Specialist, 1977-84, court liaison, 1984-97.; Co-host, "Lifestyles with Susie & Rita", community television talk show highlighting community resources and notable Prince Georgians (1980s); Widow; two children; three grandchildren.
Last Updated: 10/25/2019 10:31 AM