Delegate David E. Vogt, III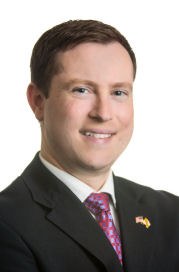 District

4

County

Frederick and Carroll

Committee Assignment(s)

Annapolis Info

326 House Office Building
6 Bladen Street
Annapolis, MD 21401
Phone 410-841-3118 | 301-858-3118
Toll-free in MD

Interim Info

326 House Office Building
6 Bladen Street
Annapolis, MD 21401
Phone 410-841-3118 | 301-858-3118

Contact

Party

Republican
Legislation
Sponsorship Type Sort
Chamber Sort
1
2

Bill/Chapter (Cross/Chapter)

Title

Motor Fuel Tax - Distribution of Revenue - Local Governments

Sponsorship Type

Primary

1
2

Bill/Chapter (Cross/Chapter)

Title

Education - PARCC Testing - Exemption for Children With Disabilities

Sponsorship Type

Primary

1
2
2
2

Bill/Chapter (Cross/Chapter)

Title

Income Tax - Personal Exemptions - Inflation Adjustment

Sponsorship Type

Co-Sponsor

2
2
2
2

Bill/Chapter (Cross/Chapter)

Title

Income Tax - Standard Deduction - Inflation Adjustment

Sponsorship Type

Co-Sponsor

2
2

Bill/Chapter (Cross/Chapter)

Title

Taxpayer Protection Act - State Income Tax - Consumer Price Index Adjustments

Sponsorship Type

Co-Sponsor

2
2

Bill/Chapter (Cross/Chapter)

Title

State Property Tax - Homestead Property Tax Assessment Cap Reduction

Sponsorship Type

Co-Sponsor

2
2

Bill/Chapter (Cross/Chapter)

Title

Motor Fuel Tax Rates - Consumer Price Index Adjustment - Repeal

Sponsorship Type

Co-Sponsor

2
2
2
2

Bill/Chapter (Cross/Chapter)

Title

Maryland Transportation Authority - Francis Scott Key Bridge - Toll Discount Plans

Sponsorship Type

Co-Sponsor

2
2

Bill/Chapter (Cross/Chapter)

Title

Corporate Income Tax - Rate Reduction

Sponsorship Type

Co-Sponsor

2
2

Bill/Chapter (Cross/Chapter)

Title

Legislative and Congressional Districting - Standards and Processes

Sponsorship Type

Co-Sponsor

2
2

Bill/Chapter (Cross/Chapter)

Title

Administrative Procedure Act - Limitation on Adoption of Regulations

Sponsorship Type

Co-Sponsor

2
2

Bill/Chapter (Cross/Chapter)

Title

Firearm Decriminalization Act of 2015

Sponsorship Type

Co-Sponsor

2
2

Bill/Chapter (Cross/Chapter)

Title

Education - Implementation of the Common Core State Standards - Prohibition

Sponsorship Type

Co-Sponsor

2
2
2
2
2
2
2
2
2
2

Bill/Chapter (Cross/Chapter)

Title

Pain-Capable Unborn Child Protection Act

Sponsorship Type

Co-Sponsor

2
2

Bill/Chapter (Cross/Chapter)

Title

Income Tax Checkoff - Maryland Veterans Trust Fund

Sponsorship Type

Co-Sponsor

2
2
2
2

Bill/Chapter (Cross/Chapter)

Title

Handgun Permits - Firearms Training Course - Renewal Application

Sponsorship Type

Co-Sponsor

2
2
2
2

Bill/Chapter (Cross/Chapter)

Title

Task Force on the Prevention of Child Abuse and Neglect

Sponsorship Type

Co-Sponsor

2
2
2
2

Bill/Chapter (Cross/Chapter)

Title

Junior Advancement via Association Act of 2015

Sponsorship Type

Co-Sponsor

2
2
2
2
2
2
2
2
2
2
2
2

Bill/Chapter (Cross/Chapter)

Title

Retire in Maryland Act of 2015

Sponsorship Type

Co-Sponsor

2
2
2
2

Bill/Chapter (Cross/Chapter)

Title

Election Law - Qualification of Voters - Proof of Identity

Sponsorship Type

Co-Sponsor

2
2

Bill/Chapter (Cross/Chapter)

Title

Environment - On-Site Sewage Disposal System - Nitrogen Removal Technology - Exemption

Sponsorship Type

Co-Sponsor

2
2

Bill/Chapter (Cross/Chapter)

Title

Hunting - Use of Motorized Vehicles - Wounded or Disabled Military

Sponsorship Type

Co-Sponsor

2
2

Bill/Chapter (Cross/Chapter)

Title

Election Law - Voter Registration and Absentee Voting - Proof of Citizenship

Sponsorship Type

Co-Sponsor

2
2
2
2
2
2

Bill/Chapter (Cross/Chapter)

Title

Buy Maryland

Sponsorship Type

Co-Sponsor

2
2
3
2
3
2
3
2
3
2
3
2
3
2

Bill/Chapter (Cross/Chapter)

Title

Maryland Education Credit

Sponsorship Type

By Request - Administration

3
2
3
2
6
2
Bill/Chapter
(Cross/Chapter)
Title
Sponsorship Type
Sponsorship Type Sort
Chamber Sort
Current Status
Org Committees & Hearings
Opp Committees & Hearings
HB0846 /CH0283 (SB0671)
Motor Vehicle Administration - Commercial Driver's License - Program for Veterans and Service Members (Troops to Trucks)
Primary
1
2
Approved by the Governor - Chapter 283

HB0899
Motor Fuel Tax - Distribution of Revenue - Local Governments
Primary
1
2
In the House - Unfavorable Report by Environment and Transportation

HB1141
Education - PARCC Testing - Exemption for Children With Disabilities
Primary
1
2
In the House - First Reading House Rules and Executive Nominations

HB0009 /CH0393 (SB0105)
Maryland Licensure of Direct-Entry Midwives Act
Co-Sponsor
2
2
Approved by the Governor - Chapter 393

HB0142
Income Tax - Personal Exemptions - Inflation Adjustment
Co-Sponsor
2
2
In the House - Unfavorable Report by Ways and Means

HB0144 (SB0194)
Income Tax Subtraction Modification - Retirement Income (Fairness in Taxation for Retirees Act)
Co-Sponsor
2
2
In the House - Unfavorable Report by Ways and Means

HB0146
Income Tax - Standard Deduction - Inflation Adjustment
Co-Sponsor
2
2
In the House - Unfavorable Report by Ways and Means

HB0147
Taxpayer Protection Act - State Income Tax - Consumer Price Index Adjustments
Co-Sponsor
2
2
In the House - Unfavorable Report by Ways and Means

HB0149
State Property Tax - Homestead Property Tax Assessment Cap Reduction
Co-Sponsor
2
2
In the House - Hearing 2/11 at 1:00 p.m.

HB0174
Motor Fuel Tax Rates - Consumer Price Index Adjustment - Repeal
Co-Sponsor
2
2
In the House - Hearing 3/06 at 1:00 p.m.

HB0196 (SB0072)
Motor Vehicle Administration - Selective Service Registration - Driver's License and Identification Card Applicants
Co-Sponsor
2
2
In the House - Hearing 2/19 at 1:00 p.m.

HB0214
Maryland Transportation Authority - Francis Scott Key Bridge - Toll Discount Plans
Co-Sponsor
2
2
In the House - Unfavorable Report by Environment and Transportation

HB0251
Corporate Income Tax - Rate Reduction
Co-Sponsor
2
2
In the House - Unfavorable Report by Ways and Means

HB0267
Legislative and Congressional Districting - Standards and Processes
Co-Sponsor
2
2
In the House - Hearing 3/02 at 1:00 p.m.

HB0305
Administrative Procedure Act - Limitation on Adoption of Regulations
Co-Sponsor
2
2
In the House - Unfavorable Report by Health and Government Operations

HB0306
Firearm Decriminalization Act of 2015
Co-Sponsor
2
2
In the House - Hearing 3/10 at 1:00 p.m. (Judiciary)

HB0406
Education - Implementation of the Common Core State Standards - Prohibition
Co-Sponsor
2
2
In the House - Hearing 2/26 at 1:00 p.m.

HB0418 (SB0267)
Income Tax Credit - Cat and Dog Adoption
Co-Sponsor
2
2
In the House - Unfavorable Report by Ways and Means

HB0454 (SB0664)
Vehicle-Miles-Traveled Tax and Associated Mandated Devices - Prohibition
Co-Sponsor
2
2
In the House - Hearing 2/25 at 1:00 p.m.

HB0464 (SB0454)
Handgun Permits - Reciprocity
Co-Sponsor
2
2
In the House - Hearing 3/10 at 1:00 p.m.

HB0466 /CH0053 (SB0802/CH0052)
Transportation - Dedication of Structures (Hero's Highway Act)
Co-Sponsor
2
2
Approved by the Governor - Chapter 53

HB0492
Pain-Capable Unborn Child Protection Act
Co-Sponsor
2
2
In the House - Hearing 3/16 at 1:00 p.m.

HB0686
Income Tax Checkoff - Maryland Veterans Trust Fund
Co-Sponsor
2
2
In the Senate - First Reading Senate Rules

HB0694 /CH0268 (SB0286)
Law Enforcement Officers' Pension System - Division of Parole and Probation - Warrant Apprehension Unit Employees - Membership
Co-Sponsor
2
2
Approved by the Governor - Chapter 268

HB0743
Handgun Permits - Firearms Training Course - Renewal Application
Co-Sponsor
2
2
In the House - Hearing 3/10 at 1:00 p.m.

HB0749 (SB0817)
Higher Education - Sexual Assault Policies - Reporting
Co-Sponsor
2
2
In the House - Hearing 3/10 at 1:00 p.m.

HB0780
Task Force on the Prevention of Child Abuse and Neglect
Co-Sponsor
2
2
In the Senate - Unfavorable Report by Judicial Proceedings

HB0788 (SB0669)
Maryland Loan Assistance Repayment Program for Orphans and Foster Care Recipients
Co-Sponsor
2
2
In the House - Hearing 3/05 at 1:00 p.m.

HB0834
Junior Advancement via Association Act of 2015
Co-Sponsor
2
2
In the House - Hearing 3/13 at 1:00 p.m.

HB0908 (SB0617)
Criminal Law - Professional Counselors and Therapists - Misconduct (Lynette's Law)
Co-Sponsor
2
2
In the House - Unfavorable Report by Judiciary

HB0919 /CH0288 (SB0551)
Land Use - Plans - Development and Adoption
Co-Sponsor
2
2
Approved by the Governor - Chapter 288

HB0934 /CH0465 (SB0210/CH0466)
Institutions of Postsecondary Education - Personal Electronic Account - Privacy Protection
Co-Sponsor
2
2
Approved by the Governor - Chapter 465

HB0950 (SB0351)
Cybersecurity Investment Incentive Tax Credit - Eligible Investments
Co-Sponsor
2
2
In the House - Hearing 3/10 at 1:00 p.m.

HB0958 (SB0447)
Sales and Use Tax - Tax-Free Periods - Hunting and Sporting Goods
Co-Sponsor
2
2
In the House - Unfavorable Report by Ways and Means

HB0960
Retire in Maryland Act of 2015
Co-Sponsor
2
2
In the House - Hearing 3/10 at 1:00 p.m.

HB0961 (SB0511)
Women's Late-Term Pregnancy Health Act
Co-Sponsor
2
2
In the House - Hearing 3/16 at 1:00 p.m.

HB1017
Election Law - Qualification of Voters - Proof of Identity
Co-Sponsor
2
2
In the House - Unfavorable Report by Ways and Means

HB1043
Environment - On-Site Sewage Disposal System - Nitrogen Removal Technology - Exemption
Co-Sponsor
2
2
In the House - Withdrawn by Sponsor

HB1045
Hunting - Use of Motorized Vehicles - Wounded or Disabled Military
Co-Sponsor
2
2
In the House - Withdrawn by Sponsor

HB1076
Election Law - Voter Registration and Absentee Voting - Proof of Citizenship
Co-Sponsor
2
2
In the House - Unfavorable Report by Ways and Means

HB1105 (SB0761/CH0382)
Disabled Individuals - Task Force on the Maryland ABLE Program
Co-Sponsor
2
2
Veto sustained (0-141)

HB1161 /CH0388
Ethan Saylor Alliance for Self-Advocates as Educators
Co-Sponsor
2
2
Approved by the Governor - Chapter 388

HJ0006
Buy Maryland
Co-Sponsor
2
2
In the House - Hearing 3/09 at 1:00 p.m.

HB0480 (SB0590)
Small Business Personal Property Tax Relief Act of 2015
By Request - Administration
3
2
In the House - Hearing 2/27 at 1:00 p.m.

HB0481 (SB0588)
Stormwater Management - Watershed Protection and Restoration Program - Repeal
By Request - Administration
3
2
In the House - Unfavorable Report by Environment and Transportation

HB0483 (SB0589)
Motorist Tax Relief - Motor Fuel Tax - Consumer Price Index and Sales and Use Tax Equivalent Rate Adjustments - Repeal
By Request - Administration
3
2
In the House - Hearing 3/06 at 1:00 p.m.

HB0484 (SB0591)
Transportation - Highway User Revenues - Phased Restoration
By Request - Administration
3
2
In the House - Hearing 3/06 at 1:00 p.m.

HB0485 /CH0312 (SB0593)
Election Law - Fair Campaign Financing Fund - Income Tax Checkoff
By Request - Administration
3
2
Approved by the Governor - Chapter 312

HB0486 (SB0595/CH0311)
Public Charter School Expansion and Improvement Act of 2015
By Request - Administration
3
2
In the House - Hearing 2/26 at 1:00 p.m.

HB0487
Maryland Education Credit
By Request - Administration
3
2
In the House - Hearing 2/26 at 1:00 p.m.

HB0488 (SB0594)
Income Tax Subtraction Modification - Law Enforcement, Fire, Rescue, and Emergency Services Personnel (Hometown Heroes Act)
By Request - Administration
3
2
In the House - Hearing 2/27 at 1:00 p.m.

HB0405 (SB0374/CH0165)
Maryland False Claims Act
By Request - Other
6
2
Veto sustained (0-141)
Denotes enacted legislation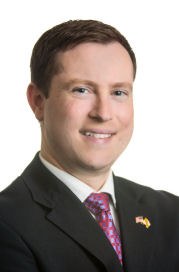 Tenure

First elected to the Maryland House of Delegates in 2014. Member since 2015.
Current Assignments

2015 Appropriations Committee

2015 Education and Economic Development Subcommittee of the Appropriations Committee

2015 Oversight Committee on Pensions of the Appropriations Committee

2015 Joint Committee on the Management of Public Funds
Memberships

Noncommissioned Officers Association.
Awards

Military Times, Marine of the Year, 2010-; 2 Navy & Marine Corps Commendation Medals; 3 Achievement Medals; 2 Meritorious Masts.
Biographical Information

Born, Bartow, Florida, 1984; Bartow High School, 2002; University of South Florida, 2002-2004; University of Maryland, University College, B.A., 2009; American Military University, American Government; United States Marine Corps 2004 -2012; Restaurant Manager, 2014; Married. 2 Children.
Last Updated: 10/15/2019 3:26 PM