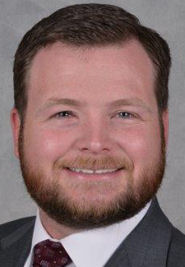 District

44B

County

Baltimore

Committee Assignment(s)

Annapolis Info

306 House Office Building
6 Bladen Street
Annapolis, MD 21401
Phone 410-841-3544 | 301-858-3544
Toll-free in MD

Interim Info

306 House Office Building
6 Bladen Street
Annapolis, MD 21401
Phone 410-841-3544 | 301-858-3544

Contact

Party

Democrat
Legislation
Sponsorship Type Sort
Chamber Sort
1
2
1
2

Bill/Chapter (Cross/Chapter)

Title

Labor and Employment - Employment Rights for Local Government Employees - Establishment

Sponsorship Type

Primary

1
2
1
2
1
2

Bill/Chapter (Cross/Chapter)

Title

Creation of a State Debt - Baltimore County - Maryland Council for Special Equestrians

Sponsorship Type

Primary

1
2
1
2
2
2

Bill/Chapter (Cross/Chapter)

Title

Weapon-Free Higher Education Zones

Sponsorship Type

Co-Sponsor

2
2

Bill/Chapter (Cross/Chapter)

Title

Income Tax Subtraction Modification - Retirement Income of Law Enforcement, Fire, Rescue, and Emergency Services Personnel

Sponsorship Type

Co-Sponsor

2
2

Bill/Chapter (Cross/Chapter)

Title

Hospitals - Substance Use Treatment Demonstration Program - Requirements

Sponsorship Type

Co-Sponsor

2
2
2
2
2
2
2
2
2
2
2
2
2
2
2
2
2
2
2
2
2
2
2
2

Bill/Chapter (Cross/Chapter)

Title

Railroad Company - Movement of Freight - Required Crew

Sponsorship Type

Co-Sponsor

2
2
2
2
2
2
2
2

Bill/Chapter (Cross/Chapter)

Title

Maryland Estate Tax - Unified Credit

Sponsorship Type

Co-Sponsor

2
2
2
2
2
2

Bill/Chapter (Cross/Chapter)

Title

Baltimore County - Nuisance Actions - Community Association Standing

Sponsorship Type

Co-Sponsor

2
2
2
2
2
2
2
2
2
2
2
2
2
2

Bill/Chapter (Cross/Chapter)

Title

Property Tax Credit - Elderly Individuals and Veterans - Eligibility

Sponsorship Type

Co-Sponsor

2
2
2
2
2
2
2
2

Bill/Chapter (Cross/Chapter)

Title

Housing and Community Development - Neighborhood and Community Assistance Program Tax Credit - Maximum Contributions

Sponsorship Type

Co-Sponsor

2
2
2
2

Bill/Chapter (Cross/Chapter)

Title

Education - Identity Protection and Credit Monitoring Services (Student Identity Protection Act)

Sponsorship Type

Co-Sponsor

2
2
2
2

Bill/Chapter (Cross/Chapter)

Title

Maryland Wage and Hour Law - Public Senior Higher Education Institution - Payment of County Minimum Wage

Sponsorship Type

Co-Sponsor

2
2

Bill/Chapter (Cross/Chapter)

Title

Property Tax Assessment Appeal Board - Hearing Dates

Sponsorship Type

Co-Sponsor

2
2
2
2
2
2
2
2

Bill/Chapter (Cross/Chapter)

Title

Business Regulation - Trader's and Chain Stores Licenses and Personal Property Tax - Fees and Exemptions

Sponsorship Type

Co-Sponsor

2
2

Bill/Chapter (Cross/Chapter)

Title

Baltimore County - Elementary Schools - Speed Bumps

Sponsorship Type

Co-Sponsor

2
2
2
2
2
2

Bill/Chapter (Cross/Chapter)

Title

Income Tax Credit - Payment of Tuition at a Community College

Sponsorship Type

Co-Sponsor

2
2
2
2
2
2
2
2
2
2

Bill/Chapter (Cross/Chapter)

Title

Legislative and Congressional Districting

Sponsorship Type

Co-Sponsor

2
2
2
2
2
2
2
2
2
2
2
2

Bill/Chapter (Cross/Chapter)

Title

Maryland Medical Assistance Program - Comprehensive Dental Benefits for Adults - Authorization

Sponsorship Type

Co-Sponsor

2
2

Bill/Chapter (Cross/Chapter)

Title

Baltimore County - Judges - Nonpartisan Elections (Baltimore County Voting Rights Act)

Sponsorship Type

Co-Sponsor

2
2

Bill/Chapter (Cross/Chapter)

Title

Landlord and Tenant - Military Personnel - Limitation on Liability for Rent

Sponsorship Type

Co-Sponsor

2
2
2
2

Bill/Chapter (Cross/Chapter)

Title

Income Tax - Subtraction Modification - Qualified Maryland Toll Expenses

Sponsorship Type

Co-Sponsor

2
2

Bill/Chapter (Cross/Chapter)

Title

Criminal Procedure - Expungement of Court and Police Records - Acquittal, Dismissal, or Nolle Prosequi

Sponsorship Type

Co-Sponsor

2
2

Bill/Chapter (Cross/Chapter)

Title

Income Tax - Subtraction Modification - Military Retirement Income - Individuals Under the Age of 65 Years

Sponsorship Type

Co-Sponsor

2
2

Bill/Chapter (Cross/Chapter)

Title

The Roadkill Bill of 2017

Sponsorship Type

Co-Sponsor

2
2
2
2
2
2

Bill/Chapter (Cross/Chapter)

Title

Sales and Use Tax - Tax-Free Periods - University and College Textbooks

Sponsorship Type

Co-Sponsor

2
2
2
2
2
2
2
2

Bill/Chapter (Cross/Chapter)

Title

Education - Public School Holidays - Veterans' Day and Easter Monday

Sponsorship Type

Co-Sponsor

2
2
2
2
2
2
2
2

Bill/Chapter (Cross/Chapter)

Title

Task Force to Expand Dual Language Programs in Maryland

Sponsorship Type

Co-Sponsor

2
2
2
2
2
2
2
2

Bill/Chapter (Cross/Chapter)

Title

Election Law - Voting System - Optical Scanners in Baltimore County

Sponsorship Type

Co-Sponsor

2
2
2
2
2
2
2
2
6
2
Bill/Chapter
(Cross/Chapter)
Title
Sponsorship Type
Sponsorship Type Sort
Chamber Sort
Current Status
Org Committees & Hearings
Opp Committees & Hearings
HB0239 (SB0291/CH0015)
Maryland Environmental Service - Collective Bargaining
Primary
1
2
In the House - Hearing 2/14 at 1:00 p.m.

HB0462 /CH0321 (SB0701/CH0320)
Higher Education - Tuition Waivers for Foster Care Recipients and Unaccompanied Homeless Youth - Alterations
Primary
1
2
Approved by the Governor - Chapter 321

HB1370
Labor and Employment - Employment Rights for Local Government Employees - Establishment
Primary
1
2
In the House - Hearing 3/07 at 1:00 p.m.

HB1466 /CH0179
State Personnel - Disabled Veterans - Noncompetitive Appointment
Primary
1
2
Approved by the Governor - Chapter 179

HB1469 /CH0737 (SB1009/CH0738)
Public Assistance - Family Investment Program - Child Support Pass Through
Primary
1
2
Approved by the Governor - Chapter 737

HB1628
Creation of a State Debt - Baltimore County - Maryland Council for Special Equestrians
Primary
1
2
In the House - Unfavorable Report by Appropriations

HB1658 (SB1183)
Creation of a State Debt - Baltimore City - Maryland Center for Veterans Education and Training
Primary
1
2
In the House - Unfavorable Report by Appropriations

HB0001 /CH0001 (SB0230)
Labor and Employment - Maryland Healthy Working Families Act
Co-Sponsor
2
2
Became law per Maryland Constitution, Chapter 1 of 2018

HB0159
Weapon-Free Higher Education Zones
Co-Sponsor
2
2
In the Senate - Conference Committee Appointed

HB0170
Income Tax Subtraction Modification - Retirement Income of Law Enforcement, Fire, Rescue, and Emergency Services Personnel
Co-Sponsor
2
2
In the House - Withdrawn by Sponsor

HB0189
Hospitals - Substance Use Treatment Demonstration Program - Requirements
Co-Sponsor
2
2
In the House - Hearing 2/28 at 1:00 p.m.

HB0200 (SB0588)
Real Property - Residential Foreclosures - Filing Fees
Co-Sponsor
2
2
In the House - Unfavorable Report by Environment and Transportation

HB0225 (SB0147)
Correctional Officers' Retirement System - Deferred Retirement Option Program
Co-Sponsor
2
2
In the House - Withdrawn by Sponsor

HB0232 /CH0829
Correctional Services - Commissioner's Duties - Staffing Report
Co-Sponsor
2
2
Enacted under Article II, Section 17(c) of the Maryland Constitution - Chapter 829

HB0255 /CH0159 (SB0349/CH0158)
Criminal Procedure - Sexual Assault Victims' Rights - Disposal of Rape Kit Evidence and Notification
Co-Sponsor
2
2
Approved by the Governor - Chapter 159

HB0266 /CH0332 (SB0327/CH0331)
Public Senior Higher Education Institutions - Financial Aid - Reduction Restrictions
Co-Sponsor
2
2
Approved by the Governor - Chapter 332

HB0279 (SB0272/CH0655)
Guardianship and Child in Need of Assistance Proceedings - Jurisdiction and Authority of Juvenile Court
Co-Sponsor
2
2
Veto sustained (0-140)

HB0286 (SB0001/CH0728)
Education - Specialized Intervention Services - Reports
Co-Sponsor
2
2
In the Senate - Rereferred to Education, Health, and Environmental Affairs

HB0290 /CH0719 (SB0536)
Maryland Transportation Authority - Third Generation-Electronic Toll Collection System
Co-Sponsor
2
2
Approved by the Governor - Chapter 719

HB0316 (SB0428)
State Board of Pharmacy - Dispensing of Drugs Containing Controlled Dangerous Substances - Requirements
Co-Sponsor
2
2
In the House - Withdrawn by Sponsor

HB0324 (SB0580/CH0680)
State Personnel - Leap Year - Personal Leave
Co-Sponsor
2
2
Veto sustained (0-140)

HB0349 /CH0181 (SB0807/CH0180)
Income Tax Credit - Wages Paid to Qualified Veteran Employees (Hire Our Veterans Act of 2017)
Co-Sponsor
2
2
Approved by the Governor - Chapter 181

HB0381
Railroad Company - Movement of Freight - Required Crew
Co-Sponsor
2
2
In the Senate - Second Reading Passed

HB0428 (SB0574)
Family Law - Child Conceived Without Consent - Termination of Parental Rights (Rape Survivor Family Protection Act)
Co-Sponsor
2
2
In the Senate - Conference Committee Appointed

HB0429 /CH0163 (SB0217/CH0160)
Criminal Law - Sexual Offenses - Physical Resistance
Co-Sponsor
2
2
Approved by the Governor - Chapter 163

HB0436 (SB0559/CH0664)
Baltimore County - Alcoholic Beverages - Issuance of Licenses Near Places of Worship
Co-Sponsor
2
2
Veto sustained (0-140)

HB0463
Maryland Estate Tax - Unified Credit
Co-Sponsor
2
2
In the House - Hearing 2/15 at 1:00 p.m.

HB0466 (SB0870)
Prevailing Wage - Tax Increment Financing Developments - Application
Co-Sponsor
2
2
In the House - Unfavorable Report by Economic Matters

HB0467 /CH0782 (SB0699)
Providing Our Workers Education and Readiness (POWER) - Apprenticeship Act
Co-Sponsor
2
2
Enacted under Article II, Section 17(c) of the Maryland Constitution - Chapter 782

HB0496
Baltimore County - Nuisance Actions - Community Association Standing
Co-Sponsor
2
2
In the House - Unfavorable Report by Environment and Transportation

HB0499 (SB0874)
State Department of Education - Employment Categories and Practices
Co-Sponsor
2
2
In the House - Hearing 2/14 at 1:00 p.m.

HB0509 /CH0658 (SB0429)
Higher Education - Student Loan Notification Letter
Co-Sponsor
2
2
Approved by the Governor - Chapter 658

HB0580 (SB0476)
Behavioral Health Community Providers - Keep the Door Open Act
Co-Sponsor
2
2
In the House - Hearing 2/28 at 1:00 p.m.

HB0613 /CH0820 (SB0363/CH0821)
Pharmacists - Contraceptives - Prescribing and Dispensing
Co-Sponsor
2
2
Enacted under Article II, Section 17(c) of the Maryland Constitution - Chapter 820

HB0614 (SB0483)
State Personnel - Employees in the Same Classification - Pay Rates
Co-Sponsor
2
2
In the House - Withdrawn by Sponsor

HB0626 /CH0409
Agriculture - Animal Shelters - Standards of Care and Protocol Implementation and Enforcement
Co-Sponsor
2
2
Approved by the Governor - Chapter 409

HB0643
Property Tax Credit - Elderly Individuals and Veterans - Eligibility
Co-Sponsor
2
2
In the House - Hearing 2/23 at 1:00 p.m.

HB0650 (SB0691)
Criminal Procedure - Incompetency and Criminal Responsibility - Court-Ordered Evaluation
Co-Sponsor
2
2
In the Senate - Unfavorable Report by Judicial Proceedings

HB0665 (SB0607)
Labor and Employment - Exemptions From Overtime Pay - Administrative, Executive, or Professional Capacity
Co-Sponsor
2
2
In the House - Hearing 2/21 at 1:00 p.m.

HB0666 (SB0437)
Public Health - Expensive Drugs - Manufacturer Reporting and Drug Price Transparency Advisory Committee
Co-Sponsor
2
2
In the House - Hearing 2/23 at 1:00 p.m.

HB0690
Housing and Community Development - Neighborhood and Community Assistance Program Tax Credit - Maximum Contributions
Co-Sponsor
2
2
In the House - Hearing 2/22 at 1:00 p.m.

HB0692 (SB0334)
Education - School Emergency Air-Conditioning Fund - Established
Co-Sponsor
2
2
In the House - Withdrawn by Sponsor

HB0704
Education - Identity Protection and Credit Monitoring Services (Student Identity Protection Act)
Co-Sponsor
2
2
In the House - Referred to interim study by Ways and Means

HB0730 /CH0227
Health Insurance - Coverage for Diabetes Test Strips - Prohibition on Deductible, Copayment, and Coinsurance
Co-Sponsor
2
2
Approved by the Governor - Chapter 227

HB0763
Maryland Wage and Hour Law - Public Senior Higher Education Institution - Payment of County Minimum Wage
Co-Sponsor
2
2
In the House - Unfavorable Report by Economic Matters

HB0765
Property Tax Assessment Appeal Board - Hearing Dates
Co-Sponsor
2
2
In the House - Withdrawn by Sponsor

HB0770 (SB0916)
Maryland Collection Agency Licensing Act - Student Education Loan Servicers
Co-Sponsor
2
2
In the House - Unfavorable Report by Economic Matters

HB0776 (SB0757)
State Personnel - Department of State Police - Forensic Scientist Salaries
Co-Sponsor
2
2
In the House - Withdrawn by Sponsor

HB0852 /CH0483
Courts - Action for Violation of Collective Bargaining Agreement or Breach of Duty of Fair Representation - Limitations Period
Co-Sponsor
2
2
Approved by the Governor - Chapter 483

HB0859
Business Regulation - Trader's and Chain Stores Licenses and Personal Property Tax - Fees and Exemptions
Co-Sponsor
2
2
In the House - Unfavorable Report by Economic Matters

HB0862
Baltimore County - Elementary Schools - Speed Bumps
Co-Sponsor
2
2
In the House - First Reading Environment and Transportation

HB0868 (SB0869)
Higher Education - Community Colleges - Workforce Development Sequence Grants and Scholarships
Co-Sponsor
2
2
In the House - Hearing 3/07 at 1:00 p.m.

HB0871 (SB0652)
Education - Community Colleges - Collective Bargaining
Co-Sponsor
2
2
In the House - Hearing 2/21 at 1:00 p.m.

HB0900
Income Tax Credit - Payment of Tuition at a Community College
Co-Sponsor
2
2
In the House - Hearing 3/08 at 1:00 p.m.

HB0909 (SB0571/CH0017)
Maryland Health Insurance Coverage Protection Act
Co-Sponsor
2
2
In the Senate - Rereferred to Finance

HB0916 /CH0639
Motor Vehicle Insurance - Discrimination in Underwriting and Rating - Prohibitions
Co-Sponsor
2
2
Approved by the Governor - Chapter 639

HB0921 (SB0623)
Hospitals - Community Benefit Report - Disclosure of Tax Exemptions
Co-Sponsor
2
2
In the House - Hearing 3/02 at 1:00 p.m.

HB0932 (SB0379)
Hospitals - Changes in Status - Hospital Employee Retraining and Economic Impact Statements
Co-Sponsor
2
2
In the House - Hearing 3/02 at 1:00 p.m.

HB0966
Legislative and Congressional Districting
Co-Sponsor
2
2
In the House - Hearing 3/03 at 1:00 p.m.

HB0971 (SB0872/CH0612)
James W. Hubbard Inclusive Higher Education Grant Program
Co-Sponsor
2
2
Veto sustained (0-140)

HB0984 (SB0475)
Developmental Disabilities Administration - Crisis Resolution and Crisis Prevention Services - Funding and Reporting
Co-Sponsor
2
2
In the House - Withdrawn by Sponsor

HB1034 (SB0637)
Creation of a State Debt - Baltimore County - Morning Star Family Life Center
Co-Sponsor
2
2
In the House - Unfavorable Report by Appropriations

HB1069 (SB0152)
Higher Education - Community Colleges - Funding
Co-Sponsor
2
2
In the House - Hearing 3/07 at 1:00 p.m.

HB1144 /CH0783 (SB1031)
Payroll Recovery Act
Co-Sponsor
2
2
Enacted under Article II, Section 17(c) of the Maryland Constitution - Chapter 783

HB1158
Maryland Medical Assistance Program - Comprehensive Dental Benefits for Adults - Authorization
Co-Sponsor
2
2
In the House - Hearing 3/14 at 1:00 p.m.

HB1160
Baltimore County - Judges - Nonpartisan Elections (Baltimore County Voting Rights Act)
Co-Sponsor
2
2
In the House - Hearing 2/22 at 1:00 p.m. (Judiciary)

HB1194
Landlord and Tenant - Military Personnel - Limitation on Liability for Rent
Co-Sponsor
2
2
In the House - Unfavorable Report by Environment and Transportation

HB1207 /CH0492 (SB0085/CH0491)
Family Law - Treatment Foster Care Homes - Siblings
Co-Sponsor
2
2
Approved by the Governor - Chapter 492

HB1235
Income Tax - Subtraction Modification - Qualified Maryland Toll Expenses
Co-Sponsor
2
2
In the House - Hearing 3/03 at 1:00 p.m.

HB1237
Criminal Procedure - Expungement of Court and Police Records - Acquittal, Dismissal, or Nolle Prosequi
Co-Sponsor
2
2
In the House - Unfavorable Report by Judiciary

HB1244
Income Tax - Subtraction Modification - Military Retirement Income - Individuals Under the Age of 65 Years
Co-Sponsor
2
2
In the House - Hearing 3/08 at 1:00 p.m.

HB1251
The Roadkill Bill of 2017
Co-Sponsor
2
2
In the House - Unfavorable Report by Environment and Transportation

HB1273 /CH0726 (SB0997)
Pharmacists - Substitution and Dispensing of Biological Products
Co-Sponsor
2
2
Approved by the Governor - Chapter 726

HB1275 /CH0706 (SB0857/CH0707)
State Government - Department of Veterans Affairs - Veterans' Services Specialists
Co-Sponsor
2
2
Approved by the Governor - Chapter 706

HB1337
Sales and Use Tax - Tax-Free Periods - University and College Textbooks
Co-Sponsor
2
2
In the House - Hearing 3/03 at 1:00 p.m.

HB1347 (SB0877)
Maryland No-Fault Birth Injury Fund
Co-Sponsor
2
2
In the House - Hearing 3/06 at 2:00 p.m. (Health and Government Operations)

HB1362 (SB0835)
Criminal Procedure - Immigration - Community Trust
Co-Sponsor
2
2
In the Senate - First Reading Judicial Proceedings

HB1390 (SB0880)
Criminal Procedure - Pretrial Release - Reform
Co-Sponsor
2
2
In the House - Hearing 3/07 at 1:00 p.m.

HB1412
Education - Public School Holidays - Veterans' Day and Easter Monday
Co-Sponsor
2
2
In the House - Hearing 2/28 at 1:00 p.m.

HB1424 (SB0727)
Criminal Procedure - Firearms - Transfer
Co-Sponsor
2
2
In the House - Hearing 3/14 at 1:00 p.m.

HB1443 (SB0999)
Natalie M. LaPrade Medical Cannabis Commission Reform Act
Co-Sponsor
2
2
In the House - House Concur - Senate Amendments

HB1472 (SB0985)
Baltimore County - Property Tax - Credit for Individuals at Least 65 Years Old
Co-Sponsor
2
2
In the House - Unfavorable Report by Ways and Means

HB1502
Task Force to Expand Dual Language Programs in Maryland
Co-Sponsor
2
2
In the House - Unfavorable Report by Ways and Means

HB1508 (SB1000)
Higher Education - Tuition Rates - Exemptions
Co-Sponsor
2
2
In the House - Hearing 3/07 at 1:00 p.m.

HB1512 (SB0942)
Labor and Employment - Clean Energy Workforce Account - Establishment
Co-Sponsor
2
2
In the House - Withdrawn by Sponsor

HB1513 /CH0513 (SB1069)
Maryland Historic Trust Grant Fund Improvement Act
Co-Sponsor
2
2
Approved by the Governor - Chapter 513

HB1605
Election Law - Voting System - Optical Scanners in Baltimore County
Co-Sponsor
2
2
In the House - First Reading House Rules and Executive Nominations

HB1618 (SB1143)
Sales and Use Tax - Tax-Free Weekend - Ellicott City and Ellicott's Mills Historic Districts
Co-Sponsor
2
2
In the House - First Reading House Rules and Executive Nominations

HJ0006 (SJ0004)
United States Constitution - Amendments Convention - Democracy Amendment
Co-Sponsor
2
2
In the House - Hearing 3/10 at 1:00 p.m.

HJ0009 /JR0005
The Protection of the Federal Affordable Care Act
Co-Sponsor
2
2
Signed by the President and the Speaker - Joint Resolution 5

HB0631 /CH0818 (SB0415)
Public Health - Essential Off-Patent or Generic Drugs - Price Gouging - Prohibition
By Request - Other
6
2
Enacted under Article II, Section 17(c) of the Maryland Constitution - Chapter 818
Denotes enacted legislation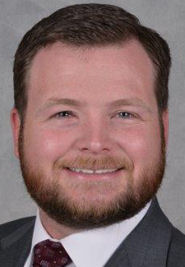 Tenure

First elected to the Maryland House of Delegates in 2014. Member of the House since 2015.
Current Assignments

2017 Deputy Majority Whip

2015 Appropriations Committee

2015 Health and Human Resources Subcommittee of the Appropriations Committee

2015 Oversight Committee on Pensions of the Appropriations Committee

2017 Joint Committee on Legislative Information Technology and Open Government

2016 Special Joint Committee on Pensions

2015 Regional Revitalization Work Group

2016 Veterans Caucus (Vice Chair)
Public Service

Maryland Medicaid Advisory Committee, 2015-; Maryland College Collaboration for Student Veterans, Co-Chair, Board of Directors; The 6th Branch, Veteran-led community service organization, Baltimore; Eagle Scout; National Eagle Scout Association (NESA).
Memberships

Maryland Veterans Commission; Institutional Review Board, University of Maryland, College Park.
Awards

Towson University Alumni Volunteer Service Award, 2013; Leadership Baltimore County Alumni, 2014.
Biographical Information

Born, Catonsville, Maryland, 1983; Mount St. Joseph High School, 2001; U.S. Marines, 2 tours Iraq, 1 in Liberia, 2001-2005; Towson University, Political Science, Religious Studies & Philosophy, B.S. 2010; Towson University, Coordinator of Veterans' Services 2010-2015; Towson University, Director, Department of Veteran's Services, 2015 -; Married, One son..
Last Updated: 10/15/2019 3:30 PM