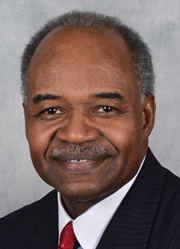 District

10

County

Baltimore

Committee Assignment(s)

Economic Matters Committee


Annapolis Info

304 House Office Building
6 Bladen Street
Annapolis, MD 21401
Phone 410-841-3352 | 301-858-3352
Toll-free in MD

Interim Info

8419 Liberty Road
Suite B
Windsor Mill, MD 21244
Phone 410-496-4037

Contact

Party

Democrat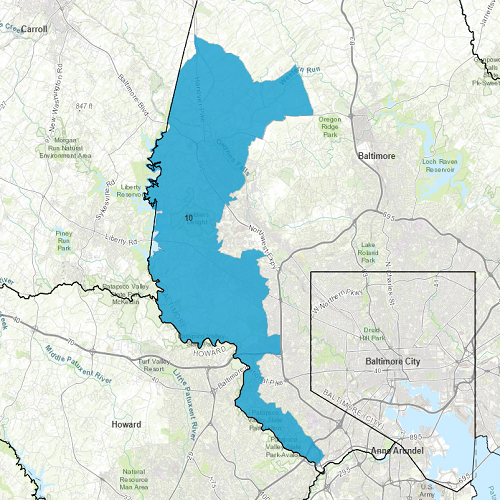 Legislation
Sponsorship Type Sort
Chamber Sort

Bill/Chapter (Cross/Chapter)

Title

Income Tax - Subtraction Modification - Military Retirement Income

Sponsorship Type

Primary

1
2

Bill/Chapter (Cross/Chapter)

Title

Solar Energy Grant Program - Minimum Grant Amounts

Sponsorship Type

Primary

1
2

Bill/Chapter (Cross/Chapter)

Title

Income Tax - Subtraction Modification - Retirement Income

Sponsorship Type

Primary

1
2
1
2
1
2

Bill/Chapter (Cross/Chapter)

Title

Vehicle Laws - Security Lapses - Notice to Maryland Automobile Insurance Fund

Sponsorship Type

Primary

1
2
1
2

Bill/Chapter (Cross/Chapter)

Title

Baltimore City and Baltimore County - Low-Cost Automobile Insurance Program

Sponsorship Type

Primary

1
2
2
2
2
2
2
2
2
2
2
2
2
2
2
2
2
2
2
2
2
2

Bill/Chapter (Cross/Chapter)

Title

General Assembly - Special Election to Fill a Vacancy in Office

Sponsorship Type

Co-Sponsor

2
2
2
2
2
2
2
2
2
2
2
2
2
2
2
2
2
2
2
2

Bill/Chapter (Cross/Chapter)

Title

Public Institutions of Higher Education - Hate-Bias Incident Prevention

Sponsorship Type

Co-Sponsor

2
2
2
2
2
2
2
2
2
2
2
2
2
2
2
2
2
2
2
2
2
2
2
2

Bill/Chapter (Cross/Chapter)

Title

Criminal Law - Assault of Public Transportation Operator - Penalties

Sponsorship Type

Co-Sponsor

2
2
2
2
2
2
2
2
2
2
2
2
2
2
2
2

Bill/Chapter (Cross/Chapter)

Title

Solid Waste Management and Recycling – Mattresses and Box Springs

Sponsorship Type

Co-Sponsor

2
2
2
2
2
2
2
2
2
2
2
2

Bill/Chapter (Cross/Chapter)

Title

Business Regulation - Household Goods Movers - Registration

Sponsorship Type

Co-Sponsor

2
2

Bill/Chapter (Cross/Chapter)

Title

Local Pension Systems - Special Disability Retirement Allowance

Sponsorship Type

Co-Sponsor

2
2

Bill/Chapter (Cross/Chapter)

Title

Income Tax - Subtraction Modification - Military Retirement Income

Sponsorship Type

Co-Sponsor

2
2
2
2
2
2
2
2

Bill/Chapter (Cross/Chapter)

Title

Military Service Credit - Eligibility

Sponsorship Type

Co-Sponsor

2
2
2
2
2
2

Bill/Chapter (Cross/Chapter)

Title

Tuition Stabilization Act of 2018

Sponsorship Type

Co-Sponsor

2
2
2
2
2
2
2
2

Bill/Chapter (Cross/Chapter)

Title

Prevailing Wage Rates - Public Work Contracts - Suits by Employees

Sponsorship Type

Co-Sponsor

2
2
2
2
2
2
2
2

Bill/Chapter (Cross/Chapter)

Title

Transportation - Francis Scott Key Bridge - Commuter Plan

Sponsorship Type

Co-Sponsor

2
2
2
2

Bill/Chapter (Cross/Chapter)

Title

State Boat Act - Solar Reflective Lights on Buoys - Requirement

Sponsorship Type

Co-Sponsor

2
2
2
2
2
2

Bill/Chapter (Cross/Chapter)

Title

Criminal Procedure – Immigration – Supporting All Families Everywhere (SAFE Act)

Sponsorship Type

Co-Sponsor

2
2
2
2

Bill/Chapter (Cross/Chapter)

Title

Labor and Employment - Discrimination Against Medical Cannabis Patients and Caregivers - Prohibition (Medical Cannabis Patient and Caregiver Antidiscrimination Act)

Sponsorship Type

Co-Sponsor

2
2
2
2
2
2
2
2
2
2
2
2
2
2
2
2

Bill/Chapter (Cross/Chapter)

Title

Public Information Act - Motor Vehicle Administration - Warrant or Subpoena for Personal Information

Sponsorship Type

Co-Sponsor

2
2
2
2
2
2
2
2
2
2
2
2
2
2
2
2

Bill/Chapter (Cross/Chapter)

Title

Baltimore County Public Schools - Office of Inspector General - Establishment

Sponsorship Type

Co-Sponsor

2
2
2
2

Bill/Chapter (Cross/Chapter)

Title

Support for the People of Iran

Sponsorship Type

Co-Sponsor

2
2
Bill/Chapter
(Cross/Chapter)
Title
Sponsorship Type
Sponsorship Type Sort
Chamber Sort
Current Status
Org Committees & Hearings
Opp Committees & Hearings
HB0012
Income Tax - Subtraction Modification - Military Retirement Income
Primary
1
2
In the House - Hearing 1/17 at 1:00 p.m.

HB0019
Solar Energy Grant Program - Minimum Grant Amounts
Primary
1
2
In the House - Unfavorable Report by Economic Matters

HB0058
Income Tax - Subtraction Modification - Retirement Income
Primary
1
2
In the Senate - Hearing 3/28 at 1:00 p.m.

HB0842 (SB0227)
Small Business Fairness Act of 2018
Primary
1
2
In the House - Hearing 2/28 at 1:00 p.m. (Ways and Means)

HB0855 (SB1082)
State Government - Regulations Impacting Small Businesses - Economic Impact Analyses
Primary
1
2
In the Senate - First Reading Education, Health, and Environmental Affairs

HB0987
Vehicle Laws - Security Lapses - Notice to Maryland Automobile Insurance Fund
Primary
1
2
In the House - Withdrawn by Sponsor

HB1161 /CH0195 (SB0856/CH0196)
Maryland Automobile Insurance Fund - Uninsured Division - Uninsured Motorists
Primary
1
2
Approved by the Governor - Chapter 195

HB1514
Baltimore City and Baltimore County - Low-Cost Automobile Insurance Program
Primary
1
2
In the House - Withdrawn by Sponsor

HB0001 /CH0004 (SB0002/CH0003)
Family Law - Child Conceived Without Consent - Termination of Parental Rights (Rape Survivor Family Protection Act)
Co-Sponsor
2
2
Approved by the Governor - Chapter 4

HB0122 (SB0938)
Criminal Procedure - Sentencing Guidelines - Previously Adjudicated Delinquent
Co-Sponsor
2
2
In the House - Recommitted to Judiciary (Delegate Vallario)

HB0152 (SB1048/CH0019)
Secure and Accessible Registration Act
Co-Sponsor
2
2
In the House - Hearing 2/06 at 1:00 p.m.

HB0205 /CH0589
Workers' Compensation - Permanent Partial Disability - State Correctional Officers
Co-Sponsor
2
2
Approved by the Governor - Chapter 589

HB0221 /CH0081
Local Government – School Construction – Permits
Co-Sponsor
2
2
Approved by the Governor - Chapter 81

HB0230 /CH0768 (SB0290/CH0008)
Regional Greenhouse Gas Initiative - Withdrawal - Legislative Approval Required (Regional Greenhouse Gas Initiative Extension Act)
Co-Sponsor
2
2
Approved by the Governor - Chapter 768

HB0244 /CH0071 (SB0680/CH0072)
General Assembly – Prefiled Bills – Deadlines
Co-Sponsor
2
2
Approved by the Governor - Chapter 71

HB0251 /CH0736 (SB0402/CH0737)
Education - Family Life and Human Sexuality Curriculum - Boundaries and Consent
Co-Sponsor
2
2
Approved by the Governor - Chapter 736

HB0287 /CH0306 (SB0461/CH0305)
Selling or Providing Alcoholic Beverages to Individuals With Intellectual Disabilities and Others – Repeal of Prohibition
Co-Sponsor
2
2
Approved by the Governor - Chapter 306

HB0302 /CH0613
Income Tax Credit – Wineries and Vineyards – Procedures to Claim Credit and Sunset Extension
Co-Sponsor
2
2
Approved by the Governor - Chapter 613

HB0307
General Assembly - Special Election to Fill a Vacancy in Office
Co-Sponsor
2
2
In the House - Hearing 2/06 at 1:00 p.m.

HB0308 /CH0021 (SB0646/CH0015)
Maryland Estate Tax - Unified Credit
Co-Sponsor
2
2
Enacted under Article II, Section 17(b) of the Maryland Constitution - Chapter 21

HB0312 /CH0619
Criminal Law – School Bus Driver and Public Transportation Worker – Obstructing, Hindering, or Interfering With
Co-Sponsor
2
2
Approved by the Governor - Chapter 619

HB0326 (SB0288)
Public Health - Overdose and Infectious Disease Prevention Supervised Drug Consumption Facility Program
Co-Sponsor
2
2
In the House - Hearing 2/13 at 1:00 p.m.

HB0344 (SB0425)
Continuing Care Agreements - Termination - Notice and Contractual Entrance Fee Refunds
Co-Sponsor
2
2
In the House - Hearing 2/06 at 1:00 p.m.

HB0365 /CH0574 (SB0184/CH0575)
Income Tax - Personal Exemptions - Alteration
Co-Sponsor
2
2
Approved by the Governor - Chapter 574

HB0403 /CH0687 (SB0595/CH0688)
Community Colleges - Facilities Renewal Grant Program - Established
Co-Sponsor
2
2
Approved by the Governor - Chapter 687

HB0427 /CH0033 (SB0217)
Public Schools – Student Sunscreen Use – Policy
Co-Sponsor
2
2
Approved by the Governor - Chapter 33

HB0432 /CH0148 (SB0545)
Public Safety – Grant Programs and Funding (Public Safety and Violence Prevention Act of 2018)
Co-Sponsor
2
2
Approved by the Governor - Chapter 148

HB0502 /CH0309
Property Tax Credit - Surviving Spouse of Veteran
Co-Sponsor
2
2
Approved by the Governor - Chapter 309

HB0511
Public Institutions of Higher Education - Hate-Bias Incident Prevention
Co-Sponsor
2
2
In the House - Unfavorable Report by Appropriations

HB0512 (SB0377)
Labor and Employment - Wage History Information
Co-Sponsor
2
2
In the Senate - Hearing 3/29 at 1:00 p.m.

HB0516 (SB0596)
Higher Education - Community Colleges - Funding
Co-Sponsor
2
2
In the House - Withdrawn by Sponsor

HB0538 (SB0651)
Environment - Expanded Polystyrene Food Service Products - Prohibition
Co-Sponsor
2
2
In the House - Hearing 2/21 at 1:00 p.m. (Environment and Transportation)

HB0539 (SB0791)
General Provisions - Commemorative Days - Missing Children Day
Co-Sponsor
2
2
In the House - Unfavorable Report by Health and Government Operations

HB0593 /CH0382
Income Tax - Student Loan Tax Credit
Co-Sponsor
2
2
Approved by the Governor - Chapter 382

HB0597 (SB0417)
Commission on African American Patriots in the American Revolutionary War
Co-Sponsor
2
2
In the Senate - First Reading Education, Health, and Environmental Affairs

HB0614 (SB0390)
Hospitals - Changes in Status - Hospital Employee Retraining and Placement
Co-Sponsor
2
2
In the House - Hearing 2/20 at 1:00 p.m.

HB0622 /CH0386 (SB0161/CH0385)
Public Schools – Students With Sickle Cell Disease – Guidelines
Co-Sponsor
2
2
Approved by the Governor - Chapter 386

HB0645 /CH0205 (SB0662/CH0206)
Business Regulation – Wireless Security Systems – Local Government Licenses and Permits
Co-Sponsor
2
2
Approved by the Governor - Chapter 205

HB0664 (SB0543)
Labor and Employment - Payment of the Minimum Wage Required (Fight for Fifteen)
Co-Sponsor
2
2
In the House - Hearing 2/27 at 1:00 p.m.

HB0682 (SB0438)
State Department of Education - Nonprofit Youth Development Program - Established
Co-Sponsor
2
2
In the House - Hearing 2/22 at 1:00 p.m.

HB0683
Criminal Law - Assault of Public Transportation Operator - Penalties
Co-Sponsor
2
2
In the House - Unfavorable Report by Judiciary

HB0689 /CH0474 (SB0509)
Colonel Todd J. Hixson Memorial Resource Center Act
Co-Sponsor
2
2
Approved by the Governor - Chapter 474

HB0700 /CH0498
Criminal Law - Hate Crimes - Group Victim
Co-Sponsor
2
2
Approved by the Governor - Chapter 498

HB0732 (SB0675/CH0236)
Humane Adoption of Companion Animals Used in Research Act of 2018
Co-Sponsor
2
2
In the House - Hearing 3/13 at 1:00 p.m.

HB0780 (SB0744)
Insurance - Contraceptive Coverage - Consumer Information
Co-Sponsor
2
2
In the House - Withdrawn by Sponsor

HB0819 /CH0253 (SB0741)
Public Safety – Handgun Permit Review Board – Appeals
Co-Sponsor
2
2
Approved by the Governor - Chapter 253

HB0841 (SB1049)
Higher Education - Endowed University System of Maryland Scholarship Program - Established
Co-Sponsor
2
2
In the House - Withdrawn by Sponsor

HB0845 (SB0037)
Income Tax – Subtraction Modification – Expenses of Medical Cannabis Grower, Processor, or Dispensary
Co-Sponsor
2
2
In the House - Hearing 2/28 at 1:00 p.m. (Ways and Means)

HB0850
Solid Waste Management and Recycling – Mattresses and Box Springs
Co-Sponsor
2
2
In the House - Unfavorable Report by Environment and Transportation

HB0856 /CH0612 (SB0647/CH0611)
Earned Income Tax Credit – Individuals Without Qualifying Children – Repeal of Minimum Age Requirement
Co-Sponsor
2
2
Approved by the Governor - Chapter 612

HB0871 /CH0392 (SB0502/CH0393)
Higher Education - University System of Maryland - Quasi-Endowment Funds
Co-Sponsor
2
2
Approved by the Governor - Chapter 392

HB0876 (SB0498)
Income Tax - Subtraction Modification - Employee-Owned Businesses
Co-Sponsor
2
2
In the House - Hearing 2/28 at 1:00 p.m.

HB0880 (SB0793)
Health Insurance - Lyme Disease and Related Tick-Borne Illnesses - Long-Term Antibiotic Treatment
Co-Sponsor
2
2
In the House - Withdrawn by Sponsor

HB0888 (SB0707/CH0252)
Criminal Law – Firearm Crimes – Rapid Fire Trigger Activator
Co-Sponsor
2
2
Vetoed by the Governor (Duplicative)

HB0937
Business Regulation - Household Goods Movers - Registration
Co-Sponsor
2
2
In the Senate - Second Reading Passed with Amendments

HB0971
Local Pension Systems - Special Disability Retirement Allowance
Co-Sponsor
2
2
In the Senate - First Reading Senate Rules

HB1048
Income Tax - Subtraction Modification - Military Retirement Income
Co-Sponsor
2
2
In the House - Hearing 2/28 at 1:00 p.m.

HB1062 (SB0827)
Historically Black Colleges and Universities – Appointment of a Special Advisor – Development of a Remedial Plan(HBCU Equity Act of 2018)
Co-Sponsor
2
2
In the House - Hearing 3/01 at 1:15 p.m.

HB1110 /CH0244
Public Schools – Health and Safety Best Practices – Digital Devices
Co-Sponsor
2
2
Approved by the Governor - Chapter 244

HB1134 (SB0800)
Criminal Law – Unnatural or Perverted Sexual Practices – Sexual Activity With an Animal
Co-Sponsor
2
2
In the Senate - Unfavorable Report by Judicial Proceedings

HB1165
Military Service Credit - Eligibility
Co-Sponsor
2
2
In the House - Hearing 2/22 at 3:00 p.m.

HB1167 (SB1011)
Protect Maryland Health Care Act of 2018
Co-Sponsor
2
2
In the House - Hearing 2/22 at 1:00 p.m.

HB1194 (SB1023)
Health – Drug Cost Commission
Co-Sponsor
2
2
In the Senate - Favorable Report by Finance

HB1223
Tuition Stabilization Act of 2018
Co-Sponsor
2
2
In the House - Withdrawn by Sponsor

HB1234 /CH0403 (SB0618)
Career Youth and Public Sector Apprenticeship Act
Co-Sponsor
2
2
Approved by the Governor - Chapter 403

HB1236 (SB0879)
Solar Energy Grant Program - Revisions
Co-Sponsor
2
2
In the Senate - Third Reading Passed with Amendments (46-0)

HB1238 (SB1203)
Higher Education - Sexual Assault Response Training - Requirements and Grant Program
Co-Sponsor
2
2
In the House - Withdrawn by Sponsor

HB1243
Prevailing Wage Rates - Public Work Contracts - Suits by Employees
Co-Sponsor
2
2
Vetoed by the Governor (Policy)

HB1244 (SB0657)
Workgroup on Establishing an Independent School Board for the Juvenile Services Education System
Co-Sponsor
2
2
In the House - Withdrawn by Sponsor

HB1283 /CH0450
Health Insurance - Prescription Contraceptives - Coverage for Single Dispensing
Co-Sponsor
2
2
Approved by the Governor - Chapter 450

HB1286 /CH0839 (SB0614/CH0840)
State Center - Redevelopment - Requirements, Participation, and Process
Co-Sponsor
2
2
Enacted under Article II, Section 17(c) of the Maryland Constitution - Chapter 839

HB1332
Transportation - Francis Scott Key Bridge - Commuter Plan
Co-Sponsor
2
2
In the House - Unfavorable Report by Environment and Transportation

HB1342 /CH0525 (SB1138)
State Government – Discrimination and Harassment
Co-Sponsor
2
2
Approved by the Governor - Chapter 525

HB1398
State Boat Act - Solar Reflective Lights on Buoys - Requirement
Co-Sponsor
2
2
In the House - Unfavorable Report by Environment and Transportation

HB1400 /CH0307
State Employee and Retiree Health and Welfare Benefits Program – Employees of Qualifying Organizations
Co-Sponsor
2
2
Approved by the Governor - Chapter 307

HB1453 (SB0732)
Clean Energy Jobs Act of 2018
Co-Sponsor
2
2
In the House - Withdrawn by Sponsor

HB1461
Criminal Procedure – Immigration – Supporting All Families Everywhere (SAFE Act)
Co-Sponsor
2
2
In the House - Hearing 3/13 at 1:00 p.m.

HB1483 /CH0287
Duties of a Guardian of the Person - Visitation
Co-Sponsor
2
2
Approved by the Governor - Chapter 287

HB1496
Labor and Employment - Discrimination Against Medical Cannabis Patients and Caregivers - Prohibition (Medical Cannabis Patient and Caregiver Antidiscrimination Act)
Co-Sponsor
2
2
In the House - Withdrawn by Sponsor

HB1526 (SB0344)
Maryland Police Training and Standards Commission - Police Officer Certification - Eligibility (Freedom to Serve Act)
Co-Sponsor
2
2
In the Senate - First Reading Judicial Proceedings

HB1536 (SB0546)
Higher Education - Tuition Rates - Exemptions
Co-Sponsor
2
2
In the Senate - First Reading Education, Health, and Environmental Affairs

HB1539 /CH0846 (SB0853/CH0017)
Labor and Employment – General Contractor Liability for Unpaid Wages
Co-Sponsor
2
2
Enacted under Article II, Section 17(c) of the Maryland Constitution - Chapter 846

HB1541 (SB0994)
Disclosure of Tax Benefits - Nonprofit Hospitals
Co-Sponsor
2
2
In the House - Hearing 3/02 at 1:00 p.m.

HB1566 /CH0219 (SB0854/CH0220)
Public Utilities - Water and Sewage Disposal Companies - Acquisition
Co-Sponsor
2
2
Approved by the Governor - Chapter 219

HB1596 /CH0738 (SB1010/CH0739)
Disclosing Sexual Harassment in the Workplace Act of 2018
Co-Sponsor
2
2
Approved by the Governor - Chapter 738

HB1622 /CH0335 (SB0383/CH0336)
Video Lottery Terminals - Minority Business Participation Goals - Sunset Extension
Co-Sponsor
2
2
Approved by the Governor - Chapter 335

HB1626
Public Information Act - Motor Vehicle Administration - Warrant or Subpoena for Personal Information
Co-Sponsor
2
2
In the House - Withdrawn by Sponsor

HB1642 (SB1012)
Commissioner of Financial Regulation – Student Education Loans – Ombudsman
Co-Sponsor
2
2
In the Senate - Recommitted to Finance (Senator Rosapepe)

HB1646 /CH0251 (SB1036)
Criminal Procedure - Firearms - Transfer
Co-Sponsor
2
2
Approved by the Governor - Chapter 251

HB1662 /CH0237
Business Regulation – Retail Pet Stores
Co-Sponsor
2
2
Approved by the Governor - Chapter 237

HB1684 (SB1191)
Creation of a State Debt – Baltimore County – Windsor Mill Community Outreach Center
Co-Sponsor
2
2
In the House - Unfavorable Report by Appropriations

HB1691 (SB0708)
Creation of a State Debt - Baltimore County - National Center on Institutions and Alternatives Expansion
Co-Sponsor
2
2
In the House - Unfavorable Report by Appropriations

HB1697 (SB1122/CH0357)
Education - Commercial Gaming Revenues - Constitutional Amendment
Co-Sponsor
2
2
In the Senate - Second Reading Passed

HB1754 (SB1196)
Baltimore County - Speed Monitoring System Fines - After-Prom Parties
Co-Sponsor
2
2
In the House - Hearing 3/22 at 1:00 p.m.

HB1829
Baltimore County Public Schools - Office of Inspector General - Establishment
Co-Sponsor
2
2
In the House - Withdrawn by Sponsor

HJ0011 (SJ0007)
United States Constitution - Amendments Convention - Democracy Amendment
Co-Sponsor
2
2
In the Senate - Unfavorable Report by Education, Health, and Environmental Affairs

HJ0014
Support for the People of Iran
Co-Sponsor
2
2
In the House - First Reading House Rules and Executive Nominations
Denotes enacted legislation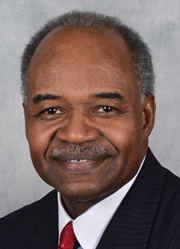 Tenure

First elected to the Maryland House of Delegates in 2014. Member of the House since 2015.
Current Assignments

2017 Deputy Majority Whip

2015 Economic Matters Committee

2015 Alcoholic Beverages Subcommittee of the Economic Matters Committee

2015 Property and Casualty Insurance Subcommittee

2015 Legislative Black Caucus (2nd Vice-Chair, 2018-20)

2015 Maryland Veterans Caucus
Past House Service

Task Force to Reduce the Rate of Uninsured Drivers, 2015.
Public Service

Advisory council on the Impact of Regulations on Small Businesses, 2017-; Task Force to Investigate the Challenges of and Opportunities for Minorities in Business, 2016-; Maryland Small Business Retirement Savings Board, 2016-; Legislative Black Caucus of Maryland (Treasurer, 2016-2018), 2015-.
Memberships

Edrich Manor Homeowners Association; Northern Cove Property Owners Association, Inc.; South Carolina State University Alumni Association, Greater Baltimore Chapter; The Liberty Road Business Association, Inc.; Baltimore County Democratic Central Committee; Maryland Democratic Party Executive Committee; American Legion Post 202; Board of Directors, Sojourner Douglass College, 2012-.
Awards

Good Conduct Medal; National Defense Medal; Accommodations and Vietnam Service Medals.
Biographical Information

Born, Sumter, South Carolina, April, 23, 1950; Ebenezer High School, 1968; U.S. Army, Vietnam Veteran, 1969 - 1971; South Carolina State University, B.S., Accounting, 1976; Owner, B&R Brooks Professional Tax Service, 1987-; Brooks Family Investments, Inc. President 2004-; Joseph E. Seagram and Sons, Accountant, 1976-1987; Married; three children..
Last Updated: 1/20/2020 10:26 AM