District

40

County

Baltimore City

Committee Assignment(s)

Executive Nominations Committee
Finance Committee


Annapolis Info

222 James Senate Office Building
11 Bladen Street
Annapolis, MD 21401
Phone 410-841-3656 | 301-858-3656
Toll-free in MD 1-800-492-7122 ext. 3656
Fax 410-841-3738 | 301-858-3738

Interim Info

222 James Senate Office Building
11 Bladen Street
Annapolis, MD 21401
Phone 410-841-3656 | 301-858-3656
Fax 410-841-3738 | 301-858-3738

Contact

Party

Democrat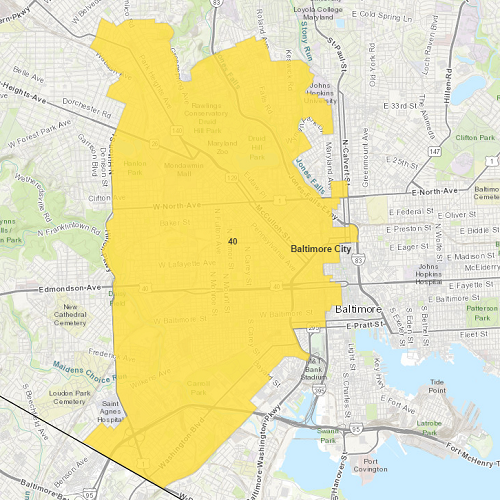 Legislation
Sponsorship Type Sort
Chamber Sort
1
2
1
2
1
2
1
2
1
2
1
2

Bill/Chapter (Cross/Chapter)

Title

Baltimore City - Cigarettes, Other Tobacco Products, and Electronic Smoking Devices - Local Laws Authorization

Sponsorship Type

Primary

1
2
1
2
1
2
1
2
1
2
1
2

Bill/Chapter (Cross/Chapter)

Title

Department of Commerce – COVID–19 Business Relief Distribution – Reporting

Sponsorship Type

Primary

1
2
1
2
1
2
1
2
1
2
1
2

Bill/Chapter (Cross/Chapter)

Title

State Anatomy Board - Claimed Cremated Remains - Provision Without Payment of Costs

Sponsorship Type

Primary

1
2

Bill/Chapter (Cross/Chapter)

Title

Higher Education – Coppin State University – Funding

Sponsorship Type

Primary

1
2
1
2
2
2
2
2
2
2

Bill/Chapter (Cross/Chapter)

Title

Criminal Procedure - Police Officers - Duty to Report Misconduct (Maryland Police Accountability Act)

Sponsorship Type

Co-Sponsor

2
2
2
2
2
2
2
2
2
2
2
2
2
2
2
2
2
2
2
2
2
2
3
2
5
2
6
2
Bill/Chapter
(Cross/Chapter)
Title
Sponsorship Type
Sponsorship Type Sort
Chamber Sort
Current Status
Org Committees & Hearings
Opp Committees & Hearings
SB0107 /CH0672 (HB0685/CH0671)
Labor and Employment - Secure Maryland Wage Act
Primary
1
2
Enacted under Article II, Section 17(c) of the Maryland Constitution - Chapter 672

SB0172 /CH0741 (HB0463/CH0742)
Maryland Health Equity Resource Act
Primary
1
2
Enacted under Article II, Section 17(c) of the Maryland Constitution - Chapter 741

SB0211 (HB0375)
Labor and Employment - Family and Medical Leave Insurance Program - Establishment (Time to Care Act of 2021)
Primary
1
2
In the Senate - Hearing 1/28 at 1:00 p.m.

SB0287 (HB0282)
Income Tax - Subtraction Modification for Centenarians
Primary
1
2
In the Senate - Hearing 1/26 at 1:00 p.m.

SB0326 /CH0732 (HB0770)
Baltimore City Community College - Procurement Authority
Primary
1
2
Enacted under Article II, Section 17(c) of the Maryland Constitution - Chapter 732

SB0336 (HB0454)
State and Local Procurement - Payment Practices
Primary
1
2
In the Senate - Hearing 2/03 at 1:00 p.m.

SB0378
Baltimore City - Cigarettes, Other Tobacco Products, and Electronic Smoking Devices - Local Laws Authorization
Primary
1
2
In the Senate - Hearing 2/11 at 1:00 p.m.

SB0635 (HB1302)
Minority Business Enterprises – Calculation of Participation Rates – Exemption for Procurements From Maryland Correctional Enterprises – Repeal
Primary
1
2
In the Senate - Hearing 2/17 at 1:30 p.m.

SB0636 /CH0583 (HB1073)
Housing and Community Development - Neighborhood Revitalization - Passive House Pilot Program
Primary
1
2
Enacted under Article II, Section 17(c) of the Maryland Constitution - Chapter 583

SB0637 /CH0247 (HB0943)
Community Development Administration - Live Near Your School Program - Establishment
Primary
1
2
Approved by the Governor - Chapter 247

SB0688 (HB0869)
Sales and Use and Vehicle Excise Taxes – Peer–to–Peer Car Sharing and Short–Term Vehicle Rentals – Alterations and Distribution
Primary
1
2
In the Senate - Hearing 2/17 at 1:00 p.m.

SB0752 /CH0366 (HB1316)
Baltimore City - Police Officers - Promotional Appointments
Primary
1
2
Enacted under Article II, Section 17(c) of the Maryland Constitution - Chapter 366

SB0753
Department of Commerce – COVID–19 Business Relief Distribution – Reporting
Primary
1
2
In the Senate - Withdrawn by Sponsor

SB0754 (HB1231)
Public Service Commission - Damaged, Obsolete, or Excessive Lines - Study
Primary
1
2
In the House - Unfavorable Report by Economic Matters

SB0755 (HB1288/CH0664)
Baltimore City - 40th District Alcoholic Beverages
Primary
1
2
In the House - First Reading Economic Matters

SB0781 (HB1095)
Real Property – Residential Contract of Sale – Buyer Identification
Primary
1
2
In the Senate - Hearing 3/02 at 1:00 p.m.

SB0782 (HB1290)
State Department of Assessments and Taxation – Real Property Assessments and Appeals
Primary
1
2
In the Senate - Hearing 2/24 at 12:00 p.m.

SB0783 /CH0081 (HB1293/CH0080)
Baltimore City – West North Avenue Development Authority
Primary
1
2
Approved by the Governor - Chapter 81

SB0784
State Anatomy Board - Claimed Cremated Remains - Provision Without Payment of Costs
Primary
1
2
In the Senate - Hearing 3/11 at 1:00 p.m.

SB0858
Higher Education – Coppin State University – Funding
Primary
1
2
In the Senate - Hearing 3/03 at 1:00 p.m.

SB0859 /CH0703 (HB1239/CH0702)
Department of Housing and Community Development – Appraisal Gap From Historic Redlining Financial Assistance Program – Establishment
Primary
1
2
Enacted under Article II, Section 17(c) of the Maryland Constitution - Chapter 703

SB0001 /CH0042 (HB0001/CH0041)
Historically Black Colleges and Universities - Funding
Co-Sponsor
2
2
Approved by the Governor - Chapter 42

SB0005 /CH0745 (HB0028/CH0744)
Public Health - Implicit Bias Training and the Office of Minority Health and Health Disparities
Co-Sponsor
2
2
Enacted under Article II, Section 17(c) of the Maryland Constitution - Chapter 745

SB0100 /CH0600 (HB0368/CH0599)
Task Force on Oral Health in Maryland
Co-Sponsor
2
2
Enacted under Article II, Section 17(c) of the Maryland Constitution - Chapter 600

SB0166
Criminal Procedure - Police Officers - Duty to Report Misconduct (Maryland Police Accountability Act)
Co-Sponsor
2
2
In the Senate - Hearing 1/21 at 11:00 a.m.

SB0275 /CH0488 (HB0141/CH0487)
Maryland Department of Health – Residential Service Agencies – Training Requirements
Co-Sponsor
2
2
Enacted under Article II, Section 17(c) of the Maryland Constitution - Chapter 488

SB0299 /CH0723 (HB0548/CH0722)
Human Services - Trauma-Informed Care - Commission and Training (Healing Maryland's Trauma Act)
Co-Sponsor
2
2
Enacted under Article II, Section 17(c) of the Maryland Constitution - Chapter 723

SB0477 /CH0402 (HB0436/CH0401)
Enoch Pratt Free Library - Operating Hours and Funding
Co-Sponsor
2
2
Enacted under Article II, Section 17(c) of the Maryland Constitution - Chapter 402

SB0514 /CH0769 (HB0565/CH0770)
Health Facilities - Hospitals - Medical Debt Protection
Co-Sponsor
2
2
Enacted under Article II, Section 17(c) of the Maryland Constitution - Chapter 769

SB0593 /CH0718 (HB0158/CH0717)
Property Tax - Homeowners' Property Tax Credit - Calculation and Refunds
Co-Sponsor
2
2
Enacted under Article II, Section 17(c) of the Maryland Constitution - Chapter 718

SB0609 /CH0190
Economic Development - Maryland Industrial Development Financing Authority - Marketing Plan
Co-Sponsor
2
2
Approved by the Governor - Chapter 190

SB0638 /CH0152 (HB0919/CH0151)
Maryland Insurance Commissioner - Specialty Mental Health Services and Payment of Claims - Enforcement
Co-Sponsor
2
2
Approved by the Governor - Chapter 152

SB0639 /CH0180
Maryland Technology Development Corporation – Inclusion Fund – Establishment
Co-Sponsor
2
2
Approved by the Governor - Chapter 180

SB0719 /CH0067 (HB0812/CH0066)
2-1-1 Maryland - Mental Health Services Phone Call Program (The Thomas Bloom Raskin Act)
Co-Sponsor
2
2
Approved by the Governor - Chapter 67

SB0811 /CH0073
Unemployment Insurance – Computation of Earned Rate of Contribution – Applicable Table of Rates
Co-Sponsor
2
2
Approved by the Governor - Chapter 73

SB0496 /CH0039 (HB0612)
Recovery for the Economy, Livelihoods, Industries, Entrepreneurs, and Families (RELIEF) Act
By Request - Administration
3
2
Approved by the Governor - Chapter 39

SB0256 /CH0250
Arts and Entertainment Districts – Artistic Work and Arts and Entertainment Enterprise – Definitions
By Request - Departmental
5
2
Approved by the Governor - Chapter 250

SB0824 /CH0633 (HB1328/CH0632)
Economic Development - Broadband Providers - Joint Trenching and Fee (Building Out Broadband Act of 2021)
By Request - Other
6
2
Enacted under Article II, Section 17(c) of the Maryland Constitution - Chapter 633
Denotes enacted legislation
Legislative Bond Initiatives
Project Name

Status

Introduced

House Sponsors

Senate Sponsors

County

Baltimore City

Amount Requested

$675,000

House Initiative

$300,000

Senate Initiative

$350,000

Other Funding

Total Funding

$650,000
Project Name

Status

Introduced

House Sponsors

Senate Sponsors

County

Baltimore City

Amount Requested

$300,000

House Initiative

Senate Initiative

Other Funding

$300,000

Total Funding

$300,000
Project Name

Status

Introduced

House Sponsors

Senate Sponsors

County

Baltimore City

Amount Requested

$110,000

House Initiative

$110,000

Senate Initiative

Other Funding

Total Funding

$110,000
Project Name

Status

Introduced

House Sponsors

Senate Sponsors

County

Baltimore City

Amount Requested

$250,000

House Initiative

Senate Initiative

$150,000

Other Funding

$100,000

Total Funding

$250,000
Project Name

Status

Introduced

House Sponsors

Senate Sponsors

County

Baltimore City

Amount Requested

$250,000

House Initiative

Senate Initiative

$250,000

Other Funding

Total Funding

$250,000
| Project Name | Status | House Sponsors | Senate Sponsors | County | Amount Requested | House Initiative | Senate Initiative | Other Funding | Total Funding |
| --- | --- | --- | --- | --- | --- | --- | --- | --- | --- |
| Arch Social Club Historic Site Restoration | Introduced | | | Baltimore City | $675,000 | $300,000 | $350,000 | | $650,000 |
| Coppin Heights West North Avenue Revitalization Project | Introduced | | | Baltimore City | $300,000 | | | $300,000 | $300,000 |
| Hampden Family Center | Introduced | | | Baltimore City | $110,000 | $110,000 | | | $110,000 |
| North Avenue Zero Energy Housing | Introduced | | | Baltimore City | $250,000 | | $150,000 | $100,000 | $250,000 |
| The Urban Oasis | Introduced | | | Baltimore City | $250,000 | | $250,000 | | $250,000 |
Tenure

First elected to the Maryland Senate in 2018. Member of the Senate since January 9, 2019. Member of the Maryland House of Delegates, 2015-2019
Current Assignments

2019 Finance Committee

2019 Energy and Public Utilities Subcommittee of the Finance Committee

2020 Joint Committee on Administrative, Executive, and Legislative Review (AELR)

2019 Joint Committee on Federal Relations

2019 Legislative Black Caucus of Maryland
Past Senate Service

Chair, Senate Select Committee 12, Baltimore City Delegation, 2019-2020; Senate Chair, Joint Committee on Behavioral Health & Opiod Use Disorders, 2019-2021.
Public Service

West North Avenue Development Authority, 2021-; Maryland Medicaid Advisory Committee, 2019-; Pimlico Community Development Authority, 2019-; Local (Video Lottery) Development Council, Baltimore City, 2016-; Behavioral Health Advisory Council, 2015-2019.
Memberships

Empowerment Temple African Methodist Episcopal (AME) Church, Baltimore.
Biographical Information

Born, Baltimore, Maryland, December 9, 1977; Frostburg State University, B.S. Political Science, 2000; Legislative Aide to Delegate Salima Siler Marriott of Baltimore, 2000-2002; Director of Legislative Affairs for City Council President, Baltimore City 2003-2006; Assistant Deputy Mayor of Administration, 2007-2010; Baltimore City Department of Social Services, 2010-present.
Last Updated: 7/7/2021 4:09 PM