District

20

County

Montgomery

Committee Assignment(s)

Judiciary Committee (Vice Chair)
Rules and Executive Nominations Committee


Annapolis Info

101 Taylor House Office Building
6 Bladen Street
Annapolis, MD 21401
Phone 410-841-3474 | 301-858-3474
Toll-free in MD 1-800-492-7122 ext. 3474

Interim Info

101 Taylor House Office Building
6 Bladen Street
Annapolis, MD 21401
Phone 410-841-3474 | 301-858-3474

Contact

Party

Democrat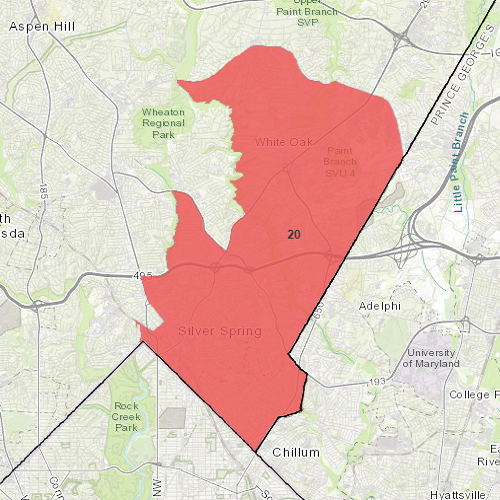 Legislation
Sponsorship Type Sort
Chamber Sort
1
2
1
2
1
2
1
2
1
2

Bill/Chapter (Cross/Chapter)

Title

Attorney General - Wrongful Convictions - Investigations

Sponsorship Type

Primary

1
2
1
2

Bill/Chapter (Cross/Chapter)

Title

Election Law - Ballots - Processing and Reporting Procedures

Sponsorship Type

Primary

1
2
1
2
1
2
1
2
1
2
1
2
1
2
1
2

Bill/Chapter (Cross/Chapter)

Title

Justice and Public Health Prioritization Council

Sponsorship Type

Primary

1
2
1
2

Bill/Chapter (Cross/Chapter)

Title

Child Support Enforcement - License Applications - Taxpayer Identification Number

Sponsorship Type

Primary

1
2
2
2
2
2
2
2
2
2
2
2

Bill/Chapter (Cross/Chapter)

Title

Employment Standards - Seating for Employees (Right to Sit Act of 2022)

Sponsorship Type

Co-Sponsor

2
2
2
2

Bill/Chapter (Cross/Chapter)

Title

Vehicle Laws - Speed Limits - Establishment

Sponsorship Type

Co-Sponsor

2
2

Bill/Chapter (Cross/Chapter)

Title

Corporate Income Tax - Throwback Rule and Combined Reporting

Sponsorship Type

Co-Sponsor

2
2
2
2

Bill/Chapter (Cross/Chapter)

Title

Consumer Protection - Right to Repair - Farm Equipment

Sponsorship Type

Co-Sponsor

2
2
2
2
2
2
2
2

Bill/Chapter (Cross/Chapter)

Title

Courts and Judicial Proceedings – Grand Jury – Transcription of Testimony

Sponsorship Type

Co-Sponsor

2
2
2
2
2
2
2
2
2
2
2
2
2
2

Bill/Chapter (Cross/Chapter)

Title

Landlord and Tenant - Residential Leases and Holdover Tenancies - Local Just Cause Termination Provisions

Sponsorship Type

Co-Sponsor

2
2
2
2

Bill/Chapter (Cross/Chapter)

Title

Education - Public High Schools - Financial Literacy Curriculum

Sponsorship Type

Co-Sponsor

2
2
2
2

Bill/Chapter (Cross/Chapter)

Title

State Finance and Procurement - Chesapeake Bay Watershed States - Expenses and Contracts (Quit Polluting My Bay Act of 2022)

Sponsorship Type

Co-Sponsor

2
2
2
2
Bill/Chapter
(Cross/Chapter)
Title
Sponsorship Type
Sponsorship Type Sort
Chamber Sort
Current Status
Org Committees & Hearings
Opp Committees & Hearings
HB0146 /CH0742
Education - Reportable Offenses, Student Discipline, and School Disruptions - Presence of an Attorney and Reporting
Primary
1
2
Enacted under Article II, Section 17(c) of the Maryland Constitution - Chapter 742

HB0206 /CH0567 (SB0465/CH0568)
Vehicle Laws – Licenses and Permits – Prohibited Acts
Primary
1
2
Enacted under Article II, Section 17(c) of the Maryland Constitution - Chapter 567

HB0208 /CH0545 (SB0775/CH0546)
Courts - Payment for Jury Service
Primary
1
2
Enacted under Article II, Section 17(c) of the Maryland Constitution - Chapter 545

HB0209 (SB0022)
Criminal Law – Unnatural or Perverted Sexual Practice – Repeal
Primary
1
2
In the Senate - First Reading Judicial Proceedings

HB0244 /CH0541 (SB0313)
Civil Actions - Damages - Use of Race, Ethnicity, and Gender Data
Primary
1
2
Enacted under Article II, Section 17(c) of the Maryland Constitution - Chapter 541

HB0249
Attorney General - Wrongful Convictions - Investigations
Primary
1
2
In the House - Hearing 2/01 at 1:00 p.m.

HB0272 (SB0324)
Intercepted Communications - Penalty
Primary
1
2
In the Senate - First Reading Judicial Proceedings

HB0329
Election Law - Ballots - Processing and Reporting Procedures
Primary
1
2
In the House - Hearing 3/08 at 1:00 p.m.

HB0349 (SB0452)
Small Claims - Examination in Aid of Enforcement and Interrogatories in Aid of Execution - Prohibition
Primary
1
2
Vetoed by the Governor (Policy)

HB0481 (SB0509)
Drug Paraphernalia for Administration - Decriminalization
Primary
1
2
In the Senate - First Reading Judicial Proceedings

HB0591 (SB0556)
Public Safety - Law Enforcement Agencies - Body-Worn Cameras
Primary
1
2
In the House - Hearing 3/01 at 1:00 p.m.

HB0600 (SB0562)
Correctional Services – Geriatric and Medical Parole
Primary
1
2
In the House - Hearing 2/15 at 1:00 p.m.

HB0647 (SB0469)
Courts – Remote Public Access
Primary
1
2
In the House - Hearing 2/23 at 1:00 p.m.

HB1046 (SB0762)
Criminal Procedure - Facial Recognition Technology - Requirements, Procedures, and Prohibitions
Primary
1
2
In the House - Hearing 2/22 at 1:00 p.m.

HB1054 (SB0784)
Criminal Law - Use or Possession of a Controlled Dangerous Substance - De Minimis Quantity
Primary
1
2
In the House - Hearing 3/08 at 1:00 p.m.

HB1058
Justice and Public Health Prioritization Council
Primary
1
2
In the House - Hearing 3/08 at 1:00 p.m. (Judiciary)

HB1062 /CH0180 (SB0877)
Criminal Law - Animal Cruelty - Petition for Costs for Care of Seized Animal
Primary
1
2
Approved by the Governor - Chapter 180

HB1413
Child Support Enforcement - License Applications - Taxpayer Identification Number
Primary
1
2
In the House - First Reading House Rules and Executive Nominations

HB0084 (SB0119)
Education – Crimes on School Grounds – Application
Co-Sponsor
2
2
In the Senate - First Reading Education, Health, and Environmental Affairs

HB0123 (SB0141)
Pensions and Retirement - Forfeiture of Benefits - Law Enforcement Officers
Co-Sponsor
2
2
In the House - Hearing 3/01 at 1:00 p.m.

HB0245 (SB0331/CH0144)
Program for Preventing HIV Infection for Rape Victims - Alterations and Repeal of Sunset
Co-Sponsor
2
2
Vetoed by the Governor (Duplicative)

HB0247 /CH0680
Insurance - Medicare Supplement Policies - Open Enrollment Period Following Birthday
Co-Sponsor
2
2
Enacted under Article II, Section 17(c) of the Maryland Constitution - Chapter 680

HB0254 /CH0153 (SB0874/CH0154)
State Highway Administration - Pedestrian and Bicyclist Fatalities - Infrastructure Review (Vision Zero Implementation Act of 2022)
Co-Sponsor
2
2
Approved by the Governor - Chapter 153

HB0258
Employment Standards - Seating for Employees (Right to Sit Act of 2022)
Co-Sponsor
2
2
In the House - Withdrawn by Sponsor

HB0294 (SB0165)
Juvenile Court - Jurisdiction
Co-Sponsor
2
2
In the House - Hearing 2/10 at 1:00 p.m.

HB0404
Vehicle Laws - Speed Limits - Establishment
Co-Sponsor
2
2
In the Senate - Hearing 3/24 at 1:00 p.m.

HB0457
Corporate Income Tax - Throwback Rule and Combined Reporting
Co-Sponsor
2
2
In the House - Hearing 2/09 at 1:00 p.m.

HB0544 /CH0673 (SB0600/CH0674)
Health Facilities - Residential Service Agencies - Reporting Requirement
Co-Sponsor
2
2
Enacted under Article II, Section 17(c) of the Maryland Constitution - Chapter 673

HB0562
Consumer Protection - Right to Repair - Farm Equipment
Co-Sponsor
2
2
In the House - Unfavorable Report by Economic Matters

HB0578 /CH0083 (SB0323/CH0082)
Public Health - Medications to Treat an Opioid Use Disorder - Preferred and Nonpreferred Medications
Co-Sponsor
2
2
Approved by the Governor - Chapter 83

HB0596 (SB0783)
Constitutional Amendment - Environmental Rights
Co-Sponsor
2
2
In the House - Hearing 2/23 at 1:00 p.m.

HB0604 (SB0512)
Office of the Attorney General - Correctional Ombudsman
Co-Sponsor
2
2
In the House - Hearing 2/15 at 1:00 p.m. (Judiciary)

HB0607
Courts and Judicial Proceedings – Grand Jury – Transcription of Testimony
Co-Sponsor
2
2
In the House - Hearing 2/16 at 1:00 p.m.

HB0610 (SB0493)
Public Health - Commission on Universal Health Care
Co-Sponsor
2
2
In the House - Hearing 3/10 at 1:30 p.m.

HB0626 (SB0669)
Pregnant Person's Freedom Act of 2022
Co-Sponsor
2
2
In the House - Hearing 3/11 at 1:00 p.m.

HB0674 (SB0384)
Landlord and Tenant - Stay of Eviction Proceeding for Rental Assistance Determination
Co-Sponsor
2
2
In the Senate - First Reading Senate Rules

HB0716 /CH0615 (SB0367)
Patuxent River Commission - Membership
Co-Sponsor
2
2
Enacted under Article II, Section 17(c) of the Maryland Constitution - Chapter 615

HB0727 (SB0541/CH0039)
Natural Resources - Maryland Park Service and State Parks - Alterations (Great Maryland Outdoors Act)
Co-Sponsor
2
2
In the House - Hearing 2/23 at 1:00 p.m. (Environment and Transportation)

HB0751 (SB0118)
State Personnel - Collective Bargaining
Co-Sponsor
2
2
In the House - Hearing 2/15 at 1:00 p.m.

HB0881
Landlord and Tenant - Residential Leases and Holdover Tenancies - Local Just Cause Termination Provisions
Co-Sponsor
2
2
In the House - Hearing 2/22 at 1:00 p.m.

HB0937 /CH0056 (SB0890)
Abortion Care Access Act
Co-Sponsor
2
2
Gubernatorial Veto Override (Legislative date: 4/8/2022) - Chapter 56

HB0985
Education - Public High Schools - Financial Literacy Curriculum
Co-Sponsor
2
2
In the Senate - Hearing 3/23 at 1:00 p.m.

HB1044 (SB0752)
Public Safety - Use of Force Incident Reports
Co-Sponsor
2
2
In the House - Hearing 3/01 at 1:00 p.m.

HB1470
State Finance and Procurement - Chesapeake Bay Watershed States - Expenses and Contracts (Quit Polluting My Bay Act of 2022)
Co-Sponsor
2
2
In the House - Hearing 3/15 at 1:00 p.m.

HB1482 (SB1005/CH0343)
State Retirement and Pension System - Divestment From Russia
Co-Sponsor
2
2
Vetoed by the Governor (Duplicative)
Denotes enacted legislation
Legislative Bond Initiatives
Project Name

Status

Introduced

House Sponsors

Senate Sponsors

County

Montgomery

Amount Requested

$57,000

Senate Initiative

$57,000

House Initiative

Other Funding

Total Funding

$57,000
Project Name

Status

Introduced in House

House Sponsors

Senate Sponsors

County

Montgomery

Amount Requested

$500,000

Senate Initiative

House Initiative

$300,000

Other Funding

Total Funding

$300,000
Project Name

Status

Introduced

House Sponsors

Senate Sponsors

County

Montgomery

Amount Requested

$200,000

Senate Initiative

$100,000

House Initiative

$100,000

Other Funding

Total Funding

$200,000
Project Name

Status

Introduced

House Sponsors

Senate Sponsors

County

Montgomery

Amount Requested

$175,000

Senate Initiative

$175,000

House Initiative

Other Funding

Total Funding

$175,000
Project Name

Status

Introduced

House Sponsors

Senate Sponsors

County

Montgomery

Amount Requested

$150,000

Senate Initiative

$75,000

House Initiative

$75,000

Other Funding

Total Funding

$150,000
Project Name

Status

Introduced in House

House Sponsors

Senate Sponsors

County

Montgomery

Amount Requested

$600,000

Senate Initiative

House Initiative

$250,000

Other Funding

$2,500,000

Total Funding

$2,750,000
Project Name

Status

Introduced

House Sponsors

Senate Sponsors

County

Montgomery

Amount Requested

$500,000

Senate Initiative

$362,701

House Initiative

Other Funding

Total Funding

$362,701
| Project Name | Status | House Sponsors | Senate Sponsors | County | Amount Requested | Senate Initiative | House Initiative | Other Funding | Total Funding |
| --- | --- | --- | --- | --- | --- | --- | --- | --- | --- |
| ACSGW Parking Lot | Introduced | | | Montgomery | $57,000 | $57,000 | | | $57,000 |
| Clayborne Ave Trail Bridge Replacement | Introduced in House | | | Montgomery | $500,000 | | $300,000 | | $300,000 |
| East County Food Storage | Introduced | | | Montgomery | $200,000 | $100,000 | $100,000 | | $200,000 |
| Easter Seals lnter-generational Center (IGC) | Introduced | | | Montgomery | $175,000 | $175,000 | | | $175,000 |
| Food Systems Facility | Introduced | | | Montgomery | $150,000 | $75,000 | $75,000 | | $150,000 |
| Long Branch Local Park Renovations | Introduced in House | | | Montgomery | $600,000 | | $250,000 | $2,500,000 | $2,750,000 |
| Long Branch-Arliss Neighborhood Park | Introduced | | | Montgomery | $500,000 | $362,701 | | | $362,701 |
Tenure

First elected to the House of Delegates in 2014. Member of the House since 2015.
Current Assignments

2021 Vice- Chair, Judiciary Committee (Member, 2015)

2020 Chair, Criminal Law and Procedure Subcommittee of the Judiciary Committee

2021 Rules and Executive Nominations Committee

2019 Joint Audit and Evaluation Committee

2021 House Cannabis Referendum and Legalization Workgroup (Chair, Criminal Justice Impacts Subcommittee)

2019 Co-Chair, Legislative and Policy Committee, Maryland Legislative Asian American and Pacific Islander Caucus, Inc. (Member, 2016)

2015 Maryland Legislative Latino Caucus, Associate Member
Past House Service

Work Group to Address Police Reform and Accountability in Maryland, 2020; Family Law Subcommittee of the Judiciary Committee, 2015-2019; Juvenile Law Subcommittee of the Judiciary Committee (Chair, 2017-2019), 2015-2019; Public Safety Subcommittee of the Judiciary Committee, 2019-2022; Marijuana Legalization Work Group, 2019.
Public Service

Law Enforcement Body Camera Task Force, 2020-; State Commission on Criminal Sentencing Policy, 2020-; Criminal Justice Information Advisory Board, 2015-2019.
Memberships

Maryland Legislative Transit Caucus, 2019-.
Awards

Best State Political Bloggers, The Washington Post, 2013.
Biographical Information

Born, Takoma Park, Maryland, January 28, 1979; Walt Whitman High School, Bethesda, Maryland, 1997; Tufts University, B.A., Sociology & Philosophy, 2001; American University, Washington College of Law, J.D., 2004; Chief Operating Officer, FairVote, 2004-2009; Interim Chief of Staff and senior legislative aide to Nancy Navarro, District 4, Montgomery County Council, 2009-2010; Progressive Political Consultant, Moon Strategies, 2010-; MarylandJuice.com, Founder & Editor, August 2011-; Demand Progress, Program Director, January 2011 -; Executive Director, Communities for Transit, 2013; Married.
Last Updated: 7/2/2022 4:26 PM