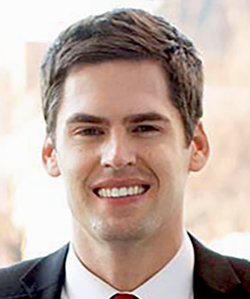 District

4

County

Frederick and Carroll

Committee Assignment(s)

Judiciary Committee


Annapolis Info

326 House Office Building
6 Bladen Street
Annapolis, MD 21401
Phone 410-841-3118 | 301-858-3118
Toll-free in MD 1-800-492-7122 ext. 3118
Fax 410-841-3462 | 301-858-3462

Interim Info

326 House Office Building
6 Bladen Street
Annapolis, MD 21401
Phone 410-841-3118 | 301-858-3118
Fax 410-841-3462 | 301-858-3462

Contact

Party

Republican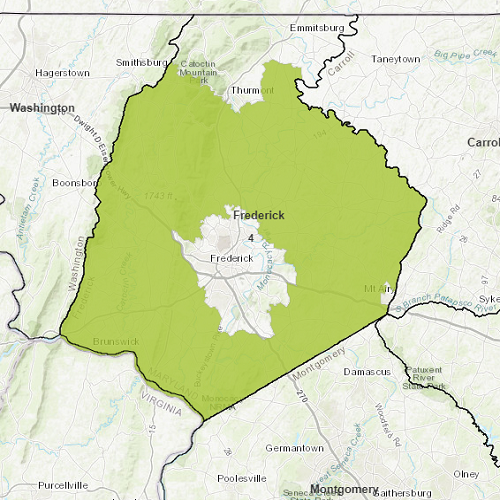 Legislation
Sponsorship Type Sort
Chamber Sort
1
2
1
2

Bill/Chapter (Cross/Chapter)

Title

Criminal Procedure - Out of Court Statement of Child Victim - Neglect of a Minor

Sponsorship Type

Primary

1
2
1
2
1
2

Bill/Chapter (Cross/Chapter)

Title

Criminal Law - Attempt to Commit Second-Degree Murder - Penalty (Justice Reinvestment Act - Modification)

Sponsorship Type

Primary

1
2
1
2
1
2
2
2
2
2
2
2
2
2
2
2
2
2
2
2

Bill/Chapter (Cross/Chapter)

Title

Department of Human Services - Child Abuse Prevention - Online Course

Sponsorship Type

Co-Sponsor

2
2
2
2

Bill/Chapter (Cross/Chapter)

Title

Criminal Law - Law Enforcement Officers - Prohibition on Sexual Activity

Sponsorship Type

Co-Sponsor

2
2

Bill/Chapter (Cross/Chapter)

Title

Civil Actions - Civil Immunity - Educator Intervention in Student Violence (Good Teacher Protection Act)

Sponsorship Type

Co-Sponsor

2
2

Bill/Chapter (Cross/Chapter)

Title

Child Abuse and Neglect - Training of Health Care Professionals

Sponsorship Type

Co-Sponsor

2
2
2
2

Bill/Chapter (Cross/Chapter)

Title

Protective Body Armor Fund - Expansion - First Responders

Sponsorship Type

Co-Sponsor

2
2

Bill/Chapter (Cross/Chapter)

Title

University System of Maryland - Admissions - Notification of Potential Income

Sponsorship Type

Co-Sponsor

2
2
2
2
2
2

Bill/Chapter (Cross/Chapter)

Title

Regulated Firearms - Straw Purchase - Penalties

Sponsorship Type

Co-Sponsor

2
2
2
2
2
2

Bill/Chapter (Cross/Chapter)

Title

Public Safety – Handgun Permit – Church Property (Worshipper Protection Act of 2020)

Sponsorship Type

Co-Sponsor

2
2

Bill/Chapter (Cross/Chapter)

Title

Voice Over Internet Protocol - Robocalls - Customer Information

Sponsorship Type

Co-Sponsor

2
2

Bill/Chapter (Cross/Chapter)

Title

Congressional Districts - Standards (Anti-Gerrymandering of Maryland's Congressional Districts)

Sponsorship Type

Co-Sponsor

2
2
2
2

Bill/Chapter (Cross/Chapter)

Title

Congressional Districts - Standards (Anti-Gerrymandering of Maryland's Congressional Districts)

Sponsorship Type

Co-Sponsor

2
2

Bill/Chapter (Cross/Chapter)

Title

Legislative Districts - Standards

Sponsorship Type

Co-Sponsor

2
2

Bill/Chapter (Cross/Chapter)

Title

Education - Public High Schools - Financial Literacy Curriculum

Sponsorship Type

Co-Sponsor

2
2

Bill/Chapter (Cross/Chapter)

Title

Public Safety - Permit to Carry, Wear, or Transport a Handgun - Qualifications

Sponsorship Type

Co-Sponsor

2
2

Bill/Chapter (Cross/Chapter)

Title

Inspector General for Education - Powers and Duties - Alterations (Accountability in Education Act of 2020)

Sponsorship Type

Co-Sponsor

2
2

Bill/Chapter (Cross/Chapter)

Title

United States Constitution - Amendments Convention - Congressional Term Limits Amendment

Sponsorship Type

Co-Sponsor

2
2

Bill/Chapter (Cross/Chapter)

Title

United States Constitution - Amendments Convention - Limitations on Federal Power

Sponsorship Type

Co-Sponsor

2
2
3
2
3
2
3
2
3
2
3
2
3
2
3
2
3
2
3
2
3
2
4
2
Bill/Chapter
(Cross/Chapter)
Title
Sponsorship Type
Sponsorship Type Sort
Chamber Sort
Current Status
Org Committees & Hearings
Opp Committees & Hearings
HB0233 /CH0119 (SB0212/CH0120)
Criminal Law – Assault in the First Degree – Strangulation
Primary
1
2
Enacted under Article II, Section 17(c) of the Maryland Constitution - Chapter 119

HB0246 /CH0128 (SB0231/CH0129)
Sexual Solicitation of a Minor – Solicitation Through Parent, Guardian, or Custodian – Prohibition and Penalties
Primary
1
2
Enacted under Article II, Section 17(c) of the Maryland Constitution - Chapter 128

HB0495
Criminal Procedure - Out of Court Statement of Child Victim - Neglect of a Minor
Primary
1
2
In the House - Hearing 2/06 at 1:00 p.m.

HB0705 (SB0218)
Crimes Involving Controlled Dangerous Substances - Penalties - Methamphetamine
Primary
1
2
In the House - Hearing 2/18 at 1:00 p.m.

HB0780 (SB0481)
Criminal Law - Crime of Violence - Vulnerable Adult
Primary
1
2
In the House - Hearing 2/25 at 1:00 p.m.

HB0831
Criminal Law - Attempt to Commit Second-Degree Murder - Penalty (Justice Reinvestment Act - Modification)
Primary
1
2
In the House - Hearing 2/25 at 1:00 p.m.

HB1071 (SB0696)
Public Health - Substance-Related Disorder Services (Maryland Patient Protection and Treatment Ethics Act)
Primary
1
2
In the House - Hearing 2/26 at 1:00 p.m.

HB1083 /CH0422 (SB0745)
Criminal Organizations – Penalties and Procedure
Primary
1
2
Enacted under Article II, Section 17(c) of the Maryland Constitution - Chapter 422

HB0005 /CH0021 (SB0161/CH0022)
Crimes - Hate Crimes - Use of an Item or a Symbol to Threaten or Intimidate
Co-Sponsor
2
2
Enacted under Article II, Section 17(c) of the Maryland Constitution - Chapter 21

HB0033 /CH0034 (SB0153)
Criminal Law - Abuse or Neglect of a Vulnerable Adult - Causing Severe Emotional Distress
Co-Sponsor
2
2
Enacted under Article II, Section 17(c) of the Maryland Constitution - Chapter 34

HB0156 (SB0295)
Agriculture - Cost-Sharing Program - Sale of Harvested Cover Crops
Co-Sponsor
2
2
In the House - Unfavorable Report by Environment and Transportation

HB0171 /CH0093 (SB0286)
Crimes Against Animals – Interference With Equines
Co-Sponsor
2
2
Enacted under Article II, Section 17(c) of the Maryland Constitution - Chapter 93

HB0200 /CH0106 (SB0859/CH0107)
Vehicle Laws - Registration Plate Frames and Borders - Enforcement
Co-Sponsor
2
2
Enacted under Article II, Section 17(c) of the Maryland Constitution - Chapter 106

HB0283 (SB0147)
Criminal Law - Kratom - Prohibition
Co-Sponsor
2
2
In the House - Hearing 2/04 at 1:00 p.m.

HB0352 (SB0029)
Criminal Law - Life-Threatening Injury Involving a Motor Vehicle or Vessel - Criminal Negligence (Wade's Law)
Co-Sponsor
2
2
In the House - Hearing 2/12 at 1:00 p.m.

HB0460
Department of Human Services - Child Abuse Prevention - Online Course
Co-Sponsor
2
2
In the Senate - Hearing canceled

HB0590 (SB0230)
Criminal Law – Sexual Crimes – Repeal of Spousal Defense (Love Is No Defense to Sexual Crimes)
Co-Sponsor
2
2
In the Senate - First Reading Judicial Proceedings

HB0764
Criminal Law - Law Enforcement Officers - Prohibition on Sexual Activity
Co-Sponsor
2
2
In the Senate - Hearing canceled

HB0802
Civil Actions - Civil Immunity - Educator Intervention in Student Violence (Good Teacher Protection Act)
Co-Sponsor
2
2
In the Senate - First Reading Judicial Proceedings

HB0820
Child Abuse and Neglect - Training of Health Care Professionals
Co-Sponsor
2
2
In the House - Hearing 2/20 at 1:00 p.m.

HB0847 /CH0341
State Coordinator for Autism Strategy and Advisory Stakeholder Group on Autism-Related Needs
Co-Sponsor
2
2
Enacted under Article II, Section 17(c) of the Maryland Constitution - Chapter 341

HB0898
Protective Body Armor Fund - Expansion - First Responders
Co-Sponsor
2
2
In the House - Hearing 2/25 at 1:00 p.m.

HB0907
University System of Maryland - Admissions - Notification of Potential Income
Co-Sponsor
2
2
In the House - Hearing 3/10 at 1:00 p.m.

HB0914 (SB0674)
Gun Theft Felony Act of 2020
Co-Sponsor
2
2
In the House - Hearing 3/04 at 1:00 p.m.

HB0917 /CH0367 (SB0606/CH0368)
Criminal Law - Hate Crimes - Basis (2nd Lieutenant Richard Collins, III's Law)
Co-Sponsor
2
2
Enacted under Article II, Section 17(c) of the Maryland Constitution - Chapter 367

HB0968
Regulated Firearms - Straw Purchase - Penalties
Co-Sponsor
2
2
In the House - Hearing 3/04 at 1:00 p.m.

HB1085 (SB0468)
Criminal Procedure - Appeals - Unlawful Possession of a Firearm
Co-Sponsor
2
2
In the House - Hearing 3/04 at 1:00 p.m.

HB1109 (SB0109)
Disabled Active Duty Service Members, Disabled Veterans, and Surviving Spouses - Exemption From Property Tax and Other Charges and Refunds
Co-Sponsor
2
2
In the House - Hearing 3/03 at 1:00 p.m.

HB1267
Public Safety – Handgun Permit – Church Property (Worshipper Protection Act of 2020)
Co-Sponsor
2
2
In the House - Hearing canceled

HB1278
Voice Over Internet Protocol - Robocalls - Customer Information
Co-Sponsor
2
2
In the House - Hearing 3/11 at 1:00 p.m.

HB1460
Congressional Districts - Standards (Anti-Gerrymandering of Maryland's Congressional Districts)
Co-Sponsor
2
2
In the House - Hearing 3/02 at 2:00 p.m.

HB1488 (SB0985)
Certified Local Farm Enterprise Program and Certified Local Farm Enterprise Food Aggregation Grant Fund - Establishment
Co-Sponsor
2
2
Vetoed by the Governor (Policy)

HB1491
Congressional Districts - Standards (Anti-Gerrymandering of Maryland's Congressional Districts)
Co-Sponsor
2
2
In the House - Hearing 3/02 at 2:00 p.m.

HB1495
Legislative Districts - Standards
Co-Sponsor
2
2
In the House - Hearing 3/02 at 2:00 p.m.

HB1499
Education - Public High Schools - Financial Literacy Curriculum
Co-Sponsor
2
2
In the House - Hearing 3/04 at 1:00 p.m.

HB1607
Public Safety - Permit to Carry, Wear, or Transport a Handgun - Qualifications
Co-Sponsor
2
2
In the House - First Reading House Rules and Executive Nominations

HB1644
Inspector General for Education - Powers and Duties - Alterations (Accountability in Education Act of 2020)
Co-Sponsor
2
2
In the House - Withdrawn by Sponsor

HJ0005
United States Constitution - Amendments Convention - Congressional Term Limits Amendment
Co-Sponsor
2
2
In the House - Hearing 3/02 at 2:00 p.m.

HJ0011
United States Constitution - Amendments Convention - Limitations on Federal Power
Co-Sponsor
2
2
In the House - Hearing 3/02 at 2:00 p.m.

HB0338 (SB0276)
Building Opportunity Act of 2020
By Request - Administration
3
2
In the House - Hearing canceled

HB0341 (SB0266)
Redistricting Reform Act of 2020 – Constitutional Amendment
By Request - Administration
3
2
In the House - Hearing 3/02 at 2:00 p.m.

HB0342 (SB0278)
Retirement Tax Reduction Act of 2020
By Request - Administration
3
2
In the House - Hearing 2/14 at 1:00 p.m.

HB0346 (SB0284)
Redistricting Reform Act of 2020
By Request - Administration
3
2
In the House - Hearing 3/02 at 2:00 p.m.

HB0349 /CH0176 (SB0280/CH0177)
Occupational and Professional Licensing - Service Members, Veterans, and Military Spouses - Revisions to Reciprocity Requirements
By Request - Administration
3
2
Enacted under Article II, Section 17(c) of the Maryland Constitution - Chapter 176

HB0350 (SB0269)
Income Tax Subtraction Modification - Correctional Officers, Law Enforcement Officers, and Fire, Rescue, and Emergency Services Personnel (Hometown Heroes Act)
By Request - Administration
3
2
In the House - Hearing 2/14 at 1:00 p.m.

HB0357 (SB0271)
Crimes - Victim and Witness Intimidation - Penalties and Procedures
By Request - Administration
3
2
In the House - Hearing 2/04 at 1:00 p.m.

HB0360 (SB0283)
Ethics and Accountability in Government Act
By Request - Administration
3
2
In the House - Hearing 3/03 at 1:00 p.m. (Environment and Transportation)

HB0361 (SB0279)
Income Tax - Subtraction Modification - Military Retirement Income
By Request - Administration
3
2
In the House - Hearing 2/14 at 1:00 p.m.

HB0362 /CH0180 (SB0282/CH0181)
Maryland National Guard - Tuition Assistance Program - Modifications
By Request - Administration
3
2
Enacted under Article II, Section 17(c) of the Maryland Constitution - Chapter 180

HB0206 /CH0108 (SB0207/CH0109)
Unaccompanied Minors in Need of Shelter and Supportive Services
By Request - Committee
4
2
Enacted under Article II, Section 17(c) of the Maryland Constitution - Chapter 108
Denotes enacted legislation
Legislative Bond Initiatives
Project Name

Status

Introduced in House

House Sponsors

Senate Sponsors

County

Frederick

Amount Requested

$250,000

Senate Initiative

House Initiative

Other Funding

Total Funding

$0
| Project Name | Status | House Sponsors | Senate Sponsors | County | Amount Requested | Senate Initiative | House Initiative | Other Funding | Total Funding |
| --- | --- | --- | --- | --- | --- | --- | --- | --- | --- |
| Mount Airy Center Street | Introduced | | | Carroll | $500,000 | $500,000 | | | $500,000 |
| Brunswick Emergency Operations Center | Introduced | | | Frederick | $476,000 | $476,000 | | | $476,000 |
| Brunswick Reservoir Site Infrastructure | Introduced | | | Frederick | $500,000 | $500,000 | | | $500,000 |
| Emmitsburg Bridge | Introduced in House | | | Frederick | $250,000 | | | | $0 |
| Middletown Downtown Core Economic Revitalization | Introduced | | | Frederick | $203,000 | $203,000 | | | $203,000 |
| Museum of the Ironworker | Introduced | | | Frederick | $50,000 | | $50,000 | | $50,000 |
| Shafer Farm House | Introduced | | | Frederick | $100,000 | $100,000 | | | $100,000 |
| Town of New Market Stormwater Infrastructure | Introduced | | | Frederick | $171,000 | | | $171,000 | $171,000 |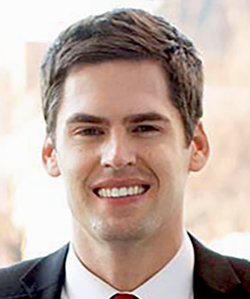 Tenure

First elected to the Maryland House of Delegates in 2018. Member of the House since January 9, 2019.
Current Assignments

2019 Judiciary Committee

2019 Juvenile Law Subcommittee of the Judiciary Committee

2019 Publilc Safety Subcommittee of the Judiciary Committee

2019 Juvenile Justice Reform Council

2020 Chair, Frederick County Delegation (Member, 2019)

2019 Maryland Veterans Caucus

2019 Secretary, Maryland Legislative Latino Caucus
Public Service

Social-Emotional Learning Task Force, 2019-; Task Force to Study Maryland's Criminal Gang Statutes, 2019-; Chair, Board of License Commissioners for Frederick County, 2016-2018; Chairman, Frederick County Young Republicans, 2015-2017.
Memberships

Sportsmen's Caucus, 2019-; Maryland Farm Bureau.
Biographical Information

Born, August 6, 1982; Christopher Newport University, B.A., (political science), 2004; University of Maryland Francis King Carey School of Law; Married; two children.
Last Updated: 7/8/2020 1:58 PM