Senator Michael A. Jackson
District

27

County

Prince George's, Charles and Calvert

Committee Assignment(s)

Judicial Proceedings Committee


Annapolis Info

3 West Miller Senate Office Building
11 Bladen Street
Annapolis, MD 21401
Phone 410-841-3700 | 301-858-3700
Toll-free in MD 1-800-492-7122 ext. 3700

Interim Info

3 West Miller Senate Office Building
11 Bladen Street
Annapolis, MD 21401
Phone 410-841-3700 | 410-858-3700

Contact

Party

Democrat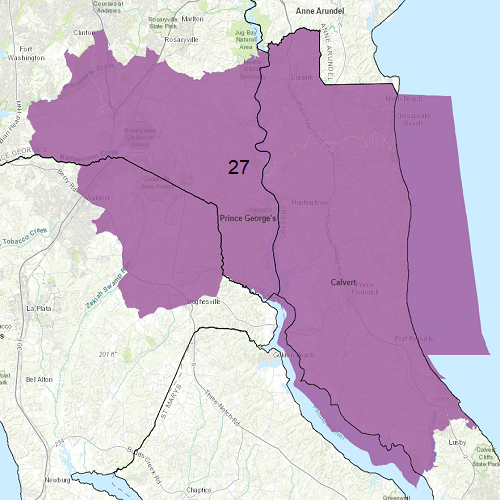 Legislation
Sponsorship Type Sort
Chamber Sort
1
2

Bill/Chapter (Cross/Chapter)

Title

Public Safety – Maryland Police Training and Standards Commission

Sponsorship Type

Primary

1
2

Bill/Chapter (Cross/Chapter)

Title

Income Tax - Subtraction Modification - Volunteer Fire, Rescue, and Emergency Medical Services

Sponsorship Type

Primary

1
2
1
2
1
2
1
2

Bill/Chapter (Cross/Chapter)

Title

Courts - Prosecution for Election Law Violations - Limitation

Sponsorship Type

Primary

1
2
1
2

Bill/Chapter (Cross/Chapter)

Title

General Provisions – Commemorative Days – Overdose Awareness Day

Sponsorship Type

Primary

1
2

Bill/Chapter (Cross/Chapter)

Title

Real Property – Satisfaction of a Mortgage – Required Homeowner's Insurance (Cassidy's Law)

Sponsorship Type

Primary

1
2
1
2
2
2
2
2
2
2
2
2
2
2
2
2
2
2
2
2
2
2
2
2
2
2
2
2

Bill/Chapter (Cross/Chapter)

Title

Workgroup to Study and Implement a Statewide 3-1-1 Nonemergency Telephone System

Sponsorship Type

Co-Sponsor

2
2

Bill/Chapter (Cross/Chapter)

Title

9–1–1 Board – Procurement Reform

Sponsorship Type

Co-Sponsor

2
2
2
2
2
2
2
2
2
2
2
2
2
2

Bill/Chapter (Cross/Chapter)

Title

Statewide Transit Plan – Western Maryland MARC Rail Extension Study

Sponsorship Type

Co-Sponsor

2
2

Bill/Chapter (Cross/Chapter)

Title

Real Property – Residential Leases – Fee in Lieu of Security Deposit

Sponsorship Type

Co-Sponsor

2
2
3
2
4
2
6
2
Bill/Chapter
(Cross/Chapter)
Title
Sponsorship Type
Sponsorship Type Sort
Chamber Sort
Current Status
Org Committees & Hearings
Opp Committees & Hearings
SB0607 /CH0179 (HB0234/CH0178)
Criminal Law - Harm to Service Animals
Primary
1
2
Approved by the Governor - Chapter 179

SB0608
Public Safety – Maryland Police Training and Standards Commission
Primary
1
2
In the House - Hearing 3/30 at 1:30 p.m.

SB0872
Income Tax - Subtraction Modification - Volunteer Fire, Rescue, and Emergency Medical Services
Primary
1
2
In the Senate - Hearing 3/03 at 1:00 p.m.

SB0874 /CH0377 (HB0882/CH0376)
Workgroup to Study Partial Expungement
Primary
1
2
Enacted under Article II, Section 17(c) of the Maryland Constitution - Chapter 377

SB0875 (HB1028)
Juvenile Law - Dispositions - Placement Guidance
Primary
1
2
In the Senate - Withdrawn by Sponsor

SB0876 (HB0338)
Business Regulation - Innkeepers - Records and Human Trafficking Awareness Training
Primary
1
2
In the Senate - Hearing 2/18 at 1:00 p.m.

SB0918
Courts - Prosecution for Election Law Violations - Limitation
Primary
1
2
In the Senate - Hearing 3/10 at 12:00 p.m. (Judicial Proceedings)

SB0931 /CH0585
Prince George's County - School Facilities and Public Safety Surcharges and Report - Sunset Extension and Report
Primary
1
2
Enacted under Article II, Section 17(c) of the Maryland Constitution - Chapter 585

SB0936
General Provisions – Commemorative Days – Overdose Awareness Day
Primary
1
2
In the Senate - Hearing 3/16 at 1:00 p.m.

SB0962
Real Property – Satisfaction of a Mortgage – Required Homeowner's Insurance (Cassidy's Law)
Primary
1
2
In the Senate - Hearing 3/30 at 1:00 p.m.

SB0967 (HB0050)
Landlord and Tenant - Residential Leases - Tenant Rights and Protections (Tenant Protection Act of 2021)
Primary
1
2
In the Senate - First Reading Senate Rules

SB0001 /CH0042 (HB0001/CH0041)
Historically Black Colleges and Universities - Funding
Co-Sponsor
2
2
Approved by the Governor - Chapter 42

SB0007 /CH0182 (HB0186/CH0181)
Courts - Court Dog Program - Veterans Treatment Courts
Co-Sponsor
2
2
Approved by the Governor - Chapter 182

SB0014 /CH0076 (HB0742/CH0077)
Compensation to Individual Erroneously Convicted, Sentenced, and Confined (The Walter Lomax Act)
Co-Sponsor
2
2
Approved by the Governor - Chapter 76

SB0051 /CH0276 (HB0639/CH0275)
Tri-County Council for Southern Maryland - Property Management - Southern Maryland Regional Agricultural Center
Co-Sponsor
2
2
Approved by the Governor - Chapter 276

SB0071 /CH0060
Maryland Police Accountability Act of 2021 - Body-Worn Cameras, Employee Programs, and Use of Force
Co-Sponsor
2
2
Gubernatorial Veto Override - Chapter 60

SB0074 (HB0088)
Maryland Police Accountability Act of 2021 - Employee Assistance Programs and Early Intervention Programs
Co-Sponsor
2
2
In the House - Third Reading Passed with Amendments (134-0)

SB0154 (HB0018/CH0746)
Landlord and Tenant - Residential Tenants - Access to Counsel
Co-Sponsor
2
2
In the House - First Reading House Rules and Executive Nominations

SB0159 /CH0227 (HB0281/CH0226)
Local Government - Humane Society and Animal Control Officers - Education and Training Requirements
Co-Sponsor
2
2
Approved by the Governor - Chapter 227

SB0234 (HB0023)
Personal Information - State and Local Agencies - Restrictions on Access (Maryland Driver Privacy Act)
Co-Sponsor
2
2
In the House - First Reading House Rules and Executive Nominations

SB0327 /CH0311
Civil Actions - Financial Exploitation of Susceptible Adults and Older Adults (Maryland SAFE Act)
Co-Sponsor
2
2
Approved by the Governor - Chapter 311

SB0486 (HB0581/CH0736)
Labor and Employment - Employment Standards During an Emergency (Maryland Essential Workers' Protection Act)
Co-Sponsor
2
2
In the Senate - Hearing 2/11 at 1:00 p.m.

SB0494 /CH0061 (HB0409)
Juveniles Convicted as Adults - Sentencing - Limitations and Reduction (Juvenile Restoration Act)
Co-Sponsor
2
2
Gubernatorial Veto Override - Chapter 61

SB0631
Workgroup to Study and Implement a Statewide 3-1-1 Nonemergency Telephone System
Co-Sponsor
2
2
In the House - Hearing 3/31 at 1:30 p.m.

SB0645
9–1–1 Board – Procurement Reform
Co-Sponsor
2
2
In the Senate - Hearing 2/17 at 1:30 p.m.

SB0649 (HB1348)
Procurement - MBE Program Compliance Review and Oversight
Co-Sponsor
2
2
In the House - Conference Committee Appointed

SB0658 /CH0288 (HB0990/CH0287)
Maryland Department of Emergency Management - Establishment and Transfer of Maryland 9-1-1 Board
Co-Sponsor
2
2
Approved by the Governor - Chapter 288

SB0674 /CH0635 (HB1207/CH0634)
Environment - Commission on Environmental Justice and Sustainable Communities - Reform
Co-Sponsor
2
2
Enacted under Article II, Section 17(c) of the Maryland Constitution - Chapter 635

SB0714 /CH0379 (HB0989/CH0378)
Public Safety - 9-1-1 Emergency Telephone System - Alterations
Co-Sponsor
2
2
Enacted under Article II, Section 17(c) of the Maryland Constitution - Chapter 379

SB0746 (HB0894)
Education - Community Colleges - Collective Bargaining
Co-Sponsor
2
2
Vetoed by the Governor (Policy)

SB0777 /CH0495 (HB1349/CH0494)
Public Health - Maryland Prenatal and Infant Care Grant Program Fund
Co-Sponsor
2
2
Enacted under Article II, Section 17(c) of the Maryland Constitution - Chapter 495

SB0869
Statewide Transit Plan – Western Maryland MARC Rail Extension Study
Co-Sponsor
2
2
In the Senate - Hearing 3/10 at 1:00 p.m.

SB0892
Real Property – Residential Leases – Fee in Lieu of Security Deposit
Co-Sponsor
2
2
In the Senate - Referred to interim study by Judicial Proceedings

SB0496 /CH0039 (HB0612)
Recovery for the Economy, Livelihoods, Industries, Entrepreneurs, and Families (RELIEF) Act
By Request - Administration
3
2
Approved by the Governor - Chapter 39

SB0873 (HB1129)
Department of Information Technology - State and Local Government Employees and Contractors - Cybersecurity Training
By Request - Committee
4
2
In the Senate - Hearing 3/02 at 1:00 p.m.

SB0642 /CH0422 (HB0922/CH0421)
State Retirement and Pension System - COVID-19-Related Death Benefits - Clarification
By Request - Other
6
2
Enacted under Article II, Section 17(c) of the Maryland Constitution - Chapter 422
Denotes enacted legislation
Legislative Bond Initiatives
Project Name

Status

Introduced in Senate

House Sponsors

Senate Sponsors

County

Calvert

Amount Requested

$300,000

House Initiative

Senate Initiative

$300,000

Other Funding

Total Funding

$300,000
Project Name

Status

Introduced

House Sponsors

Senate Sponsors

County

Prince George's

Amount Requested

$500,000

House Initiative

Senate Initiative

$500,000

Other Funding

Total Funding

$500,000
Project Name

Status

Introduced

House Sponsors

Senate Sponsors

County

Prince George's

Amount Requested

$250,000

House Initiative

Senate Initiative

$450,000

Other Funding

Total Funding

$450,000
Tenure

Member of the Maryland Senate since January 13, 2021. Member of the Maryland House of Delegates 2015-2021.
Current Assignments

2021 Judicial Proceedings Committee

2015 Legislative Black Caucus of Maryland
Public Service

Workgroup to Study Partial Expungement, 2021-; Southern Maryland Agricultural Development Commission, 2019-; Tri-County Council for Southern Maryland, 2015-.
Memberships

National Sheriffs' Association; American Legion Post no 275.
Awards

Law Enforcement Person of the Year, Maryland Network Against Domestic Violence, 2007; Allied Profession Award, Congressional Victims' Rights Caucus, 2008.
Biographical Information

Born, Cheverly, Maryland, March 29, 1964; Attended Crossland High School, Temple Hills, Maryland, 1982; DeVry Institution of Technology, B.S. Electronic Engineering/Technical Management, 1986; U.S. Marine Corps Reserves, 1982-1985; Johns Hopkins University, M.S., Police Executive Leadership Program; University of Maryland University College, Adjunct Associate Professor, Business and Applied Profession Programs, 2007 -; DeVry University, Adjunct Associate Professor, Business and Management, 2009 -; Sheriff, Prince George's County, 2002-2010; Director, Executive Development Institute, Department of Public Safety and Correctional Services, 2011-2014; Special Assistant for Homeland Security, Prince George's County, 2014 -; Married; one child.
Last Updated: 6/21/2021 5:04 PM