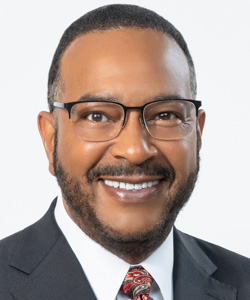 District

26

County

Prince George's

Committee Assignment(s)

Rules Committee (Vice Chair)
Judicial Proceedings Committee


Annapolis Info

220 James Senate Office Building
11 Bladen Street
Annapolis, MD 21401
Phone 410-841-3092 | 301-858-3092
Toll-free in MD 1-800-492-7122 ext. 3092

Interim Info

220 James Senate Office Building
11 Bladen Street
Annapolis, MD 21401
Phone 410-841-3092 | 301-858-3092

Contact

Party

Democrat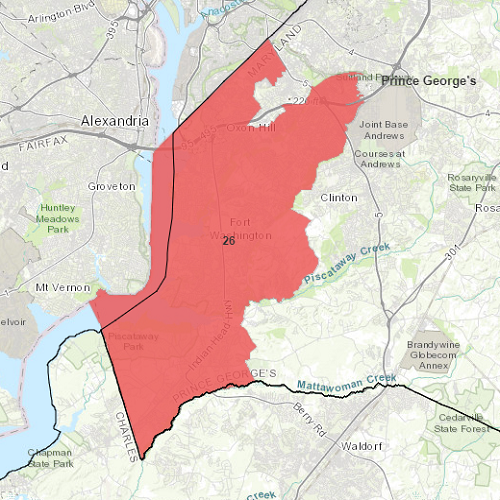 Legislation
Sponsorship Type Sort
Chamber Sort
1
2
1
2
1
2
1
2

Bill/Chapter (Cross/Chapter)

Title

Criminal Procedure – Incompetency to Stand Trial – Dismissal of Charges and Victims' Rights

Sponsorship Type

Primary

1
2
1
2
1
2
1
2

Bill/Chapter (Cross/Chapter)

Title

Criminal Law - Maryland RICO (Racketeer Influenced and Corrupt Organizations) Act

Sponsorship Type

Primary

1
2
1
2
1
2
1
2

Bill/Chapter (Cross/Chapter)

Title

Prince George's County – Workgroup on Health and Wellness

Sponsorship Type

Primary

1
2

Bill/Chapter (Cross/Chapter)

Title

Public Safety - Statewide DNA Database System, DNA Collection, and Penalties - Alterations

Sponsorship Type

Primary

1
2
2
2
2
2
2
2
2
2
2
2
2
2
2
2
2
2

Bill/Chapter (Cross/Chapter)

Title

Public High Schools – Financial Literacy – Curriculum, Graduation Requirement, and Professional Development

Sponsorship Type

Co-Sponsor

2
2
2
2
2
2
2
2
2
2
2
2
2
2
2
2
2
2
2
2
2
2
2
2

Bill/Chapter (Cross/Chapter)

Title

Healthy Working Families Act - Railroad Employees - Unpaid Leave

Sponsorship Type

Co-Sponsor

2
2

Bill/Chapter (Cross/Chapter)

Title

Workgroup on the Maryland 529 Prepaid College Trust Program

Sponsorship Type

Co-Sponsor

2
2
2
2
2
2
2
2
2
2
2
2
2
2
2
2
2
2

Bill/Chapter (Cross/Chapter)

Title

State Retirement and Pension System - Investment Committee - Use of Minority Business Enterprises

Sponsorship Type

Co-Sponsor

2
2
2
2

Bill/Chapter (Cross/Chapter)

Title

Transportation - Study on Speed Limits - Interstate 495 and Connected Highways

Sponsorship Type

Co-Sponsor

2
2
2
2

Bill/Chapter (Cross/Chapter)

Title

Temporary Medicare Advantage Stabilization Grant Program and Fund - Establishment

Sponsorship Type

Co-Sponsor

2
2
2
2
3
2
3
2
3
2
3
2
3
2
3
2
3
2
Bill/Chapter
(Cross/Chapter)
Title
Sponsorship Type
Sponsorship Type Sort
Chamber Sort
Current Status
Org Committees & Hearings
Opp Committees & Hearings
SB0503 (HB0762)
Criminal Procedure - Child Advocacy Centers - Care Providers
Primary
1
2
In the Senate - Hearing 3/08 at 1:00 p.m.

SB0504 (HB0684)
Landlord and Tenant - Residential Leases and Holdover Tenancies - Local Just Cause Termination Provisions
Primary
1
2
In the Senate - Hearing 3/07 at 1:00 p.m.

SB0505 (HB0660)
Criminal Procedure - Expungement and Shielding - Probation Before Judgment for Driving While Impaired or Under the Influence
Primary
1
2
In the House - Third Reading Passed with Amendments (103-35)

SB0506 /CH0210 (HB0825/CH0209)
Town of Forest Heights (Prince George's County) - Urban Renewal Authority for Blight Clearance
Primary
1
2
Approved by the Governor - Chapter 210

SB0507
Criminal Procedure – Incompetency to Stand Trial – Dismissal of Charges and Victims' Rights
Primary
1
2
In the House - Hearing 4/04 at 1:00 p.m.

SB0544 (HB0746)
Criminal Procedure – Expungement of Records – Waiting Period
Primary
1
2
In the Senate - Hearing 3/09 at 1:00 p.m.

SB0545 /CH0803
Towing or Removal of Vehicles - Reclamation Hours
Primary
1
2
Enacted under Article II, Section 17(c) of the Maryland Constitution - Chapter 803

SB0546 /CH0718 (HB0427/CH0717)
Criminal Procedure - Medical Emergency - Immunity
Primary
1
2
Approved by the Governor - Chapter 718

SB0606
Criminal Law - Maryland RICO (Racketeer Influenced and Corrupt Organizations) Act
Primary
1
2
In the Senate - Hearing 3/14 at 1:00 p.m.

SB0755 (HB0748)
Law Enforcement Officers - Sexual Contact With Person in Custody - Penalty
Primary
1
2
In the Senate - Hearing 3/14 at 1:00 p.m.

SB0932 (HB0871)
Declaration of Rights - Religious Freedom, Religious Tests, and Oaths and Affirmations
Primary
1
2
In the Senate - First Reading Senate Rules

SB0940 /CH0279 (HB0456/CH0280)
State Board of Pharmacy - Accessible Prescription Labels, Bag Tags, and Medical Guides for Blind, Visually Impaired, and Print Disabled Individuals - Regulations
Primary
1
2
Approved by the Governor - Chapter 279

SB0966
Prince George's County – Workgroup on Health and Wellness
Primary
1
2
In the House - Rereferred to Health and Government Operations

SB0967
Public Safety - Statewide DNA Database System, DNA Collection, and Penalties - Alterations
Primary
1
2
In the Senate - Hearing 3/21 at 1:00 p.m.

SB0001 /CH0680
Criminal Law - Wearing, Carrying, or Transporting Firearms - Restrictions (Gun Safety Act of 2023)
Co-Sponsor
2
2
Approved by the Governor - Chapter 680

SB0104 /CH0168
Labor and Employment - Apprenticeship 2030 Commission and Representation on the Apprenticeship and Training Council
Co-Sponsor
2
2
Approved by the Governor - Chapter 168

SB0148 /CH0626 (HB0186/CH0625)
Victim Services Programs - Supplementing Federal Funding and Support (Victim Services Stabilization Act)
Co-Sponsor
2
2
Approved by the Governor - Chapter 626

SB0173 /CH0685 (HB0189/CH0684)
Automatic Expungement - Clarification
Co-Sponsor
2
2
Approved by the Governor - Chapter 685

SB0185 /CH0624 (HB0003/CH0623)
Maryland State Police Gun Center - Firearms Surrendered Under Final Protective Orders
Co-Sponsor
2
2
Approved by the Governor - Chapter 624

SB0188 /CH0361 (HB0302/CH0360)
Public Health - Rare Disease Advisory Council
Co-Sponsor
2
2
Approved by the Governor - Chapter 361

SB0211 /CH0711 (HB0193/CH0710)
Probation Before Judgment – Probation Agreements
Co-Sponsor
2
2
Approved by the Governor - Chapter 711

SB0229 (HB1130)
Vehicle Laws - Noise Abatement Monitoring Systems - Authorization, Use, and Penalties
Co-Sponsor
2
2
In the House - Hearing 3/30 at 1:00 p.m.

SB0238
Public High Schools – Financial Literacy – Curriculum, Graduation Requirement, and Professional Development
Co-Sponsor
2
2
In the Senate - Hearing 2/08 at 1:00 p.m.

SB0247 (HB0275)
State Personnel – Collective Bargaining – Faculty, Part–Time Faculty, and Graduate Assistants
Co-Sponsor
2
2
In the Senate - Hearing 2/16 at 1:00 p.m.

SB0270 (HB0142)
More Local Tax Relief for Working Families Act of 2023
Co-Sponsor
2
2
In the Senate - Hearing 2/08 at 1:00 p.m.

SB0273 /CH0494 (HB1228)
National Capital Strategic Economic Development Fund - Annual Appropriation and Authorized Uses
Co-Sponsor
2
2
Approved by the Governor - Chapter 494

SB0289 /CH0733 (HB0372/CH0734)
Higher Education - Veterans of the Afghanistan and Iraq Conflicts Scholarship - Altering Name of Scholarship
Co-Sponsor
2
2
Approved by the Governor - Chapter 733

SB0348 (HB0369)
Education - State Library Resource Center - Funding
Co-Sponsor
2
2
In the House - Hearing 3/22 at 1:00 p.m.

SB0352 (HB0065)
Education - Public Libraries - Collective Bargaining
Co-Sponsor
2
2
In the Senate - Hearing 2/16 at 1:00 p.m. (Finance) and Hearing canceled (Education, Energy, and the Environment)

SB0354 /CH0617 (HB0316/CH0618)
Income Tax Checkoff - Maryland Veterans Trust Fund
Co-Sponsor
2
2
Approved by the Governor - Chapter 617

SB0379 /CH0152 (HB0535/CH0151)
Election Law - Ballot Issuance, Processing, and Reporting Procedures and 2024 Primary Date
Co-Sponsor
2
2
Approved by the Governor - Chapter 152

SB0390 /CH0589 (HB0325/CH0588)
Provision of Veterinary Services - Practice of Veterinary Medicine and Rabies Vaccines
Co-Sponsor
2
2
Approved by the Governor - Chapter 589

SB0400 (HB0264)
Places of Public Accommodation - Motion Picture Houses - Captioning
Co-Sponsor
2
2
In the Senate - Referred to interim study by Judicial Proceedings

SB0452 /CH0434
Film Production Activity Income Tax Credit - Alterations and Maryland Entertainment Council
Co-Sponsor
2
2
Approved by the Governor - Chapter 434

SB0456
Healthy Working Families Act - Railroad Employees - Unpaid Leave
Co-Sponsor
2
2
In the Senate - Hearing 3/02 at 1:00 p.m.

SB0475
Workgroup on the Maryland 529 Prepaid College Trust Program
Co-Sponsor
2
2
In the Senate - Hearing 2/22 at 1:00 p.m.

SB0478 /CH0012 (HB0339/CH0011)
Maryland Lynching Truth and Reconciliation Commission - Reporting and Sunset Extension
Co-Sponsor
2
2
Approved by the Governor - Chapter 12

SB0482 (HB0488)
Janet L. Hoffman Loan Assistance Repayment Program - Mental Health Professionals in Public Schools
Co-Sponsor
2
2
In the House - Hearing 3/29 at 1:00 p.m. (Ways and Means) and Hearing canceled (Appropriations)

SB0514 /CH0205
Local Procurements - Minority Business Enterprise Utilization Programs - Certification
Co-Sponsor
2
2
Approved by the Governor - Chapter 205

SB0624 /CH0307 (HB1074/CH0306)
Income Tax - Automated External Defibrillator Tax Credit (Joe Sheya Act)
Co-Sponsor
2
2
Approved by the Governor - Chapter 307

SB0838 (HB1261)
Workplace Fraud and Prevailing Wage - Violations - Referrals
Co-Sponsor
2
2
In the House - Hearing 3/28 at 1:00 p.m.

SB0867 (HB0652)
Vehicle Laws – Special and Commemorative Registration Plate – Maryland Heroes
Co-Sponsor
2
2
In the House - First Reading Environment and Transportation

SB0941 (HB1057)
Correctional Services – Inmates – Labor, Job Training, and Educational Courses
Co-Sponsor
2
2
In the Senate - Hearing 3/21 at 1:00 p.m.

SB0942 (HB0059)
Health and Wellness Standards - Correctional Facilities
Co-Sponsor
2
2
In the Senate - Hearing 3/21 at 1:00 p.m.

SB0958
State Retirement and Pension System - Investment Committee - Use of Minority Business Enterprises
Co-Sponsor
2
2
In the Senate - Withdrawn by Sponsor

SB0959 /CH0113 (HB1290)
Higher Education - Maryland 529 Program - Reform
Co-Sponsor
2
2
Approved by the Governor - Chapter 113

SB0963
Transportation - Study on Speed Limits - Interstate 495 and Connected Highways
Co-Sponsor
2
2
In the Senate - Hearing 3/21 at 1:00 p.m.

SB0964 (HB1163)
Human Relations - Protections Against Discrimination - Criminal Records
Co-Sponsor
2
2
In the Senate - First Reading Senate Rules

SB0972
Temporary Medicare Advantage Stabilization Grant Program and Fund - Establishment
Co-Sponsor
2
2
In the Senate - First Reading Senate Rules

SB0974 /CH0106 (HB1301)
State-Owned Nursing Homes - Deficiencies, Citations, and Fines - Contractor Reporting Requirements
Co-Sponsor
2
2
Approved by the Governor - Chapter 106

SB0547 (HB0551/CH0440)
Office of Statewide Broadband - Study of Broadband Expansion Incentives
By Request - Administration
3
2
In the House - First Reading House Rules and Executive Nominations

SB0548 (HB0550/CH0098)
Maryland Energy Administration - Energy Programs - Modifications (Clean Transportation and Energy Act)
By Request - Administration
3
2
In the Senate - Hearing 2/28 at 1:00 p.m. (Education, Energy, and the Environment)

SB0549 /CH0431 (HB0552/CH0430)
Economic Development – Build Our Future Grant Pilot Program and Fund (Innovation Economy Infrastructure Act of 2023)
By Request - Administration
3
2
Approved by the Governor - Chapter 431

SB0550 /CH0433 (HB0548/CH0432)
Financial Regulation - Maryland Community Investment Venture Fund - Establishment (Access to Banking Act)
By Request - Administration
3
2
Approved by the Governor - Chapter 433

SB0551 /CH0099 (HB0546)
Department of Service and Civic Innovation and Maryland Corps Program Service Year Option Pathways - Established (Serving Every Region Through Vocational Exploration Act of 2023)
By Request - Administration
3
2
Approved by the Governor - Chapter 99

SB0554 /CH0612 (HB0553)
Maryland National Guard - Tricare Premium Reimbursement Program - Establishment (Health Care for Heroes Act of 2023)
By Request - Administration
3
2
Approved by the Governor - Chapter 612

SB0555 /CH0002 (HB0549)
Fair Wage Act of 2023
By Request - Administration
3
2
Approved by the Governor - Chapter 2
Denotes enacted legislation
Legislative Bond Initiatives
Project Name

Status

Introduced

House Sponsors

Senate Sponsors

County

Prince George's

Amount Requested

$75,000

Senate Initiative

House Initiative

Other Funding

Total Funding

$0
Project Name

Status

Withdrawn

House Sponsors

Senate Sponsors

County

Prince George's

Amount Requested

$100,000

Senate Initiative

House Initiative

Other Funding

Total Funding

$0
Project Name

Status

Introduced in Senate

House Sponsors

Senate Sponsors

County

Prince George's

Amount Requested

$250,000

Senate Initiative

House Initiative

$250,000

Other Funding

Total Funding

$250,000
Project Name

Status

Introduced in Senate

House Sponsors

Senate Sponsors

County

Prince George's

Amount Requested

$200,000

Senate Initiative

House Initiative

Other Funding

Total Funding

$0
Project Name

Status

Introduced

House Sponsors

Senate Sponsors

County

Prince George's

Amount Requested

$500,000

Senate Initiative

House Initiative

Other Funding

$50,000

Total Funding

$50,000
Project Name

Status

Introduced in Senate

House Sponsors

Senate Sponsors

County

Prince George's

Amount Requested

$200,000

Senate Initiative

House Initiative

Other Funding

$200,000

Total Funding

$200,000
Project Name

Status

Introduced in Senate

House Sponsors

Senate Sponsors

County

Prince George's

Amount Requested

$600,000

Senate Initiative

House Initiative

Other Funding

$400,000

Total Funding

$400,000
| Project Name | Status | House Sponsors | Senate Sponsors | County | Amount Requested | Senate Initiative | House Initiative | Other Funding | Total Funding |
| --- | --- | --- | --- | --- | --- | --- | --- | --- | --- |
| Camp Springs Elks Lodge No 2332 - Outdoor Pavilion | Introduced | | | Prince George's | $75,000 | | | | $0 |
| Enriching Cultural Awareness | Withdrawn | | | Prince George's | $100,000 | | | | $0 |
| First Class Sports Academy | Introduced in Senate | | | Prince George's | $250,000 | | $250,000 | | $250,000 |
| Forest Heights Police and Safety Center | Introduced in Senate | | | Prince George's | $200,000 | | | | $0 |
| Ivy VINE | Introduced | | | Prince George's | $500,000 | | | $50,000 | $50,000 |
| Pillars of Faith Holy Church | Introduced in Senate | | | Prince George's | $200,000 | | | $200,000 | $200,000 |
| The Bowie - Mitchellville MD Diamond Foundation Center | Introduced in Senate | | | Prince George's | $600,000 | | | $400,000 | $400,000 |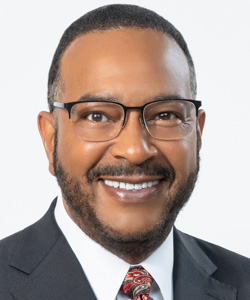 Tenure

Elected to the Maryland Senate in November 2022. Member of the Senate since January 11, 2023. Member of the Senate 2007-2019.
Current Assignments

2023 Vice Chair, Rules Committee

2023 Judicial Proceedings Committee

2023 Joint Committee on Administrative, Executive, and Legislative Review (AELR)

2023 Joint Committee on Federal Relations

2023 Legislative Black Caucus of Maryland
Public Service

State Council on Child Abuse and Neglect, 2023-.
Memberships

South County Economic Development Association; Prince Georges' Community Ministries; Southern Maryland Ministers Alliance.
Awards

Outstanding Citizen Award, Baltimore County Chapter, National Association for the Advancement of Colored People (NAACP); Community Service Award, Howard County Council; Community Service Award, Baltimore County Executive.
Biographical Information

Born April 17, 1958 in Baltimore, Maryland; Morgan State University, B.A., History, 1981; Wesley Theological Seminary, M.Div., 1984; Howard University, Doctor of Ministry, Church and Community Development, 1991; Founder and Senior Pastor, Ark of Safety Christian Church, Upper Marlboro; Former Senior Pastor, Gibbons United Methodist Church, Brandywine, Maryland; Former Pastor, Mt. Zion United Methodist Church Ellicott City, Maryland; Mt. Olivet United Methodist Church, Catonsville, Maryland; Youth Program Coordinator, Washington East District, Baltimore-Washington Area Methodist Conference; Teacher and Lecturer, United Methodist School of Christian Growth; Married.
Last Updated: 11/1/2023 8:51 AM