District

37

County

Caroline, Dorchester, Talbot, and Wicomico

Committee Assignment(s)

Finance Committee


Annapolis Info

402 James Senate Office Building
11 Bladen Street
Annapolis, MD 21401
Phone 410-841-3590 | 301-858-3590
Toll-free in MD 1-800-492-7122 ext. 3590

Interim Info

8695 Commerce Dr.
Easton, MD 21601
Phone 410-829-2524

Contact

Party

Republican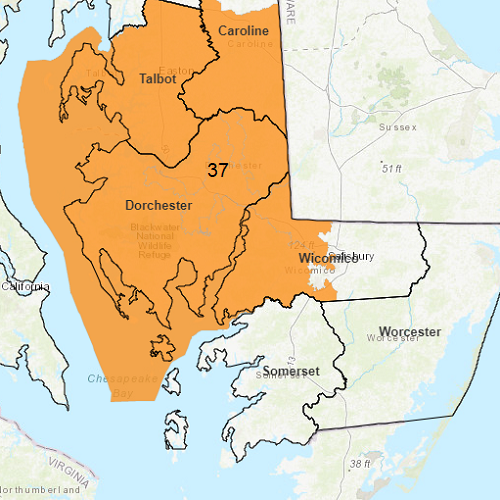 Legislation
Sponsorship Type Sort
Chamber Sort
1
2
1
2
1
2
1
2

Bill/Chapter (Cross/Chapter)

Title

State Employee and Retiree Health and Welfare Benefits Program - BWI Airport Fire and Rescue Department - Employees and Dependents

Sponsorship Type

Primary

1
2

Bill/Chapter (Cross/Chapter)

Title

Employees' Pension System - Purchase of Service

Sponsorship Type

Primary

1
2
1
2
1
2
1
2
1
2

Bill/Chapter (Cross/Chapter)

Title

Natural Resources - Submerged Aquatic Vegetation Protection Zones - Aerial Surveys

Sponsorship Type

Primary

1
2

Bill/Chapter (Cross/Chapter)

Title

Private Wetlands - Structural Shoreline Stabilization Measures - Authorization

Sponsorship Type

Primary

1
2
1
2
1
2
1
2
1
2

Bill/Chapter (Cross/Chapter)

Title

Law Enforcement - Police Officer Employee Assistance Programs - Confidentiality

Sponsorship Type

Primary

1
2

Bill/Chapter (Cross/Chapter)

Title

Law Enforcement Officers' Pension System – Membership – Emergency Medical Technicians and Emergency Medical Dispatchers

Sponsorship Type

Primary

1
2
2
2
2
2
2
2
2
2

Bill/Chapter (Cross/Chapter)

Title

Wicomico County - Class A Beer, Wine, and Liquor Licenses - Issuance

Sponsorship Type

Co-Sponsor

2
2
2
2
2
2
2
2
2
2

Bill/Chapter (Cross/Chapter)

Title

Income Tax - Subtraction Modification - Military Retirement Income

Sponsorship Type

Co-Sponsor

2
2
2
2

Bill/Chapter (Cross/Chapter)

Title

Retirement Tax Elimination Act of 2023

Sponsorship Type

Co-Sponsor

2
2
2
2
2
2
2
2
2
2
2
2

Bill/Chapter (Cross/Chapter)

Title

Maryland Small Food Banks Grant Program - Establishment

Sponsorship Type

Co-Sponsor

2
2

Bill/Chapter (Cross/Chapter)

Title

Criminal Law - Theft of a Handgun

Sponsorship Type

Co-Sponsor

2
2
2
2
2
2
2
2
2
2
2
2

Bill/Chapter (Cross/Chapter)

Title

Crimes and Corrections - Penalties and Procedures (Violent Firearms Offender Act of 2023)

Sponsorship Type

Co-Sponsor

2
2
2
2

Bill/Chapter (Cross/Chapter)

Title

Wicomico County - Alcoholic Beverages - Cigar Lounge License

Sponsorship Type

Co-Sponsor

2
2
2
2
2
2
2
2
2
2

Bill/Chapter (Cross/Chapter)

Title

Vehicle Laws - Protective Headgear Requirement for Motorcycle Rides - Exception (In Rememberance of Gary "Pappy" Boward)

Sponsorship Type

Co-Sponsor

2
2
2
2
6
2
Bill/Chapter
(Cross/Chapter)
Title
Sponsorship Type
Sponsorship Type Sort
Chamber Sort
Current Status
Org Committees & Hearings
Opp Committees & Hearings
SB0082 /CH0073 (HB0010/CH0074)
Correctional Officers' Retirement System – Talbot County
Primary
1
2
Approved by the Governor - Chapter 73

SB0301 (HB0194)
Local Government Tort Claims Act – Cambridge Waterfront Development, Inc.
Primary
1
2
In the House - First Reading House Rules and Executive Nominations

SB0302 /CH0783 (HB0656/CH0782)
Talbot County - Board of Education - Election of Officers
Primary
1
2
Approved by the Governor - Chapter 783

SB0303 (HB0700/CH0610)
Talbot County - Speed Monitoring Systems - Intersection of Maryland Route 333 (Oxford Road) and Bonfield Avenue
Primary
1
2
In the House - Third Reading Passed with Amendments (107-29)

SB0632
State Employee and Retiree Health and Welfare Benefits Program - BWI Airport Fire and Rescue Department - Employees and Dependents
Primary
1
2
In the Senate - Withdrawn by Sponsor

SB0633
Employees' Pension System - Purchase of Service
Primary
1
2
In the Senate - Hearing 3/02 at 8:30 a.m.

SB0634 /CH0780 (HB1084/CH0781)
Natural Resources - Oyster Inspection and Severance Taxes - Increase
Primary
1
2
Approved by the Governor - Chapter 780

SB0635 (HB1025)
Bay Restoration Fund – Authorized Uses – Dorchester County Sanitary District
Primary
1
2
In the Senate - Withdrawn by Sponsor

SB0636 (HB1046)
Public Safety - Solar Battery Energy Storage Systems
Primary
1
2
In the Senate - Withdrawn by Sponsor

SB0637 (HB0945)
Tidal Fish Licenses - Oyster Authorizations - Reinstatement
Primary
1
2
In the Senate - Hearing 3/02 at 1:30 p.m.

SB0638
Natural Resources - Submerged Aquatic Vegetation Protection Zones - Aerial Surveys
Primary
1
2
In the Senate - Hearing 3/02 at 1:30 p.m.

SB0775
Private Wetlands - Structural Shoreline Stabilization Measures - Authorization
Primary
1
2
In the Senate - Hearing 2/23 at 1:00 p.m.

SB0776 (HB1170)
Graywater Systems - Public and Private Buildings - Authorization
Primary
1
2
In the Senate - Hearing canceled

SB0777 (HB1118)
Middle Shore Counties - Sunday Hunting - Repeal of Time Restrictions
Primary
1
2
In the Senate - Hearing 3/08 at 1:00 p.m.

SB0778 (HB1003)
Wicomico County - Seasonal Restaurants - Potable Running Water and Graywater
Primary
1
2
In the Senate - Hearing 2/23 at 1:00 p.m.

SB0779 (HB0934)
Natural Resources - Female Deer Hunting Contests - Authorization
Primary
1
2
In the Senate - Hearing 3/08 at 1:00 p.m.

SB0780
Law Enforcement - Police Officer Employee Assistance Programs - Confidentiality
Primary
1
2
In the Senate - Hearing 3/01 at 1:00 p.m.

SB0802
Law Enforcement Officers' Pension System – Membership – Emergency Medical Technicians and Emergency Medical Dispatchers
Primary
1
2
In the Senate - Withdrawn by Sponsor

SB0090 /CH0413 (HB0037/CH0414)
Commercial Law - Consumer Protection - Telephone Solicitation (Stop the Spam Calls Act of 2023)
Co-Sponsor
2
2
Approved by the Governor - Chapter 413

SB0228 /CH0667 (HB0614/CH0668)
Department of Aging - Long-Term Care and Dementia Care Navigation Programs
Co-Sponsor
2
2
Approved by the Governor - Chapter 667

SB0231 /CH0621 (HB0726/CH0620)
Maryland Medical Assistance Program - Autism Waiver - Military Families
Co-Sponsor
2
2
Approved by the Governor - Chapter 621

SB0234 /CH0374 (HB0420/CH0373)
Health Services Cost Review Commission - Hospital Rates - All-Payer Model Contract
Co-Sponsor
2
2
Approved by the Governor - Chapter 374

SB0245
Wicomico County - Class A Beer, Wine, and Liquor Licenses - Issuance
Co-Sponsor
2
2
In the Senate - Withdrawn by Sponsor

SB0246 /CH0510 (HB1004/CH0509)
Wicomico County - Sanitary District - Authorization
Co-Sponsor
2
2
Approved by the Governor - Chapter 510

SB0289 /CH0733 (HB0372/CH0734)
Higher Education - Veterans of the Afghanistan and Iraq Conflicts Scholarship - Altering Name of Scholarship
Co-Sponsor
2
2
Approved by the Governor - Chapter 733

SB0336 (HB0478)
Waterway Incident Notification System (WINS) Workgroup
Co-Sponsor
2
2
In the House - First Reading Environment and Transportation

SB0362 /CH0275 (HB1249)
Certified Community Behavioral Health Clinics - Planning Grant Funds and Demonstration Application
Co-Sponsor
2
2
Approved by the Governor - Chapter 275

SB0416
Income Tax - Subtraction Modification - Military Retirement Income
Co-Sponsor
2
2
In the Senate - Hearing 3/01 at 1:00 p.m.

SB0449 /CH0061 (HB0401/CH0060)
Maryland Audiology, Hearing Aid Dispensing, Speech-Language Pathology, and Music Therapy Act - Definitions and Application
Co-Sponsor
2
2
Approved by the Governor - Chapter 61

SB0461
Retirement Tax Elimination Act of 2023
Co-Sponsor
2
2
In the Senate - Hearing 3/09 at 1:00 p.m.

SB0492 (HB0932)
Oysters – Rotational Harvest – Pilot Program
Co-Sponsor
2
2
In the Senate - Withdrawn by Sponsor

SB0493 /CH0342 (HB0675/CH0341)
Commission to Study Trauma Center Funding in Maryland
Co-Sponsor
2
2
Approved by the Governor - Chapter 342

SB0498 /CH0036 (HB0497/CH0035)
Rural Health Collaborative Pilot Repeal and Mid Shore Health Improvement Coalition Funding
Co-Sponsor
2
2
Approved by the Governor - Chapter 36

SB0522 (HB0740)
Education - Accountability and Implementation Board - Membership
Co-Sponsor
2
2
In the Senate - Hearing 3/14 at 1:00 p.m.

SB0534 /CH0382
Preserve Telehealth Access Act of 2023
Co-Sponsor
2
2
Approved by the Governor - Chapter 382

SB0562
Maryland Small Food Banks Grant Program - Establishment
Co-Sponsor
2
2
In the House - Hearing 3/30 at 1:00 p.m.

SB0564
Criminal Law - Theft of a Handgun
Co-Sponsor
2
2
In the Senate - Hearing 3/02 at 1:00 p.m.

SB0566 (HB0666)
Family Law - Fundamental Parental Rights
Co-Sponsor
2
2
In the Senate - Hearing 3/15 at 1:00 p.m.

SB0567 (HB0035)
Elections - In-Person Voting - Proof of Identity
Co-Sponsor
2
2
In the Senate - Hearing 3/14 at 1:00 p.m.

SB0581 /CH0369
Behavioral Health Care Coordination Value-Based Purchasing Pilot Program
Co-Sponsor
2
2
Approved by the Governor - Chapter 369

SB0624 /CH0307 (HB1074/CH0306)
Income Tax - Automated External Defibrillator Tax Credit (Joe Sheya Act)
Co-Sponsor
2
2
Approved by the Governor - Chapter 307

SB0647 (HB0693/CH0218)
State Board of Pharmacy - Board Membership, Delegated Pharmacy Acts, and Sunset Extension
Co-Sponsor
2
2
In the House - First Reading House Rules and Executive Nominations

SB0744
Crimes and Corrections - Penalties and Procedures (Violent Firearms Offender Act of 2023)
Co-Sponsor
2
2
In the Senate - Hearing 3/14 at 1:00 p.m.

SB0794 /CH0343 (HB1153/CH0344)
Behavioral Health Programs - Residential Programs - Food Service Facility Requirements
Co-Sponsor
2
2
Approved by the Governor - Chapter 343

SB0795
Wicomico County - Alcoholic Beverages - Cigar Lounge License
Co-Sponsor
2
2
In the Senate - Hearing 2/24 at 1:00 p.m.

SB0796 (HB1087/CH0611)
Wicomico County - Sunday Hunting and Archery Hunting Safety Zones
Co-Sponsor
2
2
In the House - First Reading House Rules and Executive Nominations

SB0823 /CH0511
Natural Resources - Annual State Park Pass - Discounts for Law Enforcement Officers and First Responders
Co-Sponsor
2
2
Approved by the Governor - Chapter 511

SB0867 (HB0652)
Vehicle Laws – Special and Commemorative Registration Plate – Maryland Heroes
Co-Sponsor
2
2
In the House - First Reading Environment and Transportation

SB0902 (HB1015)
Labor and Employment - Maryland Healthy Working Families Act - Seasonal Temporary Workers
Co-Sponsor
2
2
In the Senate - First Reading Senate Rules

SB0933
Vehicle Laws - Protective Headgear Requirement for Motorcycle Rides - Exception (In Rememberance of Gary "Pappy" Boward)
Co-Sponsor
2
2
In the Senate - Hearing 3/21 at 1:00 p.m.

SB0974 /CH0106 (HB1301)
State-Owned Nursing Homes - Deficiencies, Citations, and Fines - Contractor Reporting Requirements
Co-Sponsor
2
2
Approved by the Governor - Chapter 106

SB0665 /CH0008 (HB0774/CH0007)
Assisted Living Programs - Unlicensed Programs - Resident Abuse, Exploitation, and Neglect (The Senator Delores Kelley Residents of Unlicensed Programs Protection Act)
By Request - Other
6
2
Approved by the Governor - Chapter 8
Denotes enacted legislation
Legislative Bond Initiatives
Project Name

Status

Introduced in Senate

House Sponsors

Senate Sponsors

County

Dorchester

Amount Requested

$500,000

Senate Initiative

House Initiative

Other Funding

Total Funding

$0
Project Name

Status

Introduced

House Sponsors

Senate Sponsors

County

Dorchester

Amount Requested

$500,000

Senate Initiative

House Initiative

$200,000

Other Funding

Total Funding

$200,000
Project Name

Status

Introduced

House Sponsors

Senate Sponsors

County

Dorchester

Amount Requested

$350,000

Senate Initiative

House Initiative

Other Funding

Total Funding

$0
Project Name

Status

Introduced

House Sponsors

Senate Sponsors

County

Dorchester

Amount Requested

$500,000

Senate Initiative

House Initiative

Other Funding

Total Funding

$0
Project Name

Status

Introduced in Senate

House Sponsors

Senate Sponsors

County

Dorchester

Amount Requested

$1,000,000

Senate Initiative

House Initiative

Other Funding

Total Funding

$0
Project Name

Status

Introduced

House Sponsors

Senate Sponsors

County

Dorchester

Amount Requested

$300,000

Senate Initiative

House Initiative

Other Funding

Total Funding

$0
Project Name

Status

Introduced

House Sponsors

Senate Sponsors

County

Dorchester

Amount Requested

$250,000

Senate Initiative

House Initiative

Other Funding

Total Funding

$0
Project Name

Status

Withdrawn

House Sponsors

Senate Sponsors

County

Talbot

Amount Requested

$250,000

Senate Initiative

House Initiative

Other Funding

Total Funding

$0
Project Name

Status

Introduced in Senate

House Sponsors

Senate Sponsors

County

Talbot

Amount Requested

$500,000

Senate Initiative

House Initiative

$200,000

Other Funding

Total Funding

$200,000
Project Name

Status

Introduced

House Sponsors

Senate Sponsors

County

Talbot

Amount Requested

$500,000

Senate Initiative

House Initiative

Other Funding

Total Funding

$0
Project Name

Status

Introduced

House Sponsors

Senate Sponsors

County

Talbot

Amount Requested

$600,000

Senate Initiative

House Initiative

Other Funding

Total Funding

$0
Project Name

Status

Introduced

House Sponsors

Senate Sponsors

County

Talbot

Amount Requested

$500,000

Senate Initiative

House Initiative

Other Funding

Total Funding

$0
Project Name

Status

Introduced

House Sponsors

Senate Sponsors

County

Talbot

Amount Requested

$805,800

Senate Initiative

House Initiative

$200,000

Other Funding

$455,000

Total Funding

$655,000
Project Name

Status

Introduced

House Sponsors

Senate Sponsors

County

Talbot

Amount Requested

$500,000

Senate Initiative

House Initiative

Other Funding

$1,500,000

Total Funding

$1,500,000
Project Name

Status

Introduced in Senate

House Sponsors

Senate Sponsors

County

Talbot

Amount Requested

$500,000

Senate Initiative

House Initiative

Other Funding

Total Funding

$0
Project Name

Status

Introduced

House Sponsors

Senate Sponsors

County

Talbot

Amount Requested

$500,000

Senate Initiative

House Initiative

Other Funding

Total Funding

$0
Project Name

Status

Introduced

House Sponsors

Senate Sponsors

County

Wicomico

Amount Requested

$750,000

Senate Initiative

House Initiative

$100,000

Other Funding

Total Funding

$100,000
Project Name

Status

Introduced

House Sponsors

Senate Sponsors

County

Wicomico

Amount Requested

$100,000

Senate Initiative

House Initiative

Other Funding

Total Funding

$0
| Project Name | Status | House Sponsors | Senate Sponsors | County | Amount Requested | Senate Initiative | House Initiative | Other Funding | Total Funding |
| --- | --- | --- | --- | --- | --- | --- | --- | --- | --- |
| Cambridge Elks Legacy Community Center | Introduced in Senate | | | Dorchester | $500,000 | | | | $0 |
| Cambridge Municipal Building Preservation Project | Introduced | | | Dorchester | $500,000 | | $200,000 | | $200,000 |
| Delmarva Community Services 30-unit Apartment Building | Introduced | | | Dorchester | $350,000 | | | | $0 |
| FOP Cambridge Lodge 27 Building Project | Introduced | | | Dorchester | $500,000 | | | | $0 |
| Harriett Tubman Pavilion | Introduced in Senate | | | Dorchester | $1,000,000 | | | | $0 |
| Mace's Lane Community Center | Introduced | | | Dorchester | $300,000 | | | | $0 |
| Wellness Center at Chesapeake Grove | Introduced | | | Dorchester | $250,000 | | | | $0 |
| American Legion Blake-Blackston Post 77 - Building To Serve - Phase 2 | Withdrawn | | | Talbot | $250,000 | | | | $0 |
| BAAM Academic Center | Introduced in Senate | | | Talbot | $500,000 | | $200,000 | | $200,000 |
| Chesapeake Bay Maritime Museum Master Plan Phase III | Introduced | | | Talbot | $500,000 | | | | $0 |
| Critchlow Adkins Children's Centers Cordova Site | Introduced | | | Talbot | $600,000 | | | | $0 |
| Emergency Services Regional Training Campus | Introduced | | | Talbot | $500,000 | | | | $0 |
| Mid-Shore Community Foundation - Water's Edge and Bellevue Passage Museums Annex | Introduced | | | Talbot | $805,800 | | $200,000 | $455,000 | $655,000 |
| The Arc Central Chesapeake Region at Port Street | Introduced | | | Talbot | $500,000 | | | $1,500,000 | $1,500,000 |
| The James Freeman and Grace Brooks Cultural Center | Introduced in Senate | | | Talbot | $500,000 | | | | $0 |
| The Talbot County Free Library St Michaels Expansion and Renovation | Introduced | | | Talbot | $500,000 | | | | $0 |
| Epoch Dream Center | Introduced | | | Wicomico | $750,000 | | $100,000 | | $100,000 |
| Wicomico Nursing Home Roof Replacement | Introduced | | | Wicomico | $100,000 | | | | $0 |
Tenure

Elected to the Maryland Senate in November 2022. Member of the Senate since January 11, 2023. Member of the Maryland House of Delegates- 2015-2023.
Current Assignments

2023 Finance Committee

2023 Joint Committee on Administrative, Executive, and Legislative Review (AELR)

2023 Joint Committee on Unemployment Insurance Oversight

2023 Senate Co-Chair, Joint Committee on Protocol

2023 Maryland Veterans Caucus (House Member 2015-2022)
Biographical Information

Born in Fort Devans, Massachusetts, September 19, 1970; Attended Brewster Academy, Wolfeboro, New Hampshire; University of Dayton, B.A., Political Science, 1994; Pettit College of Law, Ohio Northern University, J.D. 1997; Counsel, Committee on Judiciary, U.S. House of Representatives, 1997-2002; Special Assistant to Deputy Chief of Staff, Office of Maryland Governor Robert Erlich, 2002-2005; Legislative Director to U.S. Representative Howard Coble (NC), 2009-20014; Manager, Carpenter Street Saloon, St. Michaels, Maryland; Married; two children.
Last Updated: 9/11/2023 3:50 PM